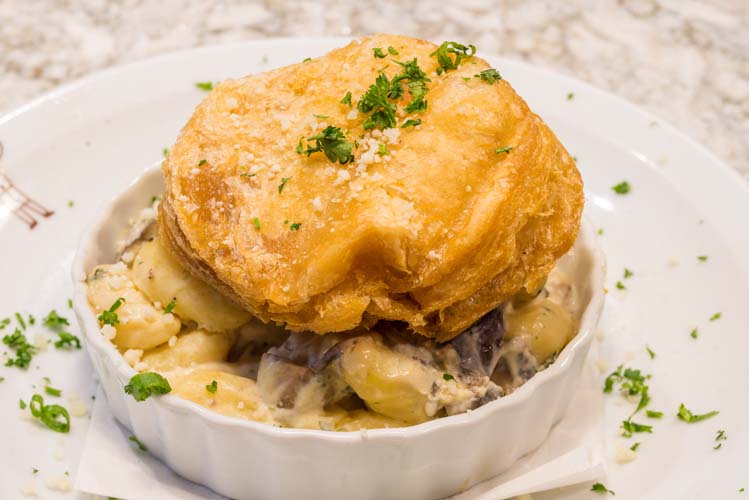 It's been almost a year since the venerable Scampi Grill moved into its new home on 20th Street just west of U.S. 1, and while at first we missed the cozy old trattoria where we had dined for some many years, the new larger bistro has taken on a warm, inviting feel of its own.
Diners at the new Scampi have three options: A rear patio area that seats about 40 which is delightful on cooler, less humid nights; the section just inside the door that is lined with booths; and an area farther in with wooden tables, now with walls covered with tchotchkes reminiscent of the old Mimmo's.
But this is no longer Mimmo's Scampi Grill.  It now is firmly in the hands of Alessandro Amelio, who took over as executive chef a few years ago from his father, and the dishes prepared by Chef Alex – both the old favorites and his creative new additions – are better than ever.
On a recent evening, we arrived shortly before 7:30 and were shown to a comfortable table.  One of the Scampi's many excellent servers quickly took our wine order, and returned with a basket of hot garlic bread.
Since it was a Thursday, two of us decided to take advantage of their 3-course seafood dinner special – an appetizer, soup or salad, and entrée for $21.95.
I opted to start with the mussels, and our companion chose the calamari fradiavolo.  My husband, however, was intrigued by an appetizer not on the special list, and ordered the duck sausage with spinach.
The tender calamari were sautéed with roasted garlic, Italian herbs, and olive oil, tossed in a mildly spicy marinara sauce.  Oh so good.  The pan seared mussels were also delicious, finished in a chardonnay butter sauce.  But my husband's flavorful and tender homemade duck sausage, served on a bed of spinach, was just sensational.
We then moved on to the second course. Our companion chose the soup of the day, a spinach and eggdrop stracciatella, while I had a very nice house salad, and my husband – for a slight up charge – had an excellent Caesar.
Then for entrées, I selected the ultimate vongole, and our companion went for the shrimp and crab Imperial.  My husband had an old favorite, the veal and shrimp a la scampi.
My sautéed Rhode Island Little Neck clams served over linguine was very tasty, and our companion's pan seared jumbo shrimp, topped with lump crab, fresh spinach and Romano cheese finished in a basil cream sauce, was absolutely fabulous.
The veal scaloppini – with jumbo shrimp, herbs, capers, pine nuts, roasted garlic, Vidalia onions and roasted red bell peppers – was finished in a citrus butter sauce and served with angel hair pasta.  A great combination of tastes.
And that's what makes Scampi Grill so great.  Whether it is with veal, seafood or some other dish, the sauces here are wonderful – complementing the food instead of overwhelming it.
If you are a wine lover, by all means try Monday's half price wine special.  Tuesday's "night of pastabilities" gives you a choice of seafood, chicken, beef or veal for only $16.50.  And Wednesday this year is "fresh catch night," offering a two-course dinner that includes local yellowtail snapper for $22.50.
But you can't go wrong with "dinner from the sea" on Thursday.  And the Friday couples night menu, $50 for two with a bottle of wine included, remains a great way of enjoying the best of the Scampi Grill at a great price.
As we have suggested many times, the Scampi Grill ranks right up there at the top of the Vero Beach food pyramid.
I welcome your comments, and encourage you to send feedback to me at tina@verobeach32963.com.
The reviewer is a beachside resident who dines anonymously at restaurants at the expense of Vero Beach 32963.    
Mimmo's Scampi Grill
Hours: Nightly in season, 5 to 9:30 p.m.
Beverages: Beer and wine
Address: 815 20th Street, Vero Beach
Phone: 772-563-9766