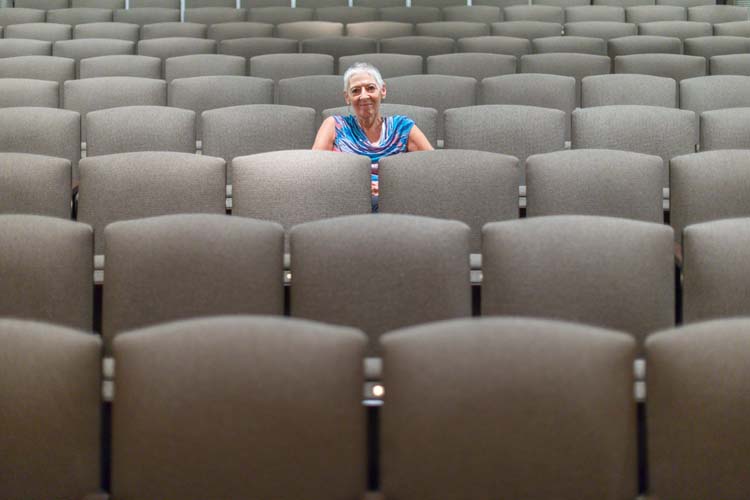 Just as she was settling into retirement after 39 years with the same company, Diane Thelen found herself immersed in a new career: film series coordinator for the Vero Beach Museum of Art.
Thelen replaces founder and longtime director Warren Obluck, who quietly announced his retirement earlier this year.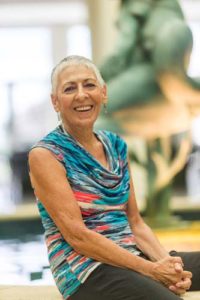 It is just the latest change at the museum, which in the past year has installed a new executive director and a new curator and is currently searching for a director of education. But this time, the new face at the podium in the Leonhardt Auditorium had a preview of sorts: Thelen has been running two of the five series per season over the past four years, and also led a summer sci-fi series in 2016 in conjunction with the NASA exhibit last summer.
For Thelen, her new life feels a little like science fiction, unimaginably intense in terms of preparation and involving essential skills she has never tested, including public speaking.
"It's not in my nature to be in front of all these people," says Thelen, whose idea of fun is an afternoon in the quiet of her island condo watching movies to her heart's content.
"I was always good on one-on-one connections, but big parties and big audiences, that's not my cup of tea."
Things were especially nerve-wracking when the low-key Obluck asked that his looming retirement be kept quiet for several months. That meant Thelen more than doubled her research time and watched twice as many movies without being able to explain her cloistered state to her friends.
"I was under a lot of stress, and acting very peculiar," she says with a laugh. "I had nobody I could talk to, and I was a mess. I just told people I was having trouble finding the right films. I was begging Warren to tell people this is happening."
If that degree of anxiety seems inordinate, considering watching movies is escapist relaxation for most, it's because Obluck and Thelen have managed to convince their audiences that their impressive body of knowledge is innate. It is not. Though both are lifelong film enthusiasts, preparing for the before-and-after lectures at each screening requires hours of study. "Warren studied very, very hard. He was extremely conscientious. He would print out hundreds of pages of research and memorize it to be prepared," she says. "I pretty much limit my printouts to 50."
Obluck also rehearsed his lectures, though an audience might never suspect with his natural, off-the-cuff manner. Thelen, on the other hand, has no choice but to read her lectures at the podium. "I get too nervous," she says. "Before this I had never experienced public speaking. I had never held a microphone."
What Thelen mostly dealt with, in her four decades with a Princeton, N.J.-based business consultancy, were ledgers and budgets. With a degree in English from Douglass College, where she also studied French and art, Thelen was executive secretary to top executives in the firm before moving into the finance end of the company, analyzing budgets and reviewing expenses.
And in her spare time, she watched movies, a lifelong passion that began as a little girl. When other kids were watching Mickey Mouse, she says, she was watching Fred Astaire and Ginger Rogers and other stars of the generation before her in classic movies that aired every afternoon on TV.
Videocassettes were unheard of, and yet she saw the same movies so many times that she could recite the lines by heart.
Today, with 250 movies in her Netflix queue, she also has access to FilmStruck, a streaming service from Turner Classic Movies to which the museum began subscribing last year. She also pores through film magazines, including Sight and Sound, which reviews films from around the world.
"My film curiosity is insatiable," she wrote in a brief bio for the museum. "Warren assures me that this 'obsessiveness' is a good thing. I will have to trust him on that."
Unlike picking out movies for her own pleasure, choosing films for the Vero museum's audience has its own peculiarities. Museum administrators set up guidelines when Obluck first founded the program in 1999; the same rules still apply for Thelen, and they have not been updated – whether the audience has or not.
"For every film I show, I have to toss out 10 or more," says Thelen. Problem areas concern not only sex but violence, even animal cruelty.
While deferring to those sensibilities, Thelen resists what she calls the "ostrich syndrome."
Last year, in a series on genocide, Obluck screened some films that were "pretty gritty," Thelen says.
And in a series on immigration, Thelen screened a film that showed full male nudity.
When Obluck also included a film with nudity, he jokingly told Thelen, "There's no turning back now."
Along with myriad details of cast, direction and historical relevance, Thelen also researches any important musical elements in a film. That sensibility too was born of her childhood. Her father, a meteorologist by profession, played mandolin, and in middle age learned the cello to play with the Monmouth Symphony Orchestra.
Thelen played piano, and well into adulthood she and her father played duets. "We played together all the time, even after I was married. He was a shy man, and we communicated together through our music."
Filmmakers often do the same with their audiences. When Thelen showed a film about two Israeli girls, she translated the "astonishing" Hebrew score for her series audience. "One student went out and bought a CD of the score," she recalls.
While Thelen makes clear her tastes and interests are different from Obluck's, by the numbers, she is clearly gaining a following. She broke records with two of her series last year, with more than 350 attendees.
Each series includes five films screened twice on Tuesdays, afternoons and evenings.
"I'm starting to see the same people in the audience. And out in public, people come up to me and say, 'Aren't you the film lady?' I've had conversations about movies in the TJ Maxx dressing room. I'm pretty sure that didn't happen to Warren."
It was Obluck himself who first approached her about helping him out with the fall film series. She had signed up for every one of Obluck's series since moving here in 2009, choosing the afternoon screenings because the post-film discussions tended to be longer and more engaging, sometimes continuing as the crowd filed out. "I'd be walking Warren out the door, still talking about the movie."
In 2013, Thelen and Obluck found themselves at a party chatting about a film Thelen had loaned him. "All of a sudden, Warren asked me, 'Diane, I want you to take over some of my courses for me?' I burst out laughing. First thing I knew I was interviewing with Marshall (Adams, the former director of education) and Cindy (Gedeon, the retired executive director)."
She is currently screening a series she calls All About Eve: Females Behind the Camera. Starting Nov. 7 is Secrets and Lies: Stories of Real People during Wartime. The series opens with "Suite Française," a 2014 film based on the unfinished novel of Irène Némirovsky, a popular author living in France at the time of the Nazi occupation. The next week, it's "The Nazi Officer's Wife," a documentary about Holocaust survivor Edith Hahn-Beer. The series also includes the 2015 Canadian film, "Remember," with Christopher Plummer; the German film "The Harmonists," about a 1930's vocal group; and "Frantz," a new film by the French director François Ozon.
"I have been looking forward my whole life to being able to do something like this," Thelen says.