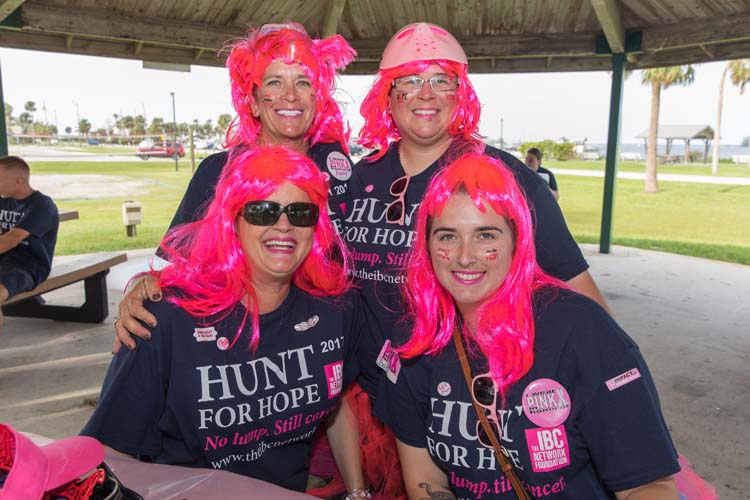 Those pink-clad scavengers spotted in Sebastian last Saturday afternoon performing random acts of kindness and even breaking out in song at local businesses were hoping to rack up points as participants in the fifth annual Hunt for Hope Florida, an event designed to raise awareness and fund clinical research through the Inflammatory Breast Cancer Network Foundation.
Dr. Holly Hamilton, owner of Riverside Family Dental in Sebastian, began Hunt for Hope Florida in honor of her friend, Dr. Lori Grennan, who lost her battle with IBC four years ago. Grennan founded the first Hunt for Hope in Ohio while battling the disease, to provide funding to the IBC Network Foundation, founded by IBC survivor Terry Arnold. Since its inception Hunt for Hope fundraisers have raised nearly $1 million nationwide, with 100 percent of the proceeds funding IBC research.
Ironically, IBC was only briefly mentioned when Grennan attended medical school. At the time they were told, "It's so rare you'll probably never see it, so we're really not going to cover it."
Rare yes, but IBC is a highly aggressive form of breast cancer that typically affects women under 40.
Because IBC progresses rapidly, it is often not diagnosed until having already reached stage III or IV. By then it has frequently spread to other areas of the body, significantly reducing survival rates.
Hamilton said IBC statistics are skewed, noting "most cases of IBC are misdiagnosed and the cause of death listed is usually from a complication caused by IBC. So we really don't know how many women die of IBC each year. Until recently, IBC didn't even have its own histology code."
The Hunt for Hope participants were tasked during the three-hour hunt with visiting local venues to "Find Clues and Fund a Cure," completing tasks and educating the community through the use of the IBC Network Foundation phone app.
Among other tasks, scavengers brought back "H.O.P.E." spelled out in Scrabble letters; took pictures at the Capt. Hiram's Sandbar; performed random acts of kindness; got Burger King crowns after singing "I am a Survivor" to cashiers; took photos with random bystanders; balanced Life Savers on their tongues while singing the ABC's; sang the National Anthem; crossed the playground monkey bars; did the conga at Earl's; hugged a mannequin; and took photos of their teams in a porta-potty.
Spotlighting pink as the color of the day in honor of October as Breast Cancer Awareness month, pink jackets, scarves, Halloween masks, mismatched socks, lipstick, eyepatches and accessorized hair added points to each team's tally.
"This was a lot of fun. My wife's grandma died of cancer, so this was important to us. It was good to get out in the community and talk to everybody. You wouldn't believe the looks people gave us," said a tutu-clad, pink-haired Kourtney Beuth.
Top honors went to the Indian River Rugby Club, which earned more than 1,200 points; the most ever awarded, according to Hamilton.
For more information visit theibcnetwork.org.