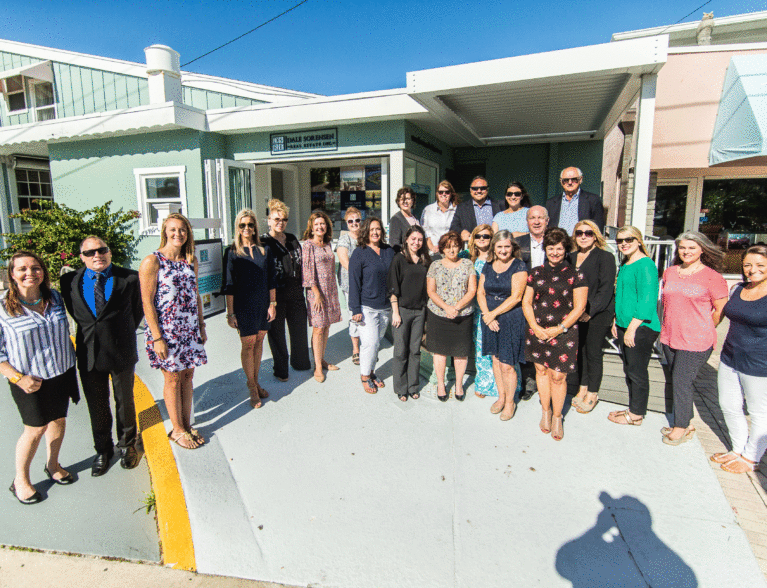 Island brokerage Dale Sorensen Real Estate has been named best medium-size company in Indian River County by the Chamber of Commerce.
Chamber Economic Development Director Helene Caseltine said it is the first time since the Chamber has kept records that a real estate company garnered a best company honor.
"We were very excited and surprised, especially since the award hasn't typically been given to a real estate company," said Managing Partner Dale Sorensen Jr.
Sorensen gives credit for the recognition to his agents and employees.
"We have well over 50 agents and staff who have been with the firm for 5 years or more, which is an amazing statistic. I feel that our company role is much larger than just selling homes; we strive to be a true partner of the community and our entire team has a sincere desire to make the community where we work and live a better place."
"The firm and its employees clock hundreds of volunteer hours annually and donate thousands of dollars on behalf of a multitude of nonprofit and charitable organizations in the community and around the world," according to the Chamber.
"The staff and agents get lots of opportunities to step out and lend a helping hand to those in need and to help build a stronger more unified community," says Realtor Associate Tripp Hernandez, who has been with Dale Sorensen Real Estate for nine years. "At first I thought we were involved in the community so we can sell real estate; now I am of the mindset that we sell real estate so they can help out the community."
There is more to the company's success than philanthropy and community involvement, however.
Mary Pat Slater had been a Realtor with another company for six years when she joined Sorensen some 10 years ago for a very specific reason.
"I chose to join DSRE because I saw that the firm was investing heavily in the Internet and advertising on the Internet," Slater says. "I came from a technology background . . .and I wanted to be part of a firm that was that forward looking.
"What is unique to this company is this – it is still a 'family' firm, with family values and feel. Yet, it is cutting edge in its marketing and technology. As agents we are exposed to so many different tools to assist in developing our business. [At the same time], the focus always has and continues to be on providing excellent service to our customers."
Founded in Vero in 1978 by husband and wife team Matilde and Dale Sorensen Sr., the brokerage has achieved phenomenal growth in recent years, increasing sales by more than 500 percent since 2009.
In 2016, the company closed more than 1,000 transactions worth $435 million in Indian River County, including $250 million on the barrier island, where it achieved a 25 percent market share.
Sorensen expanded to Brevard County in 2014, opening an office in a cool mid-century modern building on 5th Avenue in Indialantic, across the SR-194 causeway from Melbourne.
It has since opened additional offices in Brevard, where it closed 573 transactions worth $191 million in last year.
Add $22 million in sales in St. Lucie County, mostly on the lower stretch of the barrier island, and the total comes to $617 million, which was good enough to land the company on the prestigious Real Trends 500 list as the 29th largest brokerage in Florida in terms of sales.
Nationally, it was No. 404 out of 86,000 real estate brokerages in the country in 2016, a striking achievement in Vero's tiny market.
"We appreciate the Chamber of Commerce recognizing us for our commitment and involvement in the community; it's an honor," says co-founder and broker Matilde Sorensen. "It is because of our incredible staff and hardworking team of associates, who are fully invested in our culture of giving, that we have been able to successfully serve Indian River County and its residents for nearly 40 years.  We are truly humbled by this award."
The Chamber named Caliber Home Loans Best Small Company, while Oak Harbor Club got the nod as Best Large Company at the Chamber Industry Appreciation Awards Luncheon on Sept. 21.
The Chamber also gave a number of architectural awards, recognizing the Surf Club townhome project on A1A as the Best New Multi-family development; GHO Homes Summer Lake subdivision as the Best New Single-family project; and Quail Valley's new restaurant and lodge on Royal Palm Pointe as Best New Large Commercial Building.
The event was held at the Indian River State College Richardson Center with Marine Bank & Trust President and CEO Bill Penney serving as MC.