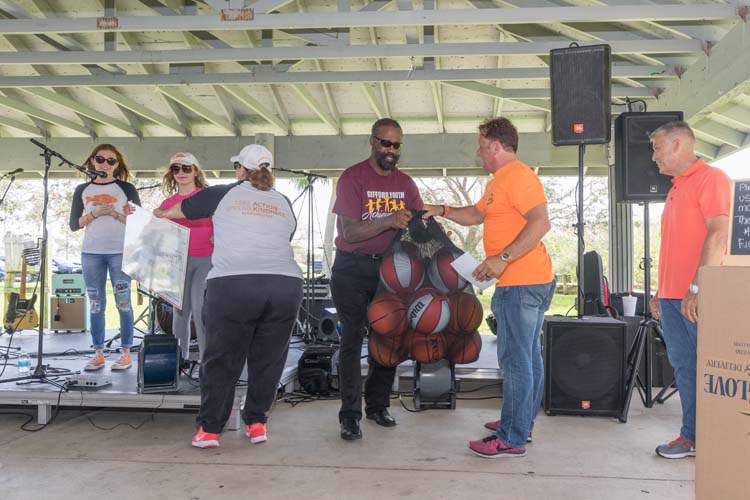 Riverside Park was a sea of orange and pink, from the T-shirts and sneakers worn by supporters of the Live Like Cole Foundation, to the pool noodles carefully laid out in the shape of the fishing pier being planned in partnership with the City of Vero Beach and the Florida Inland Navigational District in memory of Nicholas "Cole" Coppola.
The unveiling of the Cole Coppola Memorial Fishing Pier last Saturday was the culmination of a week-long Kindness Week campaign, which challenged students at the schools he had attended – St. Helen's School and John Carroll High School – to complete 22 Acts of Kindness in one week. Dr. Nicholas and Elaine Coppola explained that 22 represented their son's football jersey number and the week commemorated Cole's Sept. 25 birthday and his tragic Sept. 27, 2014 death, just two days after his 16th birthday.
The pier project was spearheaded by the Coppola family's close friend, attorney Barry Segal, who worked with the City Council to get it approved by the Florida Inland Navigation District.
"The pier is going to be 100-foot long, T-shaped for fishing or for watching sunsets, romantic walks, watching the dolphins or manatees," Dr. Coppola explained. "They're also going to create an aquatic environment underneath the pier. So FIND will pay for half and we will pay for the other half through the Live Like Cole Foundation from proceeds from the golf tournament, sponsorships and donations that people have made to us."
Pointing to the colorful noodles, Elaine Coppola noted that Segal, along with Flynn Fidgeon and Ray Hengerer, had waded out into the lagoon to set up the outline, adding, "I don't know how they did it but it came out really well."
Adding to the fundraising efforts are pier treads which people can purchase for naming rights to commemorate or memorialize friends, family, businesses, etc.
"The wording is going to be in orange, which is Cole's favorite color," said Dr. Coppola. "The engineers came up with that themselves, which was pretty cool. Everybody is really into the project which makes it very exciting for us. It's going to be awesome."
He said they have been working on the initiative since forming the foundation two years ago, but approvals took some time. The city will send it out to bid in October with a goal of completion by early next year.
As supporters gathered under the nearby pavilions, Cole's older sister Melanie, LLCF CEO, said she wanted people to know what a great person her brother was and how much he loved the community.  "He was my best friend; we were only a year apart. My biggest goal in life is to make him proud and to live like him every day – which means, giving back to those in need, lending a helping hand, sticking up for everyone, and being a person any friend would love to have."
In between sets of toe-tapping music by the Tom Jackson Band, the Coppola family recognized winners of the Most Creative, Largest Group Activity and Most Thoughtful acts of kindness, before also distributing scholarships to schools and organizations.
John Carroll High School was awarded $1,500 toward scholastic scholarships and $500 each to four school sporting groups; St. Helen's received $1,500 in scholarships; the Vero Beach Karate Association and the Indian River Soccer Association Foundation each received $1,000 scholarships; and the Gifford Youth Achievement Center was given a dozen basketballs.
Additionally, in recognition of October as Breast Cancer Awareness Month, Victor Basile, owner of Hope Imaging Center and a Live Like Cole board member, is donating 22 mammographies to women who do not have insurance.
For more information or to purchase pier planks visit livelikecole.org.