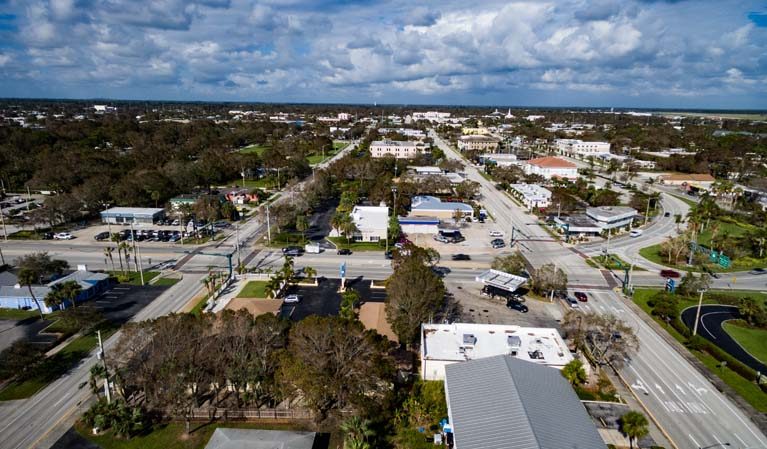 Every few years, some folks suggest we need to redo the traffic pattern along an often-busy stretch of State Road 60 to make Vero Beach's downtown more pedestrian friendly.
They want to constrict the traffic flow on Indian River County's major east-west route, which connects the beach to Interstate 95, and use eliminated lanes for parallel parking.
They believe narrowing that strategic section of road will make pedestrians feel safer, attracting more foot traffic and, thus, generating more business for downtown merchants.
And they say doing all this will help "Keep Vero, Vero," whatever that means.
Yes, I'm talking about the Twin Pairs, the wide, divided thoroughfare that runs one way in each direction – four lanes going west, three going east – from U.S. 1 to 20th Avenue right through a revitalized downtown.
The Twin Pairs were conceived in the 1970s, before the stretch of I-95 linking Vero Beach and Fort Pierce was even finished.
To keep traffic flowing, engineers decided to divert southbound I-95 motorists onto eastbound State Road 60 to U.S. 1, then route them south to the turnpike feeder road and put them back onto I-95 near Fort Pierce. The engineers thought two wide, one-way segments through town would keep traffic from bogging down.
As fate would have it, the I-95 paving was completed long before the Twin Pairs project began.
Yet, for most of the past 25 years, opponents to the Twin Pairs have complained that motorists speeding on what some of them dishonestly call a "superhighway" posed a danger to pedestrians in a busy area and hampered downtown re-development.
"The desire to knock this down has been around as long as the Twin Pairs," said Phil Matson, staff director of the county's Metropolitan Planning Organization.
To this day, proponents of lane reduction and other traffic-calming methods – downtown business owners, cycling enthusiasts, professional planners and some local politicos – continue to push for change.
In fact, the City Council recently gave serious consideration to Twin Pairs modifications in updating Vero Beach's 500-page comprehensive plan, which will mold city policies through 2035.
Wisely, though, council members decided to remove the costly and unneeded project from the plan.
"It won't be in the comprehensive plan," City Planning Director Tim McGarry said. "The council doesn't seem to want to deal with it right now, and we don't have the money to do anything, anyway.
"That doesn't mean we won't try to do some things to make it safer for pedestrians," he added. "But nothing much will happen until FDOT (Florida Department of Transportation) is ready to resurface State Road 60, which won't be for another five or seven years."
So why spend $1 million in tax dollars, most of which would come from the state, to decrease capacity along a much-traveled stretch of a major roadway?
Matson said reducing the Twin Pairs to two lanes in each direction would not produce "unacceptable delays" or drop the level of service to the "failure" category, which means not being able to make it through an intersection in one light change.
It would, however, produce a slower, more congested drive through the downtown – much slower than the 20 seconds predicted by consultants and, possibly, so much slower that many of us might opt for an alternate route and avoid the area entirely.
"To put it in letter-grade terms," Matson said, "we'd probably drop from a B to a C, not from a B to an F."
But why drop at all?
There's no evidence of pedestrians being run down by drivers speeding along the Twin Pairs. Nor is there any reason to believe more people would flock downtown if the roadway was reduced to two lanes and parallel parking was made available.
Despite the claims of lane-reduction supporters, who say their proposal would add as many as 200 parking spaces, there is no downtown parking shortage.
"Lane reduction would include a reduction in speed, which would improve pedestrian safety," McGarry said, "but it's not catastrophic if we don't do it."
Actually, we're more likely to see catastrophic accidents if the city does eventually reduce lanes, add parallel parking and drastically reduces the current 40 mph speed limit.
Consider:
Lane reduction would create more congestion that would put more vehicles in closer proximity and increase the chance of crashes; it also would generate more frustration and, perhaps, incite more road-rage incidents.
Allowing on-street, parallel parking would increase the possibility that someone would open their driver's door into traffic, or be struck by a vehicle while exiting their car.
Reducing the speed limit to 25 mph might tempt pedestrians to cross State Road 60 in the middle of the street, rather than at an intersection, and would further increase traffic congestion and driver frustration.
"Speed-limit reductions are probably going to happen," McGarry said. "We don't want people driving 40 or 45 mph through downtown, and we can address that without spending a whole lot of money."
To lower the speed limit on the Twin Pairs to anything less than 35 mph, however, would be causing more problems than it would solve. So would reducing lanes.
Fact is, today's Twin Pairs – with their seven lanes of traffic and 40 mph speed limit – aren't hurting our thriving downtown, which has come back to life and become a dining, cultural and entertainment destination.
They're doing what they're supposed to do, providing an easy and efficient east-west ride through downtown. They're also a recognizable part of Vero Beach's Rockwellian landscape.
You truly want to "Keep Vero, Vero?"
Keep the Twin Pairs the way they are.