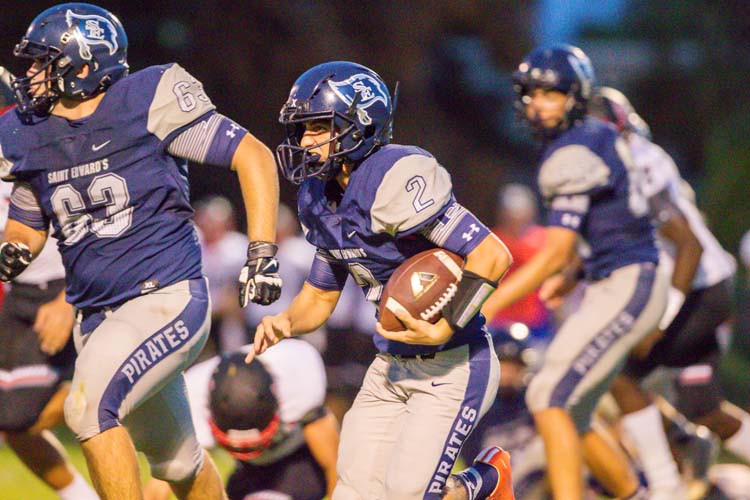 St. Ed's mustered very little offense in a 34-0 drubbing by Jupiter Christian last Friday night at Pirate Stadium. The visiting Eagles tried to help out with a slew of penalties and the score was still close at 7-0 until a 90-yard interception return for six deflated the Pirates' cause in the final minute of the first half.
The defeat left the Pirates at 1-2 with another home game this Thursday night. Homecoming is scheduled for the following Friday night, Oct. 6.
This has already been an unusual football season with the intrusion of Hurricane Irma disrupting lives across the entire southeast. Two games were cancelled for most teams due to the storm, but the Pirates were able to regroup more quickly.
"We were blessed to have only lost one game," head coach Bill Motta told us. "Everyone was disappointed that we lost a game, but from the pulse of my team I can tell you we all realized the seriousness of what we were facing. You have to take care of what's important before you worry about a football game.
"You move forward and deal with the situation at hand. You lose a game, but the upside is you get some fresh legs. There is collateral beauty in everything."
The game that was played with those fresh legs while other schools were still reeling from the hurricane was a much needed 29-25, come-from-behind victory over Legacy Charter of Ocoee, and it came in dramatic fashion before the home folks. Running back Will Sternberg scored the game winner in the final seconds to cap off a 130-yard, two-touchdown performance.
That was clearly the highlight of the season thus far for a team in a state of transition. The roster of 21 is still short as it has been in recent years. Understanding that this team will struggle at times should be no mystery.
"We are much younger and less experienced than we were last year," Motta explained. "We lost 12 seniors and are coming off a really good, competitive year, making it to the (Sunshine State Athletic Conference) championship game. This year we have had to basically rebuild, not reload."
Nearly half the roster is made up of ninth- and 10th-graders. Little more than a half-dozen seniors and juniors have any measurable football experience. Motta and his staff are on the horns of a challenge beyond Xs and Os.
"We've got several ninth-graders out there going up against teams that are deep with seniors," Motta said, citing Jupiter Christian as an example.
As for veterans, "we have Payton Cleveland, Edward Klinsport, Patrick Quaile, Jackson Jennings and TJ Kenney back," Motta said. "We have had those guys for several years. They are experienced and very coachable. They understand when we have to change things up and adapt. That's huge, instead of finding yourself building a foundation from scratch."
This group includes some accomplished interior, two-way linemen capable of speeding up the learning curve for the younger guys.
"Linemen Joshua Bradley and John Inman are injured and those are tough losses for us," Motta said. "The line is an area where we are a little thin to begin with. We hope to get those guys back on the field as soon as possible. The experienced guys were doing a good job of coaching those younger guys up. It's a nice process to watch as a coach."
The so-called skilled positions are, in most cases, being filled by young men starting from square one in this program. Will Sternberg has had an immediate impact at tailback. Quarterback Michael Mangieri set up Sternberg's short game-winning plunge against Legacy with a completion to Jared Di Salvo. Joseph Bradley blocked a kick in that game and Motta says he will be a nice contributor at safety and running back.