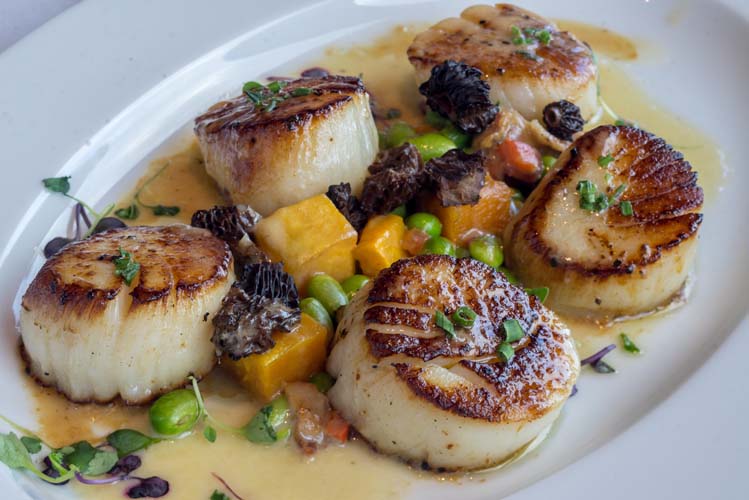 There's something quite sad about seeing a restaurant that you have enjoyed go dark.
That's why our taste buds perked up a while back when we drove by the former Pietro's on the Ocean – a spectacular dining venue on Hutchinson Island that closed abruptly in mid-June – and saw a "coming soon" sign on A1A for Kyle G's Prime Seafood & Steaks.
This is the fourth restaurant to our knowledge to occupy this soaring building, with its nautical ambiance and large glass walls that open to expansive ocean views. Some might remember it as the Island Reef, a happening place in the '80s and '90s. And when we first encountered it prior to the 2004 hurricanes, it was Rottie's.
Kyle G, it turns out, was a teenager at the time chopping veggies in Rottie's kitchen.  Fast forward 14 years and Kyle Green, a graduate of Florida Culinary Institute with a wealth of experience who was executive chef at Pietro's until it closed, now has his own restaurant.
Last Saturday, we visited the just opened Kyle G's (packed, by the way, both inside and out) and finished the evening hopeful it might be the best incarnation of this venerable dining spot yet.
Our server Michael (a veteran of the Island Reef) brought a basket of warm bread to the table, and efficiently took our order for a bottle of Mer Soliel chardonnay
For starters on this visit, I decided to try the 'El Toro' calamari ($13) and my husband opted for the ahi tuna tataki ($16).
The flash-fried calamari were served atop a very tasty arrabbiata sauce and topped with a roasted garlic aioli and tiny sweet peppers. (The calamari appetizer is more than large enough to share.) My husband's lightly seared tuna served rare was accompanied by pickled onion, ginger, a very potent wasabi, and a jicama-cilantro slaw.  An excellent start.
Then for entrées, I chose the day boat sea scallops ($31) and my husband ordered the broiled North Atlantic swordfish ($26).
The swordfish was topped with chunks of fresh jumbo lump blue crab, and was surrounded by a sauce made of roasted corn pico and chopped avocado. My husband thought there was slightly too much competing with the taste of the sword. But my beautifully seared scallops were topped with a white truffle lemon butter, and were served with an excellent succotash.  Perfection.
We finished our meal with a slice of house-made Key Lime pie. Dinner for two ran about $140 before tax and tip.
During the evening, we couldn't help noticing that the restaurant had a younger, more casual, more energetic vibe than we remembered from previous incarnations. And in addition to the seafood and steaks (where prices for a 20-ounce bone-in ribeye go up to $44), there also are variety of soups, salads and sandwiches on the menu ranging from $7 to $15 ($24 for a lobster roll).
There also is an outside deck with live music on weekends, a great spot for drinking and/or dining (though everyone including the band got drenched in an unexpected cloudburst Saturday night).
With many of Vero's top restaurants closed on Sunday, you might want to consider taking a leisurely drive south to Hutchinson Island – the barrier island immediately below us – to try Kyle G's Prime. And if you are disinclined to drive after dark, the restaurant also serves lunch.
I welcome your comments, and encourage you to send feedback to me at tina@verobeach32963.com.
The reviewer is a beachside resident who dines anonymously at restaurants at the expense of this newspaper.