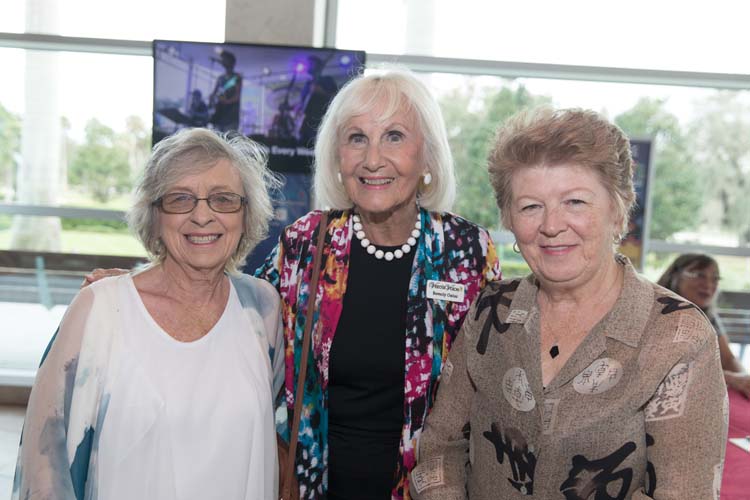 Hurricane Irma left a waterlogged Riverside Park in its wake and with more rain in the forecast, organizers of the Cultural Council of Indian River County's Celebrate the Arts Festival sensibly opted to call off last Saturday's scheduled outdoor event, which annually gives local cultural arts organizations a platform to inform the public of their upcoming seasonal offerings.
However, the Friday evening pre-festival event proceeded as planned, with Riverside Theatre playing host to an Art of Networking reception for the unveiling of the 2017-18 Arts & Cultural Guide. This 11th annual publication features roughly 1,200 events listed by 130 local organizations, showcasing the diverse collection of cultural opportunities offered by our artistic utopia in the areas of Theatre & Dance; Concerts; Fine Art; Lectures, Film & Meetings; Community Events and Children's Events.
"As you can see, all of you can stay very, very busy this season," said Barbara Hoffman, Cultural Council executive director.
The free guide will be distributed to numerous hotels, real estate offices, businesses and nonprofit organizations throughout the county.
"Folks who have signed up to receive the guide will be visited by White Glove team members who will bring the boxes right to their offices," said Anna Valencia-Tillery, vice president of marketing for White Glove Moving, Storage & Delivery.
The buzz Friday night also pertained to the Cultural Council's inaugural House of Art, Culture and Design, scheduled to take place Nov. 16-19, featuring a Designer Show House in Old Oak Lane, Riomar's newest community. The multi-faceted affair kicks off with a Thursday evening Opening Night Gala and continues throughout the weekend. Special events include a Wine Tasting and Cigar Bar, Luncheon and Fashion Show, High Tea with a panel of Vero's leading designers, and a Classic Car Show.
"We wanted to have a unique event that would get our members involved," said Hoffman, adding that they wanted something with various price points to appeal to the general public.
"Everybody that's participating over these four days is a member of the Cultural Council," said Hoffman. "So it's showcasing our members, giving them an opportunity to have exposure."
She noted that the Boutique House will also enable members to display and sell some of their artistic creations.
A large pavilion on the grounds will be open throughout the weekend, where people will be able to purchase snacks and box lunches to sit and enjoy a variety of musical entertainment.
"To us it's just a very exciting way to let the community know the depth and the quality of all of the cultural arts in our community. It's just a whole variety of offerings and every one of them showcases our members."
Free copies of the Arts & Cultural Guide are available at the Cultural Council office, 2041 14th Ave. For more information, visit Cultural-Council.org.