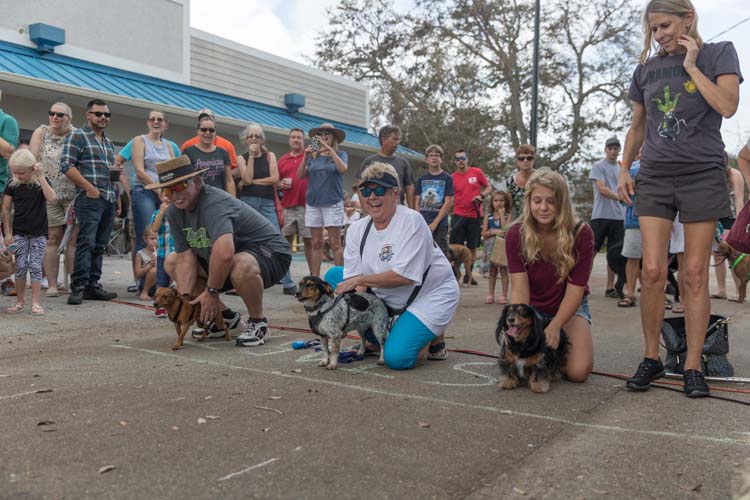 There was no question about "Who let the dogs out?" last Saturday afternoon at Pareidolia Brewing Company's third annual Run of the Wieners, which commemorated the Sebastian microbrewery's third anniversary while also benefitting the H.A.L.O. No-Kill Rescue.
"We are always thankful to our local businesses that come up with such fun and creative ways to raise much-needed funds, promote adoptions and spread the word supporting no-kill rescue," said Jacque Petrone, who founded the nonprofit in 2006 as a safe haven for abused and abandoned animals.
"We try to attach all of our events to some form of charity," explained brewery owner Pete Anderson, who came up with the lighthearted wiener race idea one day while surfing the Internet. "That's been our business plan from the start. If we have a busy day and we can bring money in for a charity, then it's only right that we share that."
The excitement grew as wiener-handlers held their dogs at the start line and released them to run toward callers waiting at the finish line. Or not. As the crowd cheered them on, many of the little doxies had a hard time focusing on the finish line, often running in the wrong direction, refusing to budge or taking off through the crowd instead of making a dash toward glory.
"It's so much fun to watch the dogs," said Etta Schaller, whose dog Schatzi won the inaugural Run of the Wieners and came back to compete again this year. "Schatzi loves to race. She's a rescue dog and has raced at the Vero Beach Dog Park, Bark in the Park and Bow Wow Bark N' Brew. She's 10 years old but not quite ready to retire yet."
The dachshunds raced in heats of three, with two advancing to the semifinals. In the end, Max headed to the Wiener's Circle while Lucy took first place in the Open Class.
"We know what H.A.L.O. does. It's a grassroots, bootstrap kind of place, so it was an easy decision to support what they do," shared Anderson, whose dogs are all rescues. That includes Ingrid, who threw her paws into the wiener race.
"I don't know if Ingrid has ever crossed the finish line," he admitted.  "She has a short attention span, but she's got a great attitude."
Pareidolia added to the fun and welcomed the change of seasons with the return release of their Autumnal Equinox Vanilla Porter.
Next month the brewery will move three blocks north to a new location at 712 Cleveland St. in Sebastian. Also next month, get ready for the Oct. 21 H.A.L.O. Hoedown at the Indian River County Fairgrounds. For more information, visit halorescuefl.org.