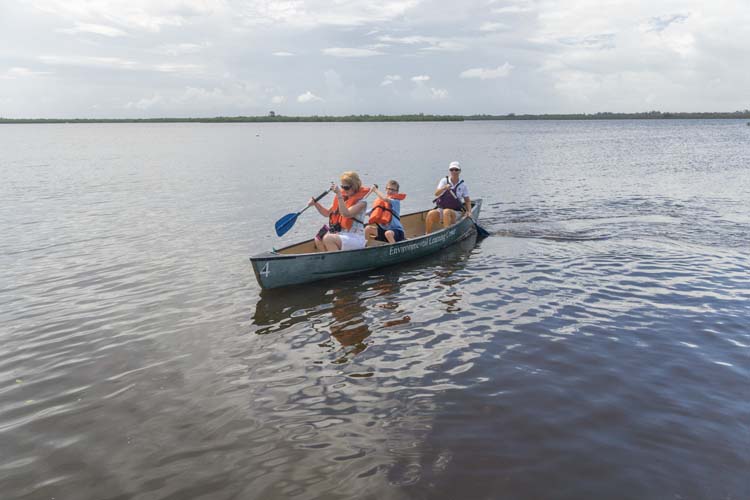 Unlike 2016, when Hurricane Matthew flooded the Environmental Learning Center with roughly 5 feet of water, killing trees and grass and washing all of their 600-pound picnic tables deep into the mangroves, this year's unwanted guest left minimal damage in her wake. As a result, ELC volunteers and staff were eager to welcome visitors last Saturday to the National Estuaries Day Celebration.
"We did a lot of work this week to fix up our campus so that it was safe for the public," said Molly Steinwald, ELC executive director. "We were really fortunate this time around but there are still a lot of things to be done."
With many people still in post-hurricane mode, crowds were sparser than usual. But those who did attend enjoyed personalized attention as they wandered the 64-acre campus, learning about the significance of the Indian River Lagoon and its ecological standing as one of the most biologically diverse estuaries in North America.
Activities included perennial favorites such as canoe trips through mangrove tunnels, dip-netting in the pond for juvenile marine life, and getting up close and personal with critters in the touch tank.
"We're touch tank volunteers," stated 7-year-old Finnegan Bradley as he headed off to get in a quick canoe trip with his mother beforehand, adding, "I like animals and nature."
Two-year-old twins Ava and Adalyn were thrilled with the Discovery Station Interactive Museum, guided under the watchful eye of parents Michelle and Brandon Humes, who gently led them from one exhibit to another. Lifted up by her mother to touch the whiskers on the life-sized manatee head, little Adalyn sweetly declared that it was a "cutie pie."
There was also an informative presentation on dolphin fun facts by Master Naturalist Chuck Toll in the new Tidal Gallery, guided nature walks and mangrove propagule potting in the native plant greenhouse.
"We wanted to be able to have seining out in the lagoon, which is really exciting, but the water level is too high still," said Steinwald, who noted that they had the water tested and the quality was good. "But children and their parents can be at least dip-netting in the pond and catching a variety of the creatures that are here. There were other things we planned but the hurricane just didn't allow us to do it."
Next up: Half-Haunted Halloween, 4 p.m. on Oct. 27, which promises 'not so spooky fun for everyone.'  For more information visit discoverelc.com.