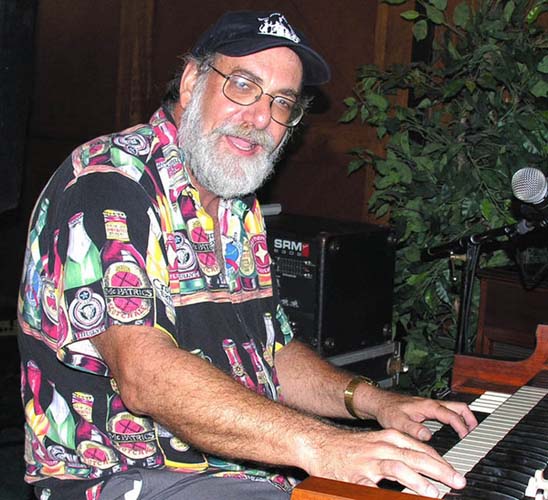 We get to Howl at the Moon one last time in September over at Riverside Theatre, as Rob Volpe and Ken Gustafson face off again over dueling pianos this Friday and Saturday. These guys are not only wizards of the ivories, they're also funny, and they know tons of tunes. The audience gets to pick most of the evening's play list, so see if you can suggest something they don't know. (It rarely happens.) Show times are 7:30 p.m. and 9:30 p.m. And the weekend's music just keeps on going, with Live on the Loop, Riverside's free outside concert series, in sync with the Howl. This Friday it'll be rockabilly with Professor Pennygoode and the Mighty Flea Circus. Saturday brings a change of pace with Wiley Nash styling classic rock and blues. Live on the Loop shows are 6 p.m. and 9:30 p.m., Friday and Saturday. There's seating for about 100, but it's a good idea to bring your lawn chairs, because these are very, very popular events. In case this'll be your first time, there are some really good eats and a full bar available. No outside foodstuffs allowed.
Cross the lagoon to catch Vero's downtown vibe this Friday. Gather up family, friends, the kids and the dog (leashed, of course) and celebrate the end of soggy September at Downtown Friday in Vero's Historic Downtown District. This well-attended, free, last-Friday-of-the-month street party features food, drinks and lots going on from 6 p.m. to 9 p.m. And, of course, there's live music. Taking the stage this month will be The Jacks Band, four local musicians who do classic hits, dance music, rock, blues and Motown, and are always busy making music somewhere in the area on any given weekend. From the Beatles, Joe Cocker, and Billy Joel, to BB King and the BeeGees, to Sam Cooke and Otis Redding, these guys will bring it all. Downtown Fridays always support a local charity, and this month it's the Buggy Bunch.
Then, next Friday, Oct. 6, head back downtown for a monthly event with a different vibe. It's the First Friday Gallery Stroll, encompassing three blocks along 14th Avenue, where 10 vibrant and diverse galleries are clustered, and open their doors to visitors from 5 p.m. to 8 pm. Sometimes other businesses will feature local artists' work as well, and typically offer refreshments, too. Perhaps you'll pause to chat with an artist at work on a creation, or catch an intriguing demonstration.
Jazz fans, take note: The acclaimed Ron Teixeira Trio, scheduled for mid-September in the Henegar Center's Jazz Legends Series, got blown into October by Irma and will now appear this Wednesday. Teixeira, as you jazz buffs  know, is music director at Heidi's Jazz Club in Cocoa and has earned major cred up and down the eastern seaboard – NYC, Boston, etc. – over decades in the biz. Wednesday will be especially cool because pianist/organist Teixeira will be performing "live at the Henegar," recording a new CD with his trio – jazz organist Teixeira; Rich Walker, guitar and vocals; and Walt Hubbard, drums. Show time is 7:30 p.m.
Jazz is also on the bill as the Sebastian Inlet State Park's popular concert series, Night Sounds, begins its season this Saturday at the park's Coconut Point pavilions. The 15-piece 20th Street Jazz Band will be laying down  "traditional jazz standards, favorite swing and pop," and they invite audience members to "cut the rug" should the beat move them to do so. Concerts are free with regular park admission, and you can buy pop, water, burgers, dogs and snacks at the Inlet Grill. Enter on the north side of the inlet, 9700 S. A1A, Melbourne Beach. Music starts at 7 p.m.