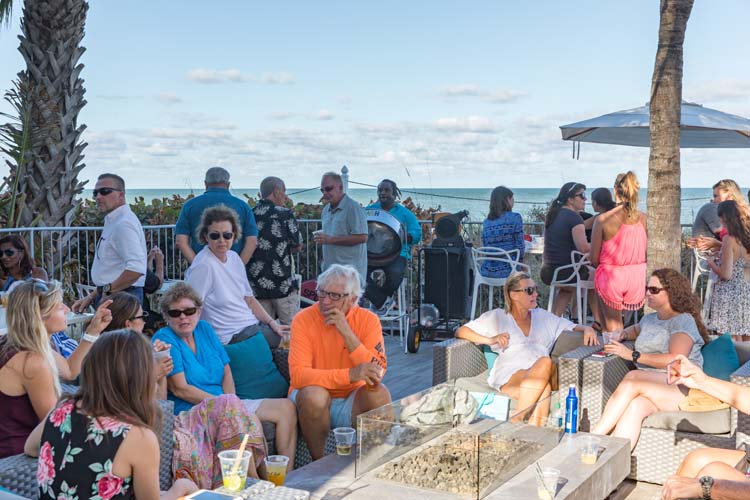 Spirits were high last Friday evening as folks gathered for a Hurricane Irma After-Party at the Costa d'Este Cabana Bar, bringing with them donations and canned food to benefit United Against Poverty of Indian River County and restock its UP Emergency Food Pantry.
A far cry from the howling hurricane-force winds of a few days earlier, the evening's gentle ocean breezes were complimented by music from steel drums. The only hurricanes in sight were the cool drinks sipped by clusters of guests as they noshed on delicious appetizers and swapped Hurricane Irma stories.
"We invested in impact windows, so we watched the hurricane like a show in the darkness," said Anna Valencia-Tillery with a laugh. "I said to my husband, 'Look at the beautiful blue and green glow.' He said, 'Darling, that's a transformer.' Fast-forward a week and we still have no power. But it was beautiful."
"After the past few hurricanes, I made sure I was ready ahead of time this time. I had all the supplies and tools I needed," said Aric Attas. "Drill bits were lined up and everything was organized. The stress of the hurricane is enough; you don't want to have the added pressure of finding things. Hopefully I'll never have to use any of the stuff again, but at least I have it."
Kendra Cope, Indian River County's sea turtle coordinator, said she was mesmerized by the power of the impending hurricane, adding, "We went back and forth across the bridge about six different times before Irma hit."
Although 70 percent of the unhatched turtle eggs were destroyed by the storm, she said that fortunately the majority of eggs laid this season had already hatched. "We had a record year even with the eggs lost in the hurricane."
Fenia Hiaasen, a member of the Turtle Team, said her family remained at their barrier island home during the storm and afterward she was able to save about six hatchlings with help from others.
"It was bad, but we made out so well. We have impact resistant windows and the storm came at night so I went to sleep. After the hurricane, I went down to the beach and evaluated the situation," said Hiaasen. "I had a lot of people dropping off baby turtles at the house. I kept them and then released them at night when they had a better chance of surviving."
Having hosted a Hurricane Matthew after-party last year, Costa d'Este General Manager Chad Olson said they recognized it as a way to encourage people to give back to the community.
"Costa's had a longstanding relationship with United Against Poverty, so they instantly popped into mind. Most people have not suffered substantial losses in our area, but the losses that are there are real. Things that we take for granted, like power, water and food," said Olson.
"I think everybody was in need of a reprieve so having a cocktail and detaching from the chaos the last two weeks have brought us was something everyone would enjoy."
The services provided by UP are geared toward empowering people to lift themselves out of poverty and into self-sufficiency through counseling, nutrition, education, job training and placement.
"Our biggest thing is ensuring that people who are the most economically insecure have access to nutritious food," explained Annabel Robertson, UP executive director. "Sadly we lost 422 pallets of food in the electrical outages. That's almost 200,000 pounds of food."
Product partners have offered 25 trucks of food, but the transportation cost to get them here will cost the nonprofit roughly $60,000.
"Over the last couple of days, we've been able to raise $27,000 of that," said Robertson. "That's a big need. We lost part of our roof and so we've had some campus issues as well, but nothing is as important as getting that food here. Over the past two days, we've served over 1,000 families, both with emergency food and through the sustainable food program at the member share grocery."
She noted that for those families living paycheck to paycheck, the loss of as much as $400 worth of groceries in their refrigerators creates a huge financial burden.
"We're looking at 40 percent of our neighbors who are really struggling right now; it's those types of financial emergencies that can throw a family into a financial tailspin," said Robertson.
Visit upirc.org for more information or to make a donation.