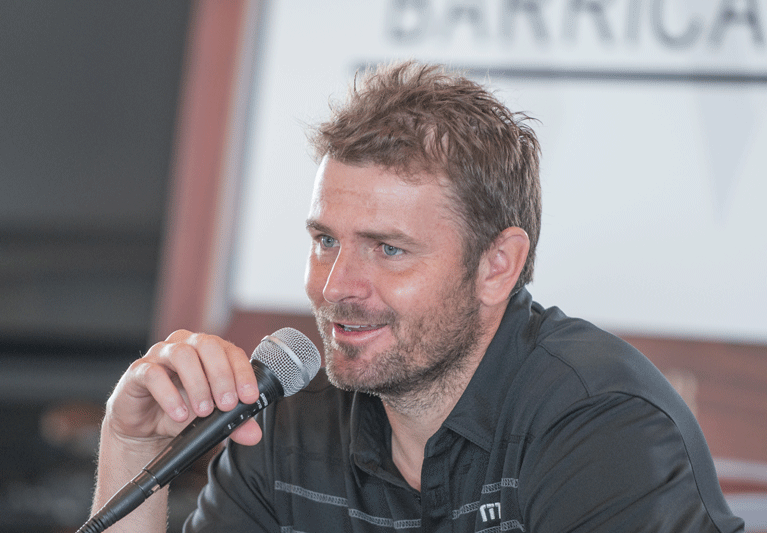 The Mardy Fish Children's Foundation is entering into a second decade of empowering children to live healthy lives by providing them with opportunities to participate in impactful fitness, nutrition and enrichment programs.
The Mardy Fish Children's Foundation was founded by former Vero Beach resident Mardy Fish, then a top-ranked tennis player, who wished to positively impact the lives of children in Indian River County. The first MFCF afterschool program launched at Pelican Island Elementary School in the fall of 2007.
"This is such a special community and Mardy has gotten so much support from the people here over the years. Ours is a small town with a big family feeling to it. We want to give back and contribute in our small way; to make it an even better community," shared Mardy's father, Tom Fish, MFCF chairman. "We had no idea how much need there was. You just live in your own little bubble and then as you get out more and more you realize there are a lot of people that need a lot of help."
The program has grown over the years and currently serves more than 2,500 school-aged children through its funding of afterschool programs that fall within the auspices of healthy lifestyle activities.
According to a report by the Trust for America's Health and the Robert Wood Johnson Foundation, "Across the United States one in six children (ages 2-19) are obese." With that in mind, the MFCF has renewed its commitment to combat childhood obesity by streamlining its programming to reach even more children.
"We want to make sure the money goes to the programs we feel would be most effective to help these kids. We feel very strongly that afterschool programs are critical for children, especially with obesity being what it is today. The numbers are ridiculous," explained Joe Pappalardo, MFCF board member.
"We put a lot of effort into this because we feel so strongly about how effective we've been the last few years, making some critical changes in how we impact the kids with programs that matter. We're supporting programs that not only impact children, but also can change the outcomes of health and fitness in their life. As Tom Fish says, 'Tennis is the classroom for us to teach the children more about the importance of healthy habits.'"
Whereas previously MFCF paid tennis professionals to provide afterschool tennis lessons at local elementary schools, their Kids on Court program will now be centralized. Elementary-age children will learn the fundamentals of tennis at Grand Harbor under the direction of LOTA Sports tennis professionals Marco Osorio and Ana Paula de la Peña Rosas.
"Our partnership with LOTA Sports (at Grand Harbor) and having a centralized location for Kids on Courts will make After School Tennis available to kids year-round, something we have never had the ability to offer," explained Kristen Wilson, MFCF director of communication.
"By centralizing the program and utilizing the talents of the former Mexican Davis Cup player and coach, we'll be able to help more kids. And, more importantly, we'll be able to offer a more structured program," said Pappalardo.
Pappalardo said Osorio is currently working with Grace Levelston, a 12-year-old girl considered to be one of the best players in her age group in Florida. He added, "She trains every day after school and her family can't afford the cost of that as well as traveling throughout the country. We're providing her with scholarships to go to the next level. She's going to be in the top 10 in the country someday."
Wilson explains that the scholarship program is need based, noting, "No child will be turned away due to lack of funds. Any child that wants to participate can; finances are not a reason to not participate. We do mostly partial scholarships, because having some kind of financial 'in' for the participants creates more ownership of the program. So there's a lot of value that comes with it. Even if they pay $20 for the month, they are more likely to attend and have respect."
The restructuring has eliminated all paid positions except Wilson's, enabling the nonprofit to maximize funding to in-school programs that meet their mission of fitness and wellness, healthy bodies and minds, character and teamwork.
In addition to tennis, they have funded Fit to Soar, a program to get kids moving that also focuses on behavior management, social and emotional skills. Others include gardening, art, cheerleading, music and dance activities. Mardy's Six Healthy Habits (Get Sleep, Drink Water, Eat Healthy, Exercise Daily, Brush and Floss, and Make Friends) remain at the core of both the Kids on Court and Kids in Motion programming.
"The sky is the limit for a school. If there is something they want to do that somehow relates to health, fitness or nutrition, just ask for the money," said Wilson.
"We don't want to hire people; we want to fund programs that have parallel visions. We'll have a better impact with programs that really do matter," said Pappalardo. "Health and fitness are for all children. We focus on helping kids that have very few resources and have a feeling of hopelessness in their lives."
"We are beyond fortunate as a foundation to be led by such a strong and knowledgeable team as our board of directors," shared Fish. "Our family is honored to continue offering programs and support to the community, promoting our mission to provide children the opportunities to participate in safe and impactful fitness, nutritional and enrichment programs, empowering them to live healthy lives."
For general information, visit mffkids.org. For scholarship information, email kristen@mffkids.org.