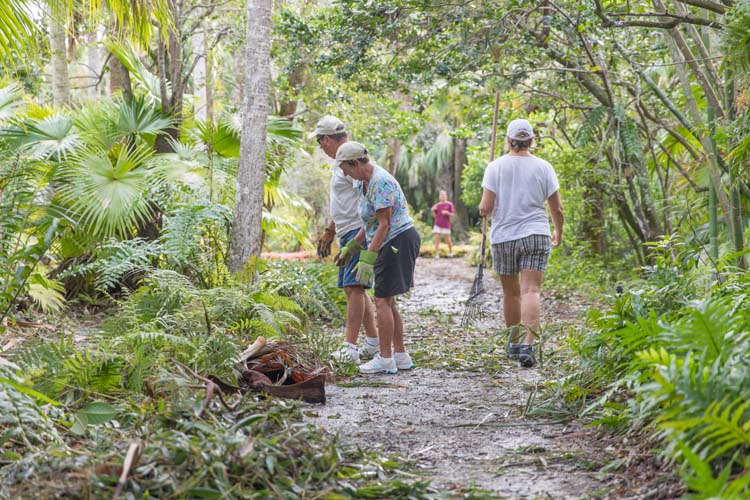 The winds from passing Hurricane Irma had unwound into a steady fresh breeze, the slathering rains diminished to a sudden spritzing out of blue skies.
When Vero's sleep-deprived storm warriors stepped out of the dark of their shuttered homes, the sight of stick-littered yards alone was enough to send a bad back into spasms. For Andreas Daehnik, who lives in the McAnsh Park neighborhood, it was worse than sticks. A fallen tree was blocking his driveway and he had an 8 a.m. meeting at work.
Daehnik, the director of horticulture at McKee Botanical Garden, fired up his chainsaw, sliced through trunk and shoved the thing out of his way.
As it turns out, that fallen tree was about the worse damage he faced that day. The 18-acre garden that is a precious part of Vero history made it through Irma remarkably intact.
"It's Mother Nature's way of pruning," said McKee executive director Christine Hobart. "It's just a brutal one." Clearly relieved, she had met Daehnik at the gate that morning and taken inventory as they walked the garden paths together. They quickly made plans to reopen this past Tuesday, just eight days later. "My guess is it won't even look like a hurricane hit it."
As they walked, Hobart and Daehnik breathed sighs of relief seeing orchid blossoms poke through the dense foliage, unscathed. Along with its legendary water lily collection, the largest in the southeast, McKee's orchids are a point of pride, having tripled in number in the past two years, Hobart estimates. While those orchids attached to trees and naturalized had to fend for themselves through Irma, many had been stashed inside, among the hundreds of potted plants that were moved when the storm approached, at points aiming straight for the Treasure Coast as a Category 4, a prospect that would have made even the cypress knees knock.
As it turns out, maximum winds at McKee were likely in the range of those at city hall, where gusts were reported at 64 mph, considerably less than hurricane strength. Rainfall totals in the area were around 14 inches. There was no structural damage of note.
Not that that week-long cleanup wasn't intensive. Within hours of crews arriving, a long berm of debris began to form along the edge of the parking lot. Traveler palms and white bird of paradise had to be trimmed of their windblown fronds, shredded into sand-colored fringe. Perennials had their burned tips snipped. Mowers in short order turned a million leafy twigs to mulch. And blowers blasted back a vast thatch of bamboo leaves.
Only a few trees were lost, including one in the front parking lot, the roots tearing up the asphalt as the tree fell. Another crashed down on a back acre designated as a future children's garden. Turns out, the tree was destined to be removed anyway. That garden, envisioned 20 years ago when a master plan was laid out for the restoration of McKee, will include a forest of giant mushrooms and a lily pad the size of a minivan. Its most notable feature, a pirate ship with tattered sails, will harken back to another hurricane, the 1715 storm that took out a fleet of Spanish galleons off Vero. In the garden's fantasy, the storm wedged the ship's hull into the stump of a huge banyan tree.
That historical reference to hurricanes was dreamed up by Emmanuel Didier, a Denver-based landscape architect born in Marseille and educated at the University of Virginia. His design for McKee is intended to complement the garden's distinctive low canopy, its jungle-like atmosphere and its rustic buildings left over from original owner, Waldo Sexton, who built the Ocean Grill and the Driftwood Inn.
Fundraising for the children's garden is part of a $7.5 million campaign currently underway to make improvements to restrooms and parking areas as well as boost the garden's endowment. With McKee approaching the halfway mark in that total, Irma's cooperation was very much appreciated.
"It's very, very fortunate," says Hobart, noting that it took two years to raise enough money to restore the gardens after massive hurricanes Frances and Jeanne in 2004.
Last fall's Hurricane Matthew, a Cat 3 that mercifully stayed 40 miles offshore as it passed Vero's coast, still caused staff to dip into McKee's "rainy day fund," considerably more than it will for Irma.
"Matthew left a lot more debris. This was a rain event for us," says Hobart, who on the third morning after the storm still hadn't been able to reach the depths of the garden due to flooding. The installation of a pump forcing water into a reservoir area was expected to drain the mucky areas by this week.
By November, when McKee Garden mounts its newly acquired African animal sculptures of recycled steel, Irma will be a distant memory. The animals, custom-built in Nairobi, spent the storm in the shelter of a shuttered storage area. And while hurricane season doesn't officially end until Nov. 30, Hobart is convinced the lions and giraffes will be able to stay outdoors.
"There isn't going to be another hurricane," she says, laughing with conviction – and the slightest scowl of warning.