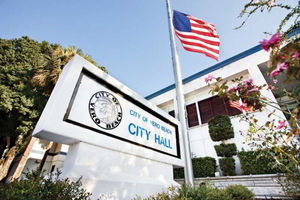 VERO BEACH — Vero Beach City Hall was full Wednesday for the second public meeting on the comprehensive plan, which has not been updated for 25 years.
The city's Planning and Zoning Commission worked on the revision for about a year and a half, with the guidance of an unnamed consultant and City Planner Tim McGarry, and sent it to the City Council for approval.
Dozens of citizens showed up to comment, splitting evenly into two camps. One group wanted the council to approve the 400-page document so projects dependent on the update can move forward, particularly the Cultural Arts Village. The city's current comprehensive plan has no provision for such a district and its special zoning.
Speaker from this group said the state requires that a comprehensive plan be updated every seven years, and warned that the city could be risking the loss of state funding. The plan could be changed and "tweaked" later, they said, and "nothing was cast in stone."
The second group emphasized the legal power and constraints conferred by the comprehensive plan that are difficult to reverse. They claimed the plan opens the door to higher density, loss of home-rule power and in place of unique neighborhoods encourages "cookie-cutter" development.
The City Council agreed not to send the draft comprehensive plan to the state on Wednesday. Instead, Mayor Laura Moss, City Manager Jim O'Connor and McGarry will confer on changes over the next 30 to 45 days, bringing a second draft before the council and public.