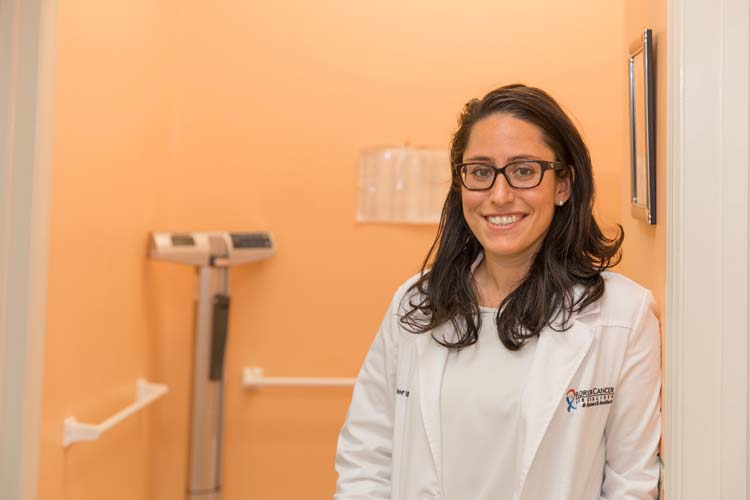 Florida Cancer Specialists, which has offices in Vero Beach, Sebastian and many other locations across the state, participated in 84 percent of the clinical trials for new cancer drugs that were approved by FDA last year.
With hundreds of new or ongoing clinical trials constantly being conducted, Florida Cancer Specialists – or FCS – is always looking for the cream of the crop when it comes to physicians, researchers and statistical analysts.
With the recent addition of Vero Beach native Dr. Jen Byer, FCS may well have gotten all three rolled into one vivacious and highly-qualified package.
Byer attended St. Edward's and Vero Beach High School before going on to the University of Florida, where she earned a B.A. in mathematics, and the University of South Florida, where she got her medical degree and served her residency. Next came a three-year fellowship in hematology and oncology at the Moffitt Cancer Center.
"I grew up in Vero Beach," Byer proudly states, "and I am very much looking forward to being back and giving back to the community in which I was raised."
"I plan to practice general hematology/oncology," Byer continues, "so my interests span the spectrum from benign hematology to sickle cell diseases and other anemias to malignant hematology like leukemias and lymphomas to solid cancer types like colon cancer, lung cancer and breast cancer."
That might seem like a wide spectrum for any one doctor but – frankly – Byer's roots in cancer care run deeper than most physicians' do.
Her father, Dr. Stuart Byer, a radiation oncologist who boasts a 5-star rating on both WebMD and Healthgrades.com, has been practicing medicine for over 30 years and is affiliated with Vero Beach's Indian River Medical Center.
The younger Byer freely admits "I am so excited to work with him." Actually, she adds, "I'm beyond excited."
Excitement aside, in addition to her fellowship experience at Moffitt, Byer is also a recognized "biostatistics" expert, which gives her another advantage in caring for patients.
"One of the toughest jobs we have," Byer says, "is interpreting all of the data that we get [from all these clinical trials]. Especially in oncology care. Learning how to interpret that data and that statistical analysis in a way is that is helpful for our patients is the key."
Almost as an aside, she adds, "I'm able to combine the statistical side of things and the medicine side of things."
That, she believes, allows her to offer her patients better care.
After all, it takes more than a computer and a handful of algorithms to treat a patient.
Or, as Byer puts it, "It's all about interpretation of data," while simultaneously maintaining an open and personal relationship with her patients.
Still, like any medical specialist, Byer freely admits that just about nobody wakes up one morning and says to themselves, "Hey! I need to go see a hematologist."
Most often, according to Byer, "People may feel fatigued. They may have some bruising. They may have some GI bleeding. They may just feel off, and a lot of times they'll go to their primary care doctors," who, in turn will refer those patients to a hematologist/oncologist like Byer.
Others may turn first to a hospital emergency room.
"What they'll do," Byer says, "is they'll feel a lymph node or something like that and they'll go to the ER." In that case, "the ER will do basic blood work and find either hemoglobin is off or their platelet count is off or they have some abnormal cells circulating in their blood and they'll send the patient over to us."
As the Cleveland Clinic points out, some hematological disorders are benign, meaning they resolve completely with treatment and do not affect a patient's overall lifespan.
Others are chronic and lifelong but, again, do not affect longevity; others can be downright lethal.
Those include certain leukemias such as acute myelogenous, chronic myelogenous and acute lymphocytic as well as Hodgkins and non-Hodgkins lymphomas.
And since Byer's new practice also includes treating colon cancer, lung cancer and breast cancer, her wide-ranging analytical skills along with her personable and patient-friendly manner – as well as access to the scores of clinical trials being run through FCS – mean her expertise will be in high demand here on the Treasure Coast.
Dr. Jennifer Byer is with Florida Cancer Specialists at 13060 U.S. 1 in Sebastian. The phone number is 772-589-0879.