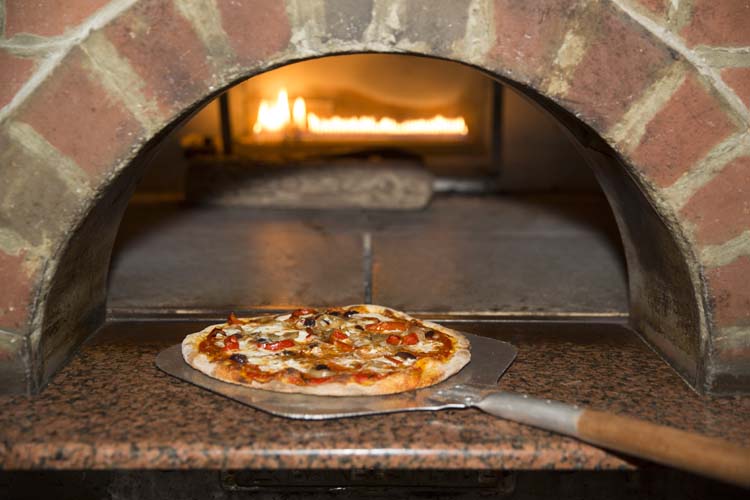 No aroma makes me feel as content and happy as the smell of garlic. And nothing radiates this tantalizing fragrance better than the garlic knots at the Pomodoro Grill.
You smell the scent of hot baking rolls and lots of garlic the minute you come through the door of the attractively decorated Tuscan trattoria. It's all I can do to concentrate on the menu as I wait for a basket of those olive oil-basted beauties to come to the table.
For more than two decades, we have been dining at this unpretentious restaurant tucked back in the corner of an office building at the southern end of Cardinal Drive.  After a couple of visits in recent weeks, I would have to say the dishes (as well as the garlic knots) have never been better.
On a recent evening, our party of three started by sharing an order of calamari fra diavolo and the cozze fra diavolo.
My husband's calamari sautéed with garlic, white wine and basil was served at his request in a bianco (white) sauce. Very tender and tasty. But the Prince Edward Island mussels, also sautéed with garlic and white wine but finished in a spicy tomato herb broth, were to die for.
Following the appetizers, we moved to the field greens-and-tomato salads that are included with entrées – I had mine with a tangy tomato basil vinaigrette, while my husband and our companion opted for the creamy Vidalia onion dressing.
Then for entrées, I chose the eggplant parmigiana, my husband had the evening's seafood special, grouper piccata in a lemon butter caper chardonnay sauce, and our companion decided to have a 12-inch personal brick-oven pizza.
My entrée consisted of slices of breaded eggplant layered with fresh basil, Romano and mozzarella cheese, topped with Pomodoro's marinara, and baked in their oven with a side of rigatoni. This is one of the best eggplant parms to be found in Vero.
My husband's grouper was outstanding, a perfectly cooked piece of fish served with a great assortment of grilled veggies.  Our companion's pizza was a big winner – topped by cheese, peppers, mushrooms and bacon. It had a very thin crust, neither limp nor cracker-like, but crisped to perfection.
On another visit on a Thursday, my husband and I decided to take advantage of a Pomodoro summer special which on Wednesdays and Thursdays lets diners order from the trattoria's $16.95 Sunset Menu (usually only available from 5 p.m. to 6 p.m.).
I opted for the Oceano – little neck and baby clams, jumbo shrimp and mussels over penne served with fra diavolo sauce – and my husband picked the mahi mahi limone.  To his surprise, however, the server told him that on this evening Pomodoro was substituting grouper for the dolphin. Even better! And it was served in a delicious chardonnay crème sauce.
On both visits, we enjoyed too many of the garlic knots (we even used them to mop up the broth from the mussels and the calamari) to even consider dessert.
Dinner for two, accompanied by a modest bottle of wine, typically comes to about $100 before taxes and tip. In addition to its colorful dining room, Pomodoro has an attractive outside garden that when the weather cools is perfect for dining al fresco (or enjoying a cappuccino after dinner).
For consistently well-prepared seafood, veal, chicken and pasta dishes (along with great brick-oven pizzas) at reasonable prices, this island favorite remains a restaurant that is hard to beat.
I welcome your comments, and encourage you to send feedback to me at tina@verobeach32963.com.
The reviewer is a beachside resident who dines anonymously at restaurants at the expense of this newspaper.  
Pomodoro Grill
Hours: Mon. – Sat., 5 pm – 9 pm; Closed Sunday
Beverages: Beer and wine
Address:  3055 Cardinal Drive, Vero Beach
Phone: 772-234-1123