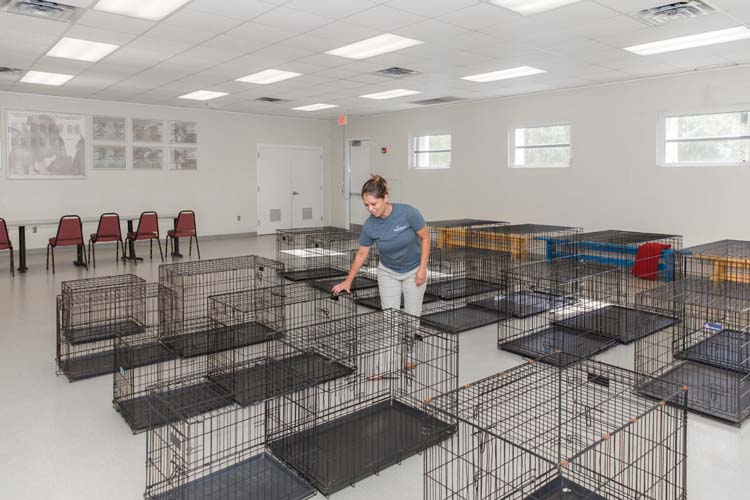 As residents of Indian River County anxiously tracked the approach of Hurricane Irma last week, Humane Society of Vero Beach and Indian River County staff and volunteers were efficiently preparing the shelter for animals to ride out the storm.
When hurricanes Frances and Jeanne hit the Treasure Coast in 2004, well over 400 animals ended up at the shelter. That sobering outcome highlighted the importance of implementing a county-wide plan to protect our four-legged friends during future emergencies.
The uncertainty of impending storms, coupled with concern over a pet's safety, increases anxiety and can complicate rescue efforts. According to the Centers for Disease Control and Prevention, pet owners are less likely to evacuate during a disaster if there are no shelters for their pets, hampering rescue efforts and ultimately increasing the number of fatalities.
During hurricane Katrina, one year after our double whammy, people were forced to leave an estimated 250,000 pets behind, resulting in the deaths of as many as 150,000 animals. That unthinkable loss prompted the Pet Evacuation Transportation Standards Act of 2006, which requires state and local governments to factor pets into their emergency evacuation plans.
"We realized we needed a pet-friendly shelter to house those people that truly have no other options," recalled Ilka Daniel, HSVBIRC director of Protective Services. "It was a combined effort between the Emergency Operations Center, the Humane Society, [Indian River County] Animal Control, the school board and the Red Cross. We needed to get the message out, ''No animal should be left behind!' There are over 80,000 owned animals in Indian River County. We don't want to see any animal left behind and we certainly don't want people to be in an unsafe situation."
Although the county plan has been in place for nearly 10 years, it wasn't until Hurricane Matthew was headed our way last year that the pet-friendly shelter at Liberty Magnet School was activated, enabling nearly 100 animals to hunker down with their owners. The pet-friendly shelter is a shelter of last resort. Space is available on a first-come, first-served basis for evacuees who reside in a mandatory evacuation area, flood zone or unsafe home.
"Separating people and their pets is extremely traumatic. Especially in a situation that is already scary. We do our best to keep people and their pets together. In the event that we can't do that we certainly want to make sure that the people and their pets are safe," explained Daniel.
In addition to the 250 animals housed at the Humane Society on any given day, they also provide pet housing for special needs residents.
"Unfortunately, there are people that don't have the means either financially or physically to plan ahead, so we are trying to help them come to the best solution to shelter with their pets," said Daniel. "At the shelter, we take in animals from people registered with the Special Needs Shelter. These are the people that are dependent on electricity for their health or well-being."
Additionally, first responders working during the storm who do not have anyone to care for their pets can house them at the Humane Society, as they recognize the importance of having firefighters, law enforcement officers and healthcare professionals remained focused on the situation rather than worrying about their pets.
Once the county issues its evacuation order, the HSVBIRC goes into 24-hour operational mode, with a core team of specially trained staff to walk and care for the animals.
"We call it Hotel Humane. We all bring our pets and our gear, and we hunker down. We're here for the duration, literally, until the last animal leaves after the storm. Our main goal is to keep people and their pets together and safe," said Daniel.
Both people and pets are often displaced after the storm, and she stressed the importance of having pets micro-chipped so that they can be reunited with their owners should they become separated.
"It's just like in Texas right now; there are an awful lot of people that don't have homes to go back to," said Daniel.
For more information, visit HSVB.org or call 772-388-3331. If you discover a stray after the storm, bring it to the HSVBIRC or call Indian River County Animal Control at 772-226-3485.