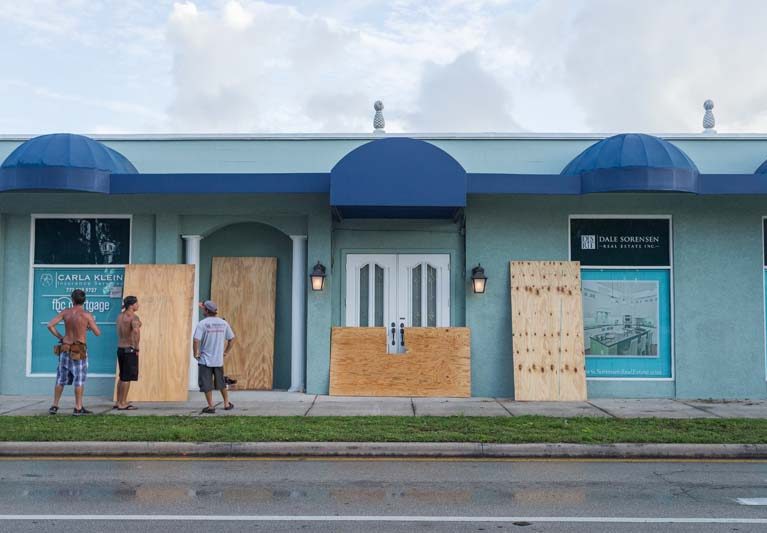 The grumbling began early last week, when weather forecasters issued the first warnings that Hurricane Irma might be headed our way – adding that if it arrived on our shores, it could deliver a devastating blow to Vero Beach.
Apparently, everyone hates the arduous, time-consuming and often-aggravating chore of putting up storm shutters as much as I do, especially after having gone through this drill only 11 months ago in preparation for Hurricane Matthew.
Most of my neighbors have the metal, slatted, screw-in shutters that came with their homes when they were built 14 years ago. Some have upgraded to the already-installed, easy-to-close accordion-style shutters.
A rare few have invested in impact-resistant windows that offer protection against hurricane-launched projectiles but allow natural light to fill the home, offer security against break-ins, reduce noise, are more energy efficient and, equally as important, do not require shutters.
Which got me thinking . . .
Why not require that all new construction, especially in the residential realm, include impact-resistant windows?
Let's face it: We live in a part of the world where hurricanes are an annual threat. These storms seem to have become bigger, stronger and more frequent.
State officials made sweeping changes to the Florida Building Code after Hurricane Andrew destroyed Homestead in 1992. New construction requirements essentially eliminated the building of wood-frame structures and made concrete-block homes the norm, while also mandating fortified roofs.
This might be a good time to address windows.
Fact is, for many of our older residents, putting up shutters – in hot, humid conditions – can be dangerous. Some seniors are physically unable to do so and, unless they have a nearby family member or generous neighbor willing to help, must pay someone else to batten down their homes.
Age, though, isn't the only obstacle: Most younger residents are working and have only a couple of hours in the early evenings to tackle a task that can take all day to complete.
Last week, for example, most of us didn't feel compelled to put up shutters until Wednesday or Thursday. Given the early projections of when we'd begin to feel Irma's wrath, we couldn't afford to wait until the weekend.
And with local stores running out of bottled water and gasoline becoming scarce, shuttering up was just something else we had to worry about.
Wouldn't it be nice if we didn't need to?
"I'm actually seeing more homes with impact windows, especially on new construction," local insurance agent Brennan Campeau, who wrote my homeowners' policy, said last week. "If it's not standard, it's usually an optional upgrade. But I'm even seeing them installed in more existing homes."
Industry reports say impact-resistant windows account for about 10 percent of the national market for new construction, knock-down rebuilds and the replacement of windows in existing homes – and those numbers are expected to experience steady, above-average growth through 2020.
Surely, the numbers are higher in Florida, particularly in coastal areas.
Kery Jones, operations coordinator for the Indian River County Building Department, said he, too, has seen an increase in impact-resistant windows locally, especially in new-construction developments and rebuilds.
"You have to have some form of protection, either impact windows or shutters," Jones said. "But even the standard windows nowadays are more resistant than they were 25 years ago."
So are impact-resistant windows.
Campeau, considered a local expert on building codes, said some of the impact-resistant windows installed in the aftermath of hurricanes Frances and Jeanne in 2004 were susceptible to water seepage. He said both the products and installation have improved noticeably in the years since.
For those wondering, the Florida Building Code requirements for both impact-resistant windows and shutters are the same for our county – they must be able to withstand a nine-pound missile traveling 160 mph.
Several of the builders of new-home communities under construction on the Vero Beach area's mainland offer buyers impact-resistant windows, at least as an upgrade.
"They're standard in our higher-end communities, like Lake Sapphire and Lily's Cay, and they're optional in others," said Bill Handler, president of GHO Homes, which is building in nearly a dozen local communities.
While Handler said the cost of impact-resistant windows varies with the size of the home – he said the price usually ranges from $5,000 to $10,000 more than standard windows – Campeau said he has seen barrier-island homes where owners have spent more than $75,000 for the added protection.
"It can cost $20,000 for one of those large, panoramic windows that give you a view of the ocean," Campeau said.
"Even on the mainland, I've seen sliders that can cost $8,000. But for a 2,500-square-foot house on the mainland, it'll probably cost between $10,000 and $15,000."
I'm already considering making such an investment in my current house, even if it means securing a home-improvement loan. And if I ever decide to sell and buy a new place in Vero Beach, it will have impact-resistant windows.
All new homes should, and our elected state officials should make sure of it.
They drastically revised the Florida Building Code after Hurricane Andrew. They should seriously consider revising it again after seeing their state getting pummeled by Matthew and Irma in back-to-back years.
And don't forget: It's only mid-September, which means there's plenty of time left in the 2017 hurricane season for us to get hit again.
Still, I wouldn't hold my breath. I've spoken with builders, insurance agents and public officials, and none of them said they expected to see the state require impact-resistant windows in all new residential construction.
The costs are seen as prohibitive.
Meanwhile, homeowners are left with the choice: Invest in new, secure, impact-resistant windows or keep putting up with the hassle of storm shutters when the wind threatens to kick up and blow. n
rain and tropical storm force winds, it no longer was facing the destruction of a direct hit by a Category 5 hurricane.
Saturday afternoon, the only drinking and dining spot still open on the island, the Riverside Cafe, was packed by some of the hundreds who had refused to evacuate, holding an impromptu Key West-style hurricane party.
But by Sunday, the island was totally shut down. Rain squalls and winds gusting to hurricane strength lashed the area throughout the day and into the night. Power went out, plunging most island homes into darkness. A heavy surf brought an angry ocean up and over the dune line, once again eroding the recently replenished sand under the Conn Beach boardwalk.
Then on Monday, island residents awoke to sunny skies. They ventured out of their homes to find Irma's damage largely limited to palm trees and oaks, whose stripped fronds and broken branches littered the streets.
All in all, we were very lucky.