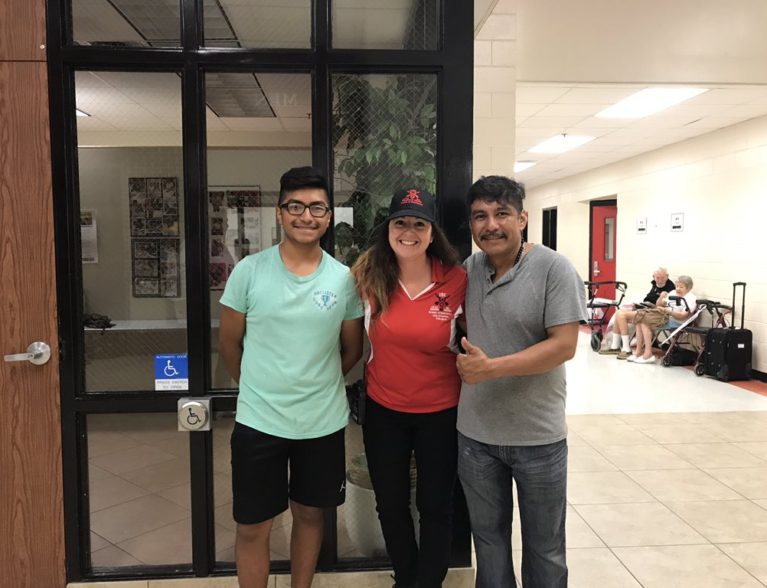 VERO BEACH — A catastrophic hurricane didn't stop Jhonatan Vite and his dad from helping 30 families at a local shelter.
The Sebastian River High School sophomore and his dad, both of Vero Beach, went to the shelter at the Freshman Learning Center at Vero Beach High School. When they got there, Cindy Emerson, principal at Vero Beach Elementary School, asked them to volunteer.
So, they got to work. Jhonatan Vite, 15, and his dad, Asuncion Vite, helped at least 30 families set up their belongings at the shelter, 1507 19th St., Vero Beach.
"It felt pretty good. It made me have a good feeling inside," Jhonatan Vite said. "They thanked me and smiled."
Vite said he has lived in Vero Beach for 15 years and only experienced one other hurricane. He said he was only four or five when that hurricane hit and that his family went to a shelter. He couldn't remember any more specific details.
Meanwhile, Hurricane Irma evacuees are having fun at the shelter.
The approximately 350 evacuees at the Freshman Learning Center are enjoying games such as family bingo. The kids are playing kid games, according to assistant principal Megan Kendrick.
"We have spent the day getting people registered with Red Cross and making sure they're comfortable," Kendrick said on Saturday. "It has been a wonderful experience."
The shelter lost power by 4 p.m. Sunday, but is running on a generator, according to Emerson.
Kendrick said there's about 100 elderly people at the shelter. Many of them came from their home on a mandatory evacuation, Kendrick said.
"We've had the community come out to bring them pillows and blankets," Kendrick said.
There are about 10 to 15 volunteers, including children, at the shelter. The children are walking around and making sure seniors have water and food, Kendrick said.