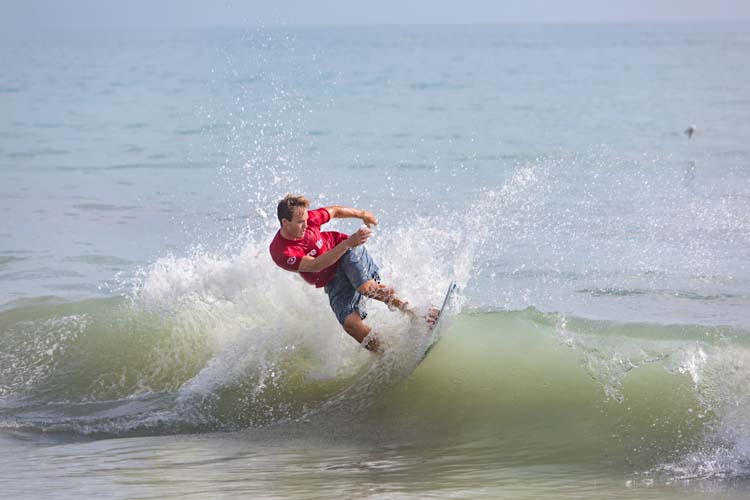 Beachgoers are often pounded by the surf, but that was just part of the challenge for the nearly 100 competitors who skimmed their way into Vero Beach last Saturday for the 10th annual Mulligan's Skim Jam, presented by Shore lb.
"You're running at a sprinting pace, throwing down your board, hitting a wave and trying to ride it back. Sometimes that just doesn't work out that well, and you're gonna get pounded into the sand," explained Tim Capra, Vero Beach Lifeguard Association vice president and Shore lb. art director. "Our shoreline is unique; it's a shore break. We don't have much stopping open ocean swells from breaking in ankle deep water. It's a great skimboard wave. It's easier for skimboarders to get out to it, turn around, come back in and ride it like a surfer."
Billed as the world's largest one-day skimboarding competition, the annual event raises funds to help the VBLA promote lifeguarding and water safety and to purchase lifesaving equipment and rescue supplies.
"Skim Jam is one of the highlights of our fundraising year," said VBLA president Erik Toomsoo. "It's a great way to highlight the need for equipment and lifeguard training. More and more people are coming to the beach, so we have to be proactive. Get the equipment, get the tower, get all that stuff built and get ready for more incidents."
"We think it is very important to support our lifeguards because they are the ones that keep our beaches safe," said the event organizer, Shore lb. founder and VBLA board member Chris Ellison. "They're the ones that pull us out of the water if we need help. The VBLA is very important to me personally, because I am a retired lifeguard from the City of Vero Beach."
Ellison said the sport has also been a vessel to travel the world, explaining, "It has gotten me into different countries and different beaches that I never would have explored without skimboarding."
Skimmers performed as many flyaways, ollies, widdlys and wraps as they could during timed heats to earn points in categories that say it all: I Suck, I'm Good, I'm Better, I'm Turning Pro Tomorrow and Pro, with skimmers from groms (young skimboarders) to professionals competing.
Jill Samberg's 14-year-old son Aiden has been skimming since he was 4 years old, but this was his first foray into competitive skimboarding.
"It's such a great lifestyle. There's a great bond with all of the skimboarders. It's a tight little community," she said.
Walking Tree Brewery hosted an after-party and awards presentation, where a mobile skate park with a big half pike was set up for an inaugural Shore lb. Surf and Turf, pitting Skim Jam contestants against skateboarders to promote and support the Vero Beach Skate Park Alliance.
The fun carried over into Sunday with Waldo's sixth annual Wildcard Poker Stroll, another fundraiser for the VBLA, which is paying it forward. They will use proceeds from the raffle to help fund the transportation of supplies to Hurricane Harvey victims in Houston.
For more information visit VBLA.org.