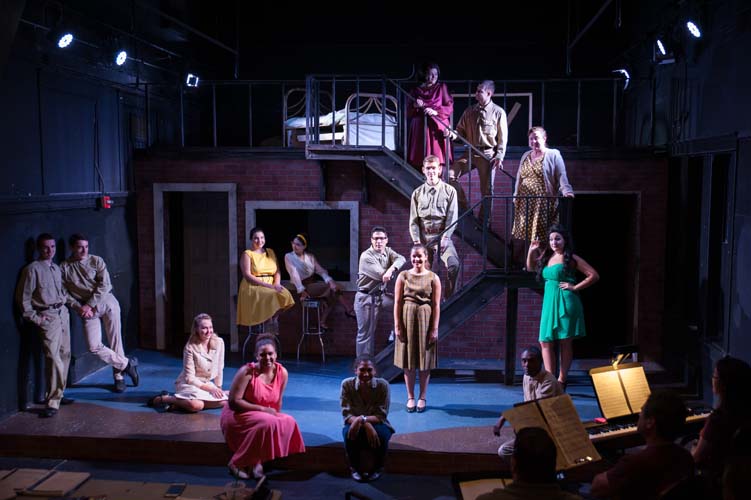 Upstairs at the Henegar expands its reputation for provocative theater with this weekend's opening of "Dogfight."
Opening Thursday, the show runs for two weeks in the 85-seat venue, which has director Amanda Cheyenne Manis very nervous.
"The show having such a short run, if people wait to get their tickets, they aren't going to get in," she said.
Indeed, that's exactly what happened with three Upstairs at the Henegar productions – "Spring Awakening," "Hand to God" and "Lady Day at Emerson's Bar & Grill."
"The show is going to sell out," she said.
"Dogfight" is a musical re-telling of the 1991 River Phoenix film written by the late Bob Comfort. The stage version was written by Benj Pasek and Justin Paul, the duo who wowed Broadway this past season with their lyrics and music to another provocative show, "Dear Evan Hansen."
Set in 1963 San Francisco, "Dogfight" revolves around a group of young Marines on their last night before heading to Vietnam. Full of bravado, they compete to see who can find the ugliest date for the night. Hence, the word "dog" – a pejorative for a woman considered by some to be unattractive.
Think a fraternity "pig party" which has the same cynical theme; or the 2010 Steve Carrell movie "Dinner for Schmucks." It's all the same concept with the ironic theme that the ugliest people are actually the exploiters.
And, sentimentally, we want to see one of the misanthropic men discover that reality. We want to see him touched by the heart of a young woman whom society has used only as an object of ridicule and discarded.
And "Dogfight" delivers that, Manis said.
In the story, character Eddie Birdlace meets Rose, a young woman whose loving soul captivates him.
Portraying Eddie Birdlace is Chris Fallows, who has not been on the stage for three years. When he heard that the Henegar was producing the show in the intimate Upstairs venue, he knew he wanted to audition for it.
"Eddie is a complex character," he said. "He embellishes his stories and puts on a tough guy persona. But truthfully, he is an awkward 18-year-old who hasn't figured out who he is."
Rose reveals a "softer side" to Eddie, who eventually deals with post-traumatic stress disorder.
That brings the hardest layer for Fallows – a "plethora of emotions."
"I have to laugh, cry and deal with a deep depression I have never personally gone through," Fallows said. "It is a privilege to have such a challenging experience as an actor."
Bella Rohrer is the socially awkward Rose in "Dogfight." Rohrer had listened to the original cast recording and had a basic understanding of the story's theme.
"Rose is a kind-hearted and awkward girl with such a tenacious spirit," she said. "She discovers her own power and inner beauty and forms a special bond with Eddie."
Like Fallows, though, she finds the emotions the biggest challenge in her portrayal.
"The show is kind of an emotional roller coaster for Rose," she said. "The hardest part is definitely portraying her sadness, her anger and everything in between."
Manis said her talented cast are such decent people and so kind to one another, it has been difficult for them to plumb the deeper, darker parts of the characters and to realistically portray being mean to each other on stage.
"My actors, who are all pretty young, leave feeling stretched as people and exhausted as performers," Manis said.
Both Fallows and Rohrer have learned a lot about 1960s American history by being in this show.
Knowing her young cast needed to learn about the period, Manis asked Vietnam vet Jack Maloney to speak to them. Maloney, who lives in Melbourne and is active in the community theater scene, was in the Marines from 1968 to 1972.
He spoke to the cast about Marine camaraderie and what it felt like to be a 17-year-old Marine on liberty. As a former clinical social worker with the Department of Veterans Affairs, he had a lot to tell them about PTSD. Maloney also discussed what it was like coming home in the 1960s and being spat on and called "baby killer."
"It was hard for (the actors) to understand," he said. "Considering today's attitude towards the uniform."
Fallows said the musical underscores major themes in American history and society, from pre-hippie America to the sexual revolution
"I sincerely hope that people will take away a respect for veterans in our Armed Forces," he said. "I also hope people will appreciate the theme that there's more to a human being than appearances or first impressions. It's a musical I hope will get the love it deserves."
For Rohrer, "Dogfight" has taught her about the resiliency of the American spirit.
"And that men, especially Marines, love to drink and swear," she laughed.
While the storyline may repulse gentle souls, it has a redeeming resonance, Manis said. It looks at loss, regret and forgiveness, "forgiving each other for poor behavior and forgiving themselves," as Manis put it.
"There is so much beauty in that, in the human condition. Much more than you can find in any mirror."
"Dogfight" runs Sept. 7-17 in the Upstairs at the Henegar studio theater, 625 E. New Haven Ave., Melbourne. Tickets are $26 general admission, $23 for seniors and military and $16 for students. There is a $3 handling fee per ticket. The show is not recommended for young audiences. Call 321-723-8698 or visit Henegar.org.