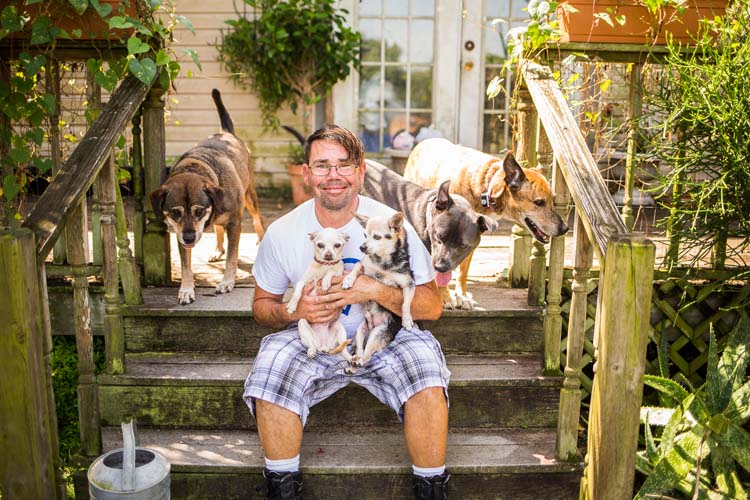 For the Love of Paws Senior Pet Sanctuary, a safe refuge for the displaced pets of senior citizens, was born out of one woman's love of animals. It was a love the late Jessica (Jess) Pankiewicz shared with husband Ted Pankiewicz Jr. and sons Hunter and Ryder.
"It didn't matter what it was. Whether it was a goldfish, a horse or a wild deer, animals were her passion," he shared. Sadly, she passed away in January 2013 at age 32 of the rare auto-immune disorder, Devic's disease.
"When she passed away, for quite a while I was in a dark place. Then my father came to me one day and said, 'You've got the property and we've got the time. Let's do something in Jess' name for the animals,'" Pankiewicz Jr. recalled.
"We had a place out in western Jersey with ducks, cats, horses, goats and pigs," explained Pankiewicz Sr., a retired New Jersey police officer who spent 25 of his 30 years working with K-9s. "So the kids grew up with animals and I was known for bringing dogs and cats home."
In his capacity as manager of Park Place, a 55-plus community in Sebastian, Pankiewicz Sr. became aware of the need for a pet rescue for animals owned by senior citizens who were heading into surgery, rehab, assisted living, nursing homes, hospice or who passed away, noting, "In many cases, we found the pet is the only thing the seniors really have left. They've outlived their friends and their family. We give peace of mind to the seniors because we will take care of their pets when they can't."
Knowing their pets are well cared for, seniors can focus on healing and, hopefully, return home to reunite with their furry friends. The nonprofit also began providing free pet food after volunteers from the Senior Resource Association learned that some of their Meals on Wheels clients were sharing their meals with their pets.
"The SRA asked us for pet food, and since partnering with Meals on Wheels, we are now providing pet food to 16 food banks in the county," said Pankiewicz Sr.
Each week, volunteers at the facility bag and distribute food to pet owners needing assistance. Others fan out to deliver pet food to food pantries and the homebound. Just last month they gave out 4,500 pounds of cat and dog food; roughly 10,000 meals a month. The pet food is replenished through donations of food and money and by food drives held by schools, churches and local businesses.
"We have a proactive impact on keeping animals out of shelters. A lot of these seniors that would have gotten rid of their animals because they couldn't afford to take care of them anymore, would have sent them to the shelter," said Pankiewicz Jr.
"We're helping people make ends meet and keeping pets out of shelters and pounds. When it comes to feeding your kids or your pet, people have to make tough decisions. By doing this, we're helping people with their grocery bills, so they don't have to worry about food," added Pankiewicz Sr.
Seeing an ever-growing demand, For the Love of Paws is now seeking a larger facility to store the food they need to have on hand. They have a proposal to lease property on 510, next to Operation Hope in Fellsmere, with an eye toward purchasing the property. The move would more than quadruple their space, enabling a cat loft, a memorial park and future development. It would also provide space to store a tractor-trailer worth of dog food that a national organization has offered to provide once or twice a year.
"That's 45,000 pounds of food; that will be a phenomenal boon for us," shared Pankiewicz Sr. "We'll be able to expand to all these groups that are waiting for us to be able to supply them. We can always use volunteers, food donations and foster families, but what we really need is a warehouse to store and distribute the food."
Tearful calls for assistance are received on a daily basis. A disabled senior relayed that her husband had died and she was having trouble feeding their two cats. Another woman was more concerned with what would happen to her 8-year-old dachshund than with her own hospice care placement. One woman lost her job right after taking in all of her father's pets when he passed away. And another refused to be admitted to the hospital until someone promised to take care of her beloved pet.
"We've taken in animals at least 40 times the last 14 months. And we have six cats that are all foster failures. Nobody's taken them, so they're ours now," says Pankiewicz Sr., adding that on average, pets remain anywhere from one week to five months.
And then there's Libby, a blind 12-year-old dog relinquished by a senior who couldn't take care of her anymore, and who has since become their mascot. "We had all the intentions of adopting her out, but then we fell in love with her. Everybody loves her," said Pankiewicz Sr.
"You get attached to the animals. But seeing the senior citizen who's already gone through hell because they went through rehab or surviving cancer being reunited with their pet is amazing. There's no better high than knowing you've made an impact and changed somebody's life for the better," said Pankiewicz Jr.
"If we weren't doing what we're doing, these seniors wouldn't be able to keep their pets. We couldn't do this without our wonderful volunteers," said Cookie, wife of Pankiewicz Sr.
"A lot of seniors are on a fixed income so they can't afford to keep their pets," said volunteer Judy Udell. "I don't know what I'd do if I didn't have my pets."
Retired nurse Lyn McGinnis, who previously worked for VNA & Hospice, agreed, adding, "The work they do here is fantastic. When I found out what they do, I had to be part of it."
For the Love of Paws will host an inaugural Trap/Skeet Fun Shoot on Nov. 19, from 9 a.m. to noon at the Indian River County Shooting Range. For more information on how you can help, visit pawspetsanctuary.org or call 772-539-2417.