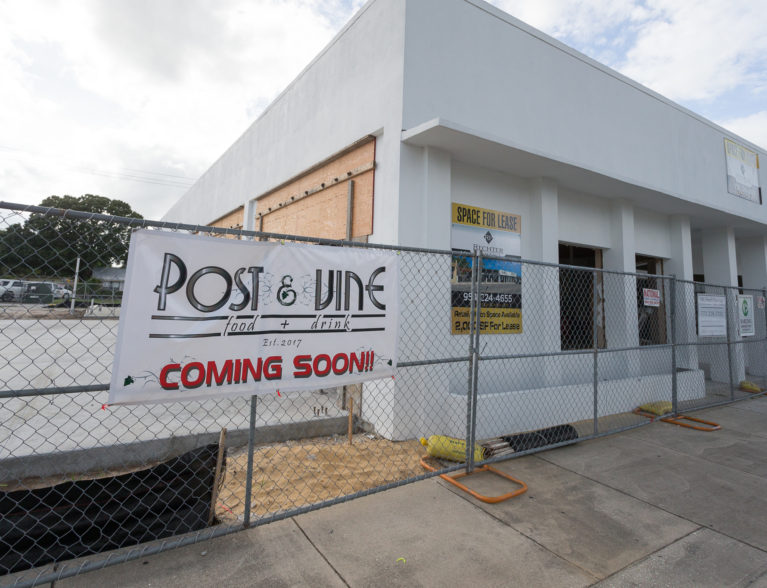 The developer who led the way in revamping the U.S. 1 commercial corridor in Vero Beach roughly a decade ago is now busy breathing new life into the city's downtown.
Michael Rechter, co-owner of Integra Corporations, calls Fort Lauderdale home, but you wouldn't know it. "I probably spend 3-4 days in Vero Beach each week," he said in a telephone interview. "My focus now is on the city's downtown."
Rechter has two projects underway. Foremost is his high-profile American Icon Brewery, which is now scheduled to open in October in the huge, handsome old former diesel power plant at edge of downtown. The red brick building, which is listed on the National Register of Historic Places and was Vero's oldest municipal building when it was sold to Rechter last year, was built in 1926.
As the brewery and restaurant near completion, Rechter has turned some of his attention to 14th Avenue. That's where renovation has begun on a simple white rectangular building that will be home to three businesses.
The largest of the three will be Post & Vine, a restaurant that plays on the building's history – it was once a Post Office, though when Rechter bought it a therapeutic center occupied the space. Vine is a not-so-subtle hint that wine will be a key feature of the menu.
At the other end of the building will be Boho House, an upscale hair salon. A tenant for the middle space has not been determined.
Rechter is adding some unique touches to Post & Vine. He installed glass garage doors that can be opened to a large covered patio area, dramatically expanding the restaurant's seating capacity.
Located at 1919 14th Ave., the 6,000-square-foot building was built in 1953.
Rechter purchased the building and adjoining lot as a single .34-acre parcel in 2014 for $480,000. The seller was Compass Therapeutics.
He was about to redevelop the property in 2015 when the Old Diesel Power Plant caught his eye. When he called Vero Beach City Manager Jim O'Connor to inquire about purchasing the property, O'Connor was initially doubtful because the site had been in litigation for two years.
O'Connor pushed to get the parcel back under control of the city so it could be sold through a bidding process.
At least five bids were on file. Rechter and fellow developer Scott Parker won the process with a $650,000 offer. The plant's appraised value was $500,000.
Much has changed since Rechter bought the power plant and 14th Avenue parcels. Back in 2015 he looked to lease the 14th Avenue site to Fort Pierce-based Sailfish Brewing Company. The old power plant site was eyed as an option if Sailfish's business took off and needed more space.
In the end, it was Rechter's own business plan that caught a favorable wind. In 2016 he bought the long mothballed plant for $500,000, but had to await a judge's ruling in a civil suit between the City of Vero Beach and B-B Redevelopment Team, which had been a tenant in the building. The city won, allowing Rechter's purchase to be completed.
O'Connor had long favored selling the power plant, saying the city should cease "being a landlord."
Over the years there have been several proposals for the property.
In 2013 Guy and Lisa D'Amico offered the city $595,000 for the site. Their idea was to open a distillery, restaurant and bar, and a retail store.
The following year the local Cultural Council proposed turning the plant into an arts center with studios that could be leased to artists. The catch was that the artists had to allow the public to watch them work. A similar concept has prospered in Old Town Alexandria, Virginia, just outside Washington, D.C., where an idle naval munitions factory was converted into an art center.
Despite a petition of support that garnered 2,000 signatures, the Cultural Council's plan was abandoned when it failed to raise the $4 million it needed to complete the project.
Lastly, former Charlotte Hornets owner George Shinn proposed buying the power plant. His concept was to turn the building into a car museum where he would house his personal collection of classic cars.
Rechter opposed Shinn's plan, arguing that car museums are poor tourist draws. He cited a 1999 car museum that opened in Fort Lauderdale. It did little for the community. A few years back a gastropub opened several blocks away. It was credited with drawing additional business, and property values rose sharply.
"It created the vibe," Rechter said of the business, which has similarities to his American Icon Brewery concept.