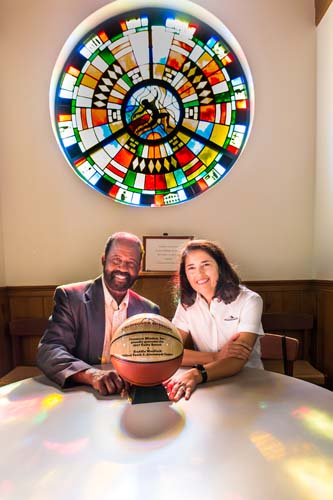 Freddie Woolfork exemplifies the progressive spirit of the Gifford community, especially as it relates to local youth through his work with the Gifford Youth Achievement Center. His lifelong actions and words also epitomize the Crossover Mission Unity Award criteria, making him the ideal choice to be this year's recipient.
Crossover Mission was founded by Antoine Jennings and Cathy De Schouwer to help at-risk youth reach their full potential through sports and education. The award recognizes "an organization or individual in Indian River County that strives to bring the community together through programs and outreach that fosters mutual respect and success for all."
The presentation occurred following last Saturday's Sheriff's Exhibition Basketball Game vs. Crossover players at the GYAC gymnasium. Earlier, Crossover teammates at various grade levels played against teams from Melbourne.
"The passion of Crossover Mission is apparent with all this community mixing; we're crossing over," said board president Bill Harris, watching as friends and families cheered on the players. "You can feel it in the gym."
The Community Church of Vero Beach, which provided seed money to the fledgling organization in February 2014, received last year's inaugural Unity Award, and Jennings said this year they wanted to focus on Gifford.
"Who's better than Freddie Woolfork and the GYAC? I've known him since I was a child," said Jennings, who attended school with Woolfork's children and grew up playing at the GYAC gym.
Of Crossover Mission, Jennings said, "We have our own facility now and so we have expanded our academic component of the program. And then this year we're going to be expanding our basketball component as well."
Players attended the Florida State University Basketball Camp and were treated to a luncheon at Cobalt Restaurant to learn about such things as etiquette, proper utensils and attire. On the 'business' end, some students attended a two-week SAT Prep program in preparation for this weekend's SAT tests. "They didn't want to do it, but we convinced them that every little bit helps. We want to try to help them the best we can," said Jennings.
Noting that he initially envisioned working with maybe 10 children and one or two helpers, he added, "It's more than what I thought it would be. Once we started sharing the vision and talking to people, it immediately went way bigger than what I had envisioned. I'm more than glad to be able to help 70 kids instead of 10, but also want to keep it rather small to remain impactful."
"We're bringing structure, which they're not used to," said De Schouwer. "If they want to play basketball, they have to embrace the structure, but it's hard; it doesn't happen overnight."
Tutors and mentors are always needed, as is funding for programs, capital projects, uniforms, equipment and even snacks. For more information, visit crossovermission.com or call 561-801-5987.