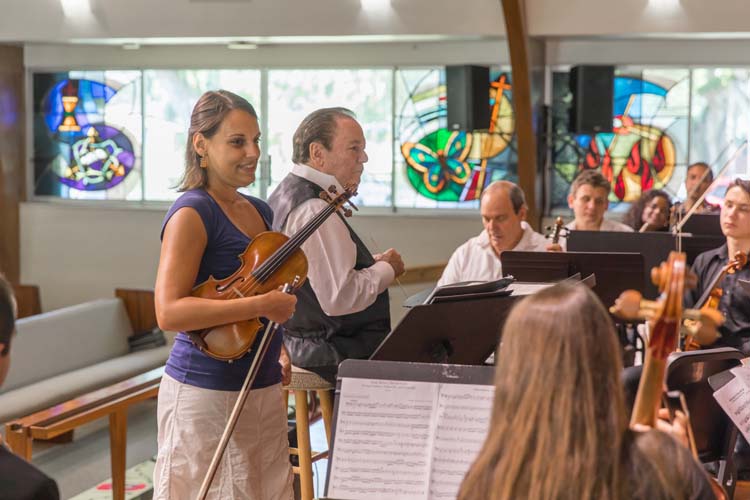 Members of the Summerfest Chamber Orchestra shared more than just beautiful music with Vero Beach High School Orchestra musicians at Summerfest 2017, presented by Symphony of the Americas and hosted last Sunday by the Cultural Council of Indian River County at Christ by the Sea United Methodist Church.
High school musicians paired up with international musicians under the direction of Maestro James Brooks-Bruzzese, artistic director of Summerfest and Symphony of the Americas, during a rehearsal session and were given an up-close look at techniques. Later, before the public, the students performed Mozart's "Eine Kleine Nachtmusik" alongside their worldwide counterparts in the opening number.
"My whole focus is on getting more exposure to the symphony orchestra from people and students who are going to find this a most exciting and, for some of them, game-changing experience," said Barbara Hoffman, Cultural Council executive director. This was the 26th anniversary of the festival and over the past few years the Cultural Council has added educational components linking artistic and cultural traditions.
"The kids gain a lot of motivation from interacting with the professional musicians, and from a practical sense, to see and feel how good they need to get. This is a unique opportunity," said Matthew Stott, VBHS Orchestra director. "It's going to make every single one of them better. I think it's part human nature to rise to the level of what's expected of us."
During a Q&A session, performers from Cuba, Uzbekistan, Switzerland, Mexico, Italy, Canada and elsewhere spoke with students about their personal love of classical music and what it takes to become a professional musician.
"It is such a gift for us to be able to perform with higher level musicians," said Phoebe Emerson, a VBHS senior and cellist who seemed almost giddy after the afternoon practice session. "To learn and grow alongside professionals is an experience of a lifetime. The things you pick up are invaluable."
"In the classical music world, we are trained that it doesn't matter how hard you work; there's still room to do better. These kinds of experiences will take them to a different level," explained Dr. Marcos Flores, Christ by the Sea music director. "It's also rewarding for the professional musicians. They feel they need to give back and do it with lots of love, because when you love music it doesn't matter where you come from."
Learn more about local cultural opportunities at the Cultural Council's annual Celebrate the Arts Festival, Sept. 23 at Riverside Park. For more information, visit cultural-council.org.