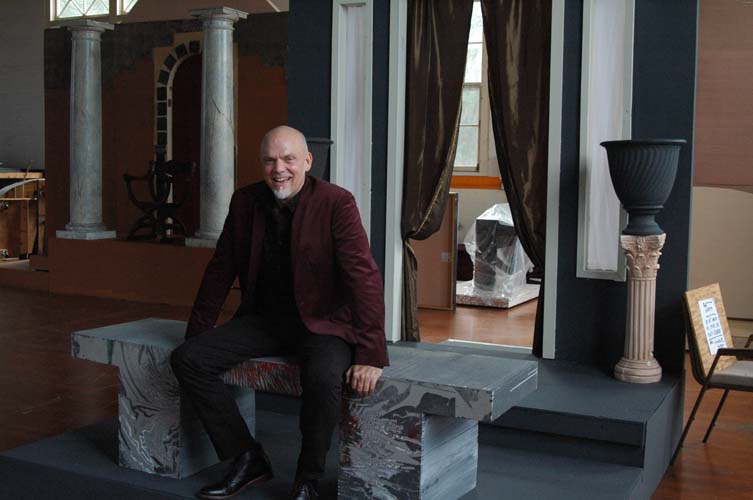 How much talent from the Metropolitan Opera can squeeze into a single season of one small-town company? That riddle will be a pleasure to unravel as Vero Beach Opera reels in the Met-vetted artists for a stellar 2017-18 schedule.
Topping the list is legendary Wagnerian soprano Deborah Voigt staging a full concert along with her second international vocal competition in March. Another Met singer known for her stirring Verdian voice, Susan Neves, will perform in an all-Verdi concert in early February. Neves will share the stage with two more Met voices: the highly accomplished Robynne Redmon and David Pershall, familiar to Vero audiences for his big win at a vocal competition here in 2013.
Redmon is a veteran of countless performances over 25 years including at the Met, Lyric Opera of Chicago, New York City Opera and Teatra alla Scala. Four years ago, she joined the University of Miami's acclaimed Frost School of Music as assistant professor.
Pershall, who has a master's in music and an artist diploma from Yale School of Music, made his Met debut in 2015 as Figaro in "The Barber of Seville." That was two years after winning the $10,000 first prize in the Marcello Giordani Foundation vocal competition in Vero Beach. In 2016, Pershall sang in two Met operas, as Lord Cecil in "Maria Stuarda," and as Schaunard in "La Bohème." He'll sing that role again at the Met just weeks after his Vero concert.
This marks Redmon's first performance in Vero, confirmed only last Thursday to the glee of Vero Beach Opera's top brass, Joan and Roman Ortega-Cowan. Her appearance is certain to draw a clamor for more, especially now that she is living in Miami, just a couple of hours away.
Like Voigt, Susan Neves has a long relationship with Vero Beach Opera. It was at the recommendation of Voigt, her friend, that she bought a condo on North Hutchinson Island in the early 2000s. When she sold it in 2013, it was because with constant travel, she couldn't come as often as she liked. "The homeless diva," she dubbed herself, in a 32963 interview.
Since then, her career as a dramatic soprano has taken her from regular European appearances back to the Met, where in April 2016 she took on the role in which she made her 1992 Met debut, as the Overseer and Klytemnestra's Confidante in Strauss' "Elektra." This spring she appeared as Marianne in the Met's "Der Rosenkavalier."
No star shines brighter in Vero than that of Deborah Voigt, whose neighbor-over-the-back-fence approachability makes her post-concert galas seem more like homecomings. Recently anointed artistic advisor to the local opera, Voigt has run her charitable foundation through Vero Beach Opera since it was formed. Two years ago, she decided to hold a vocal competition, smaller and shorter than Giordani's week-long contests, and with her signature thoughtfulness. "When we did the inaugural competition, she was very much aware of the expense that young artists incur in competing, so she does not require an application fee," says Joan Ortega-Cowan, long-time president of Vero Beach Opera. "She also insists that we find homestays for all of the young artists so they won't have hotel expenses."
Voigt herself winnows the list of competitors to around 30; Giordani typically has 80 or more. The famed Italian tenor has hosted three competitions in Vero, the last in 2015. This past April, he held the competition in Charlotte, N.C.
Voigt has also taken part in a grand experiment to make opera accessible to the binge-watching masses. She appeared as the Swedish queen in composer Lisa Bielawa's 12-episode, made-for-TV opera, "Vireo: A Spiritual Biography of a Witch's Accuser." She is in episode 11 – for those who want to fast forward.
For worldwide fans of the Met Live in HD simulcasts, screened at Vero's Majestic Theatre among several in the area, Voigt's introductory interviews from the wings have become one more signature performance in her repertoire.
Those sublime productions, which begin Oct 7 with Bellini's "Norma," are a welcome supplement to Vero Beach Opera's own stagings. Those productions take place in the Vero Beach High School Performing Arts Center. This year, the hometown opera is producing "Madama Butterfly," with a cast of international singers, many of whom have approached the Vero opera for the chance to perform. "We've developed something of a reputation," says Roman Ortega-Cowan, the company's artistic director.
Vero Beach Opera's stage director, Russell Franks, is currently at work on the sets for the show, crafting them inside a retired gym on the campus of Stetson University in Deland. An accomplished baritone himself, Franks teaches voice and is the director of Stetson's well-regarded opera theater program. He has directed productions for Vero Beach Opera since 2011.
"Madama Butterfly" will feature an orchestra conducted by Caren Levine. She too is on the Met roster as an assistant conductor. Levine, who has two Grammy awards for Met recordings, was pianist for Vero Beach Opera's March concert of the Spanish music known as Zarzuela. She graduated from the Peabody Conservatory at Johns Hopkins University and has a master's degree from Juilliard.
Starring as Butterfly is Maria Antunez. Martin Nusspaumer plays Pinkerton and Sidney Outlaw is Sharpless, the U.S. Consul in Saigon. Baritone Outlaw is only seven years into his career and has already earned a mention in the New York Times as "a terrific singer" with a "rich, deep timbre." He has a master's in vocal performance from Juilliard after graduating from UNC-Greensboro. He is from Brevard, North Carolina.
Martin Nusspaumer and Maria Antunez are husband and wife, living in Miami with their young daughter. Nusspaumer, a tenor, has won praise from a half-dozen south Florida cultural arts critics. He and the Uruguay-born soprano Antunez performed in Vero in the Zarzuela concert.
For more on Vero Beach Opera's upcoming season and ticket information, go to www.verobeachopera.org.
Season tickets are also available for the Met Live in HD series, which are often sell-outs at Vero's Majestic theater. Go to www.metopera.org/season/in-cinemas to search for other theaters, and to read more about the coming season.