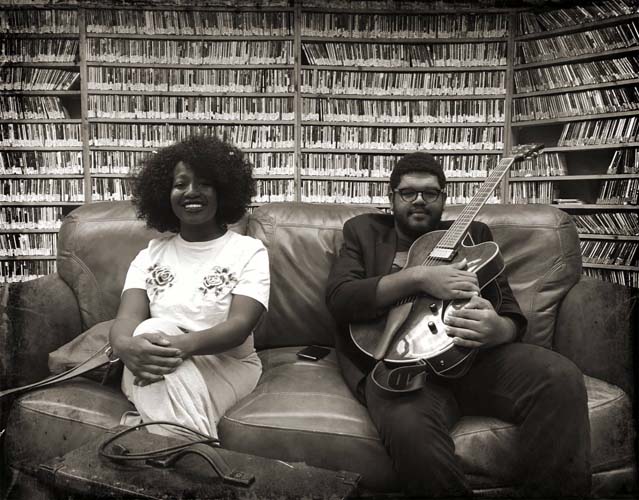 The deep, sultry and melodic tones of iconic American jazz artists will come alive in the "Jazz Legends Series," a new program launching Saturday at the Henegar Center in Melbourne.
The downbeat begins when the so-called Lady Day Quintet takes the stage to revisit some of the soul-stirring Billie Holiday music performed in the Henegar's production of "Lady Day at Emerson's Bar and Grill."
Full disclosure: This writer directed the show. Bias or no, the sell-out audiences were testament to the extraordinary talent of the cast.
Performers include the remarkable jazz vocalist Kristen Warren, whose stunning portrayal of Holiday held audiences captive throughout the three-week run earlier this year. She will be joined by the gifted jazz pianist Jarred Armstrong, who led the small combo in the show and simultaneously engaged with Holliday in character. Also on stage will be brothers Ashton Gould on percussion and Ethan Bailey Gould on guitar. Joining them will be bass player Greg Zabel.
"If you have an opportunity to see them perform together, you need to see it because they are so good," said Leslie McGinty. "The show was phenomenal, the musicians and Kristen were phenomenal. They're crazy good."
The earlier Henegar show "Lady Day at Emerson's Bar and Grill" is not a musical; rather, it is a play with music. Written by Lanie Robertson, it chronicles Holiday's rise from living in a house of prostitution to being celebrated the world over for her soulful, emotional stylings of songs such as "Crazy He Calls Me" and "What a Little Moonlight Can Do." The musical climax is "Strange Fruit," one of Holiday's most iconic songs and one which was inspired by photograph of a lynching in the racist South.
In the jazz concert, the Lady Day Quintet will also perform songs by Carmen McRae, Ella Fitzgerald and Sarah Vaughan.
Influenced by Holiday, McRae sang torch songs like "Old Devil Moon," "My Funny Valentine" and later "Heat Wave" with Cal Tjader.
Ella Fitzgerald, called the "First Lady of Song," received 13 Grammy Awards and a Kennedy Center for the Performing Arts Medal of Honor Award plus many, many more. She sang with Louis Armstrong, Duke Ellington and Holiday. Some of her best-known works include "A-Tisket, A-Tasket," "Night and Day" and "Sophisticated Lady."
The deep, smoky-voiced Sarah Vaughan was best known for hits including "Misty," "The Shadow of Your Smile" and "My Funny Valentine." Often called "The Divine One," Vaughan won multiple awards, including the NEA's Jazz Master Award.
In addition to the Lady Day Quintet, Saturday's concert will feature Orlando jazz artists Per and Tammy Danielsson. A pianist, Per Danielsson is a jazz professor at the University of Central Florida. His wife, Tammy, plays saxophone and flute and won best saxophone player at the Montreux Jazz Festival in Switzerland where she performed with the legendary Dizzy Gillespie. The two perform in jazz clubs around the world.
Also performing Saturday will be Winston Scott, the well-known Space Shuttle astronaut who also plays jazz trumpet and flugelhorn.
And this is just the opening of the five-part series.
"It's going to be quite an evening," said Cliff Bragdon, board president for the Henegar and the brain behind the series.
The retired vice president and dean from Florida Tech, Bragdon was a jazz enthusiast since he was a kid growing up in St. Louis, Missouri. He could play bongos and the conga drum, and had dreams of becoming a jazz musician. He and a fellow jazz musician would sneak into inner-city clubs late at night to hear greats like Count Basie and Duke Ellington.
One time, they headed to Chicago for the Playboy Jazz Festival. While standing in line to check in at the hotel, he noticed a tall man striding across the lobby. Feeling a special presence, Bragdon asked the man his name. Dave Brubeck, he replied.
Bragdon eventually became a city planner, architect and engineer, and the author of 10 books. That list of accomplishments may have been enough to replace his dreams of being a jazz musician, but Bragdon has always remembered that moment of meeting the iconic Brubeck, a legendary jazz pianist and composer. It was his "up close and personal" with a jazz great.
Now he wants to do the same thing for others – to bring them up close and personal with great jazz music performed by terrific local jazz artists.
"Jazz has been in my blood," he said. "The idea of doing this also came from Brian Gatchell, who is on our board and is also president of the Atlantic Music Center."
This is just the first in a series of concerts. Sept. 17, Ron Teixeira, an accomplished pianist, will perform; he's been a regular Heidi's Jazz Club in Cocoa Beach for 17 years. A graduate of the renowned Berklee College of Music in Boston, Teixeira will perform on the Hammond B-3 organ. He'll also be cutting a recording from that evening's concert.
Then, on Nov. 3, Chris Cortez, a vocalist who also plays virtuoso guitar, will give an overview of the evolution in American jazz guitar. A resident of Winter Park, Cortez's performance will take the form of a musical narrative.
As a perfect warmup to Valentine's Day, on Feb. 11 the series will take a look at great jazz singers with vocalist Lisa Addeo. She began her career at Radio City Music Hall in New York City.
And on May 14, a Big Band concert will star the nationally-recognized jazz bands from Melbourne High School, Satellite Beach High School and Eau Gallie High School. Each school will play arrangements by one of three great band leaders – Count Basie, Duke Ellington and Stan Kenton.
Bragdon wanted to kick off the series with the Lady Day musicians because it was so well received.
"Every performance was sold out," he said. "The Henegar added another performance and that was sold out. They went to Heidi's Jazz Club to perform and that show was sold out there. So this is really a demonstration that Billie Holiday is popular decades later."
Ending the series with a big band concert is an apt bookend since it features performances by young jazz musicians who are picking up the historical importance of jazz, Bragdon said.
And that, he said, is because of the area's high school music directors.
"There are at least seven high schools in Brevard County with jazz bands," he said. "They each have up to 30 people and they practice every day."
The added benefit of having a Jazz Legends Series is that it creates another facet to the Henegar Center, Bragdon said.
"I call it the 'epicenter for the arts,'" he said. "Not only theater and dance, but also movies. And now, jazz."
The first in the Jazz Legends Series begins 7:30 p.m. Saturday at the Henegar Center, 625 E. New Haven Ave., Melbourne. Tickets are $20 general and $15 students. There is also a $3 handling fee per ticket. Call 321-723-8698 or visit Henegar.org.