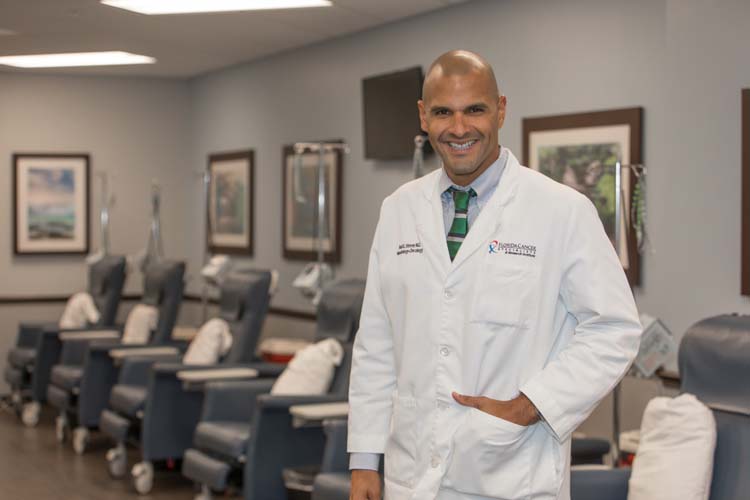 Physicians in general – and oncologists in particular – don't tend toward hyperbole.
So, when respected researchers and oncology experts at institutions such as the Nationwide Children's Hospital of Columbus, Ohio, the Fred Hutchinson Cancer Research Center in Seattle, and the Leukemia and Lymphoma Society of West Palm Beach start using phrases like "the most exciting thing I've seen in my lifetime" and "a paradigm shift in treating cancer" to describe a new cancer therapy, it's probably time to take notice.
Dr. Raul Storey, a WebMD five star-rated hematologist and oncologist with Florida Cancer Specialists in both Sebastian and Vero Beach, certainly has.
"It is fantastic," Storey exclaims. "It's innovative. It's like brand new. This is like the new kid on the block."
That new kid Storey and the folks in Columbus, Seattle, West Palm and so many other places are so excited about is called "CAR T-cell therapy."
The Oncologic Drug Advisory Committee for the FDA shares Storey's sentiments. Just two weeks ago it unanimously endorsed this first-of-its-kind cancer treatment which uses a patient's own immune cells to fight a variety of blood cancers such as leukemia and certain types of lymphoma, including non-Hodgkin lymphoma.
According to a front page article in the Washington Post, the advisory panel concluded this new therapy's benefits "far outweigh its potentially dangerous side effects."
Those side-effects include "cytokine release syndrome," which can cause fever and flu-like symptoms as well as seizures and even delirium, but, according to the New York Times, "oncologists have learned how to manage these acute reactions and, so far, no long-term problems have been detected."
More importantly, the Times points out, this particular innovation in cancer treatment has produced a stratospherically high 82.5 percent remission and/or cure rate in early testing.
According to Storey, it could very well make things like high-dose chemotherapy treatments a thing of the past in the not-too-distant future.
Given the drug advisory panel's unusual unanimous endorsement, the FDA could approve this new therapy – developed by pharmaceutical giant Novartis and the University of Pennsylvania – as early as next month.
Essentially, CAR T-cell therapy takes a patient's blood, separates and replicates existing T-cells and quite literally re-programs them to hunt down and attack what's known as "CD19 protein" cells, a type of white blood cell that can trigger both leukemia and lymphoma.
In its current incarnation, this particular form of immunotherapy is not intended for use in treating cancers with "hard" tumors such as breast, prostate and lung cancers, but Storey expects that, too, may change quickly.
In his eyes an immunotherapy approach is only common sense. It harnesses one of the biggest assets humans have.
"Your immune system," Storey plainly states, "is really smart. It has the capability of changing and of being activated by anything that is recognized as foreign or abnormal. It has the capability to have memory. It remembers things."
If T-cells can be programed to attack CD19 protein cells, they can very likely be "taught" to seek out other cancer-causing anomalies, Storey says.
Still, if and when CAR T-cell therapy does become available to the general public, it won't be cheap.
The Times estimates the cost will be in the $300,000-per-patient range.
Nonetheless, Storey is confident in saying, "This is the future." Then he pauses and says, "No, this is the present. This is happening. We're using it and it's working. We just need to be smarter and put more effort into applying these kinds of techniques or modalities to treating cancer and refining the process in order to provide more benefits and fewer side effects. … This is the starting point for the future of treating cancer."
Reminded that he would be out of a job if CAR T-cell therapy and subsequent variations succeed, Storey doesn't miss a beat, saying, "I don't care. If we can cure cancer I'll change careers. I don't mind. If we can get rid of cancer I don't mind changing careers at all."
Although not available now – and only as a part of certain highly regulated clinical trials if the FDA does give its approval next month – it might still make sense for anyone with a family history of cancer to keep an eye on this groundbreaking treatment and to ask their doctor for any new information as it becomes available.
Dr. Raul Storey is with Florida Cancer Specialists. In Vero Beach his office is at 3730 7th Terrace, Suite 101. The phone number is 772-581-0528. He also has offices at 13060 U.S. 1 in Sebastian. The phone number there is 772-589-0879.