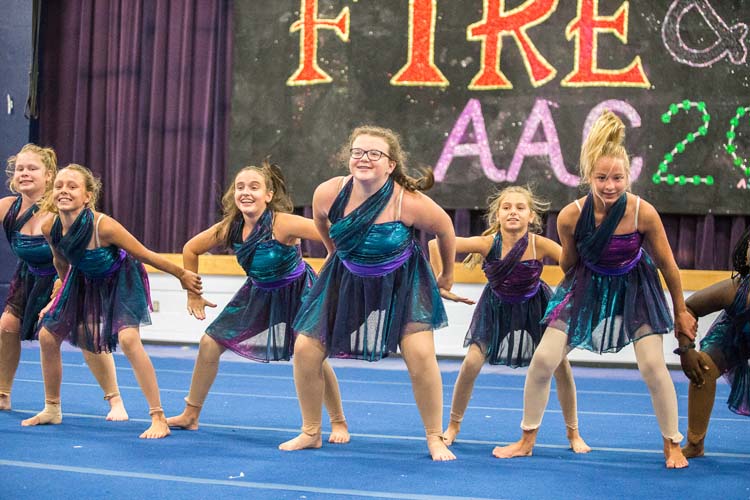 The Gonzalez Activities Center gymnasium at Saint Edward's School was ablaze during three packed performances of the 43rd annual Aerial Antics Youth Circus production. Last weekend's Fire & Ice-themed show, presented by the City of Vero Beach Recreation's Performing Arts Department, wowed audiences with assorted gymnastics, dance routines and daring aerial acts.
"We had a really, really, really good year at camp this year. All the weeks were full, so we had a lot of kids performing; close to 250," shared Patty Howard, assistant recreation director. Howard and her sister Liz Matthews, the performing arts instructor, are prime examples of the supportive impact of the program. The sisters both began camp at the age of 4 and haven't stopped tumbling yet.
Administered by the Recreation Department at the Centerstage Acrobatic Complex at Leisure Square and sponsored in part by the Florida Division of Cultural Affairs and the Florida Arts Council, the program has a long history of providing a healthy outlet for local children.
Performers ranging in ages from 3 to 33 blazed their way across the stage, demonstrating the various skills acquired through the gymnastic program and Aerial Antics Summer Camp. Coaches and senior artists were a constant presence on the floor, giving cues and making sure every single performer got their chance to shine.
Audible gasps followed by thunderous applause could be heard from cheering parents, grandparents, family and friends as each new act was given a chance to show off their tumbling, choreographed dance routines and aerial acrobatics on the trapeze, hoops and silks, as they performed to everything from "Great Balls of Fire" to "Frozen."
"We try to do something totally different every time," explained Howard. "Our theme this year was Fire and Ice; all the music either had fire or heat or ice and cold. We had lots of good aerial routines this year. The kids were phenomenal."
The show closed with a "Fireworks" display like no other, as members of the Performing Arts Company and Troupe glided through the air in a finale befitting a professional three-ring circus, featuring acrobats intertwined with silks and dancers tumbling in a poetically choreographed movement.
Charter High School senior Madison Torrent is one of many whose lifelong love of gymnastics was developed through the city's programs. Torrent was enrolled as a toddler in Mommy and Me classes and progressed to tumbling, gymnastics and aerial acrobatics.
"I fell in love with gymnastics and haven't stopped," shared Torrent. "It's the thrill of the show that keeps me going. It's really fun to get up there. It's super high and scary at first, but you've gotta be brave. It's worth it."
The 17-year-old hopes to participate in club gymnastics at the University of Florida when she heads off to college next fall. Dedicated to honing her skills, she even practices at home in her garage. But she notes that it is not just the physical aspects that keep her involved year after year.
"The whole family feeling of it is amazing," said Torrent. "Everyone knows each other and I've been with my team for years. It's really helped me to learn how to work with other people and I feel like I'm more confident coming out of this."
The annual Aerial Antics Holiday Drama takes place Dec. 3 at the Vero Beach High School Performing Arts Center.