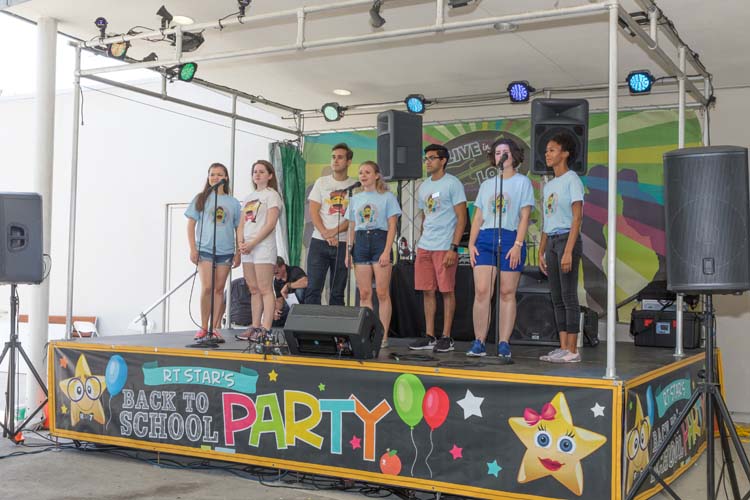 With summer drawing to an end, a galaxy of stars gathered at Riverside Theatre last Saturday to celebrate the upcoming school year at RT Star's third annual Back to School Party hosted by the Education Foundation of Indian River County and Riverside Theatre.
"We are excited to partner with Riverside Theatre; it's a wonderful partnership," said Cynthia Falardeau, Education Foundation executive director. "It brings the community to Riverside to learn about their showcase of programs. It also provides a forum to connect families with school and community resources. It's a win-win for everyone, in the spirit of building unity in the community."
The morning began with close to 100 teachers attending a breakfast and pep rally which also featured a preview of Riverside's Touring Troupe productions.
"The Education Foundation is a great organization that supports the schools. I came out to support them today. The teacher breakfast was a great way to kick off the school year," said Diane Parentela, a kindergarten teacher at Osceola Magnet School, who has taught in the district for 29 years. "RCT has three programs they are offering to bring out to the schools; they are showcasing them today. It's a nice way to see what they have to offer and start thinking about how I can incorporate that into what I do in my classroom."
Children made their way through a variety of hands-on activities, face painting, a bouncy slide, games, live iRascals and Touring Program performances, a DJ Dance Party and contests, collecting stars at each booth to earn an RT Star button after completing their star-studded maps.
Meanwhile, parents gathered information about school lunches and transportation, vision screenings, the Tobacco Free Partnership of Indian River County's SWAT team (Students Working Against Tobacco) and Riverside Theatre programs.
"I'm surprised at how many people were interested in the vision screening and transportation," shared Falardeau. "We are able to offer on-site vision screening using goggles funded through the John's Island Foundation and follow up with vision services with Dr. Stephen Kepley for students that don't qualify for assistance, through the generosity of the Grand Harbor Community Outreach Program.
The big yellow school bus was a huge draw as well. The air-conditioned buses have seat belts and use propane, a clean, quieter, more efficient fuel.
"Many of the children have never been on a bus before, so they are excited to get on one," explained Jennifer Idlette, director of transportation. "We have fantastic drivers who have an essential job; making sure the children get to and from school safely every day."
Entertainment also included limbo and getting dressed for school contests and a game of "Are You Smarter Than A Fifth Grader?" pitted five elementary-school students against Kelly Baysura, executive director of elementary education; Bruce Green, assistant superintendent of technology, assessment and human resources; Tiffany Justice, school board member; and a student ringer brought in for extra brain power.
The children broke a tie for the win with the correct answer to: What country gave the Statue of Liberty to the United States? (France).
Justice turned the tables on emcee Hamp Elliott, who had thoroughly enjoyed heckling the adult contestants. Unable to correctly guess the number of public schools in the county (27), he did know that Aug. 14 is the first day of school this year.
"Today was a composite," explained Jon Moses, Riverside's managing director, noting that more than 1,500 people attend the annual event. "It showcased all the programs that Riverside Theatre has throughout the year for kids, parents and teachers along with all the services and programs the county has to offer. It's a way of getting kids, parents and teachers excited about going back to school. We've added more entertainment this year just to make it more exciting."
The afternoon closed with the sixth annual Riverside Dance Festival presented in partnership with Ballet Vero Beach, featuring a wonderful Ariel Rivka Dance performance on the Stark Stage.