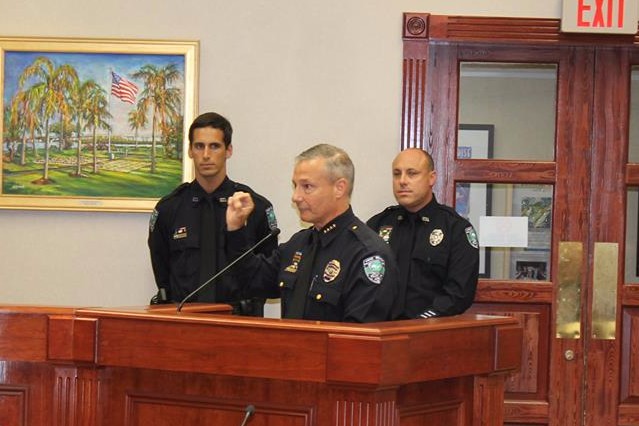 VERO BEACH — Two officers who saved a man from jumping off a bridge last month each were given a Life Saving Award for their actions, according to the Vero Beach Police Department.
Officers Richard Chimenti and Kyle Eder were recognized during the Life Saving Award presentation Tuesday at City Hall, 1053 20th Place, Vero Beach.
Chimenti and Eder received a standing ovation at the presentation, police said.
The officers responded to a call shortly before 2 p.m. June 23 and saw a man sitting on top of the railing on the south side of the Alma Lee Loy Bridge in Vero Beach. The man jumped from the bridge and Chimenti grabbed him by the belt in mid-air.
Eder then climbed on the railing and grabbed the man underneath his arms. Both officers pulled the man back over the railing and onto the ground.
This is the second Life Saving Award that Chimenti has earned. He received the first award after he and other officers performed CPR on an unresponsive man April 24, 2016, at a home in McAnsh Park in Vero Beach, police spokeswoman Anna Carden said.
Eder previously earned a Crisis Intervention Training award after he and other officers talked a suicidal man into coming out of his home March 25 in Vero Beach, Carden said.