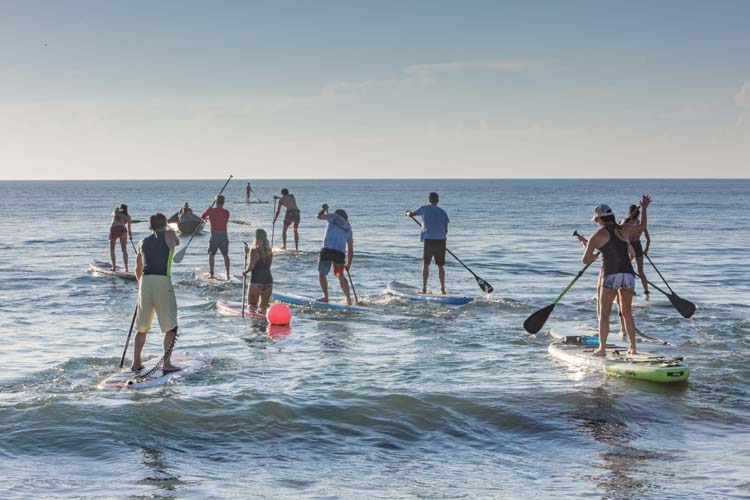 Vero Beach lifeguards protect hundreds of beachgoers on a daily basis, risking their lives to ensure that visitors under their watch return home with sandy toes and rosy cheeks, having enjoyed the sun and surf in safety. Last Saturday, given the opportunity to do something in return, beach lovers hit the water for the fourth annual Race to the Wreck to benefit the Vero Beach Lifeguard Association.
Two heats of racers took off from Humiston Park and headed to the wreck of the S.S. Breconshire, a British steamship that sank en route from New York to Tampa in 1894 after hitting a reef about 150 feet from Vero's shore. The "boiler" is a favorite dive for locals; resting in 15 feet of water, it's home to a wealth of marine life.
More than 50 swimmers made the 1,000-yard swim, preceded by a handful of paddlers who took a 3-mile paddle out to the wreck, beginning this year from a starting line in front of the Humiston Park lifeguard station.
"We moved the starting line so swimmers could avoid getting cut up on the PEP Reef. The area in front of the lifeguard station is marked with two balloons where there is a break in the reef. It only adds an extra 75 yards," explained Erik Toomsoo, president of the VBLA. Their mission is to promote lifeguarding and water safety and to raise funds to purchase lifesaving equipment and supplies.
Participants exited the ocean near Costa d'Este and ran the final leg of the race before gathering with onlookers on the back deck at Waldo's for the awards ceremony and celebration.
Ian Montgelas, a Martin County lifeguard, took first place in the men's division again this year with Matilda Jarvis following a few steps behind for the women.
Montgelas said he enjoys the race because it fits in with his active lifestyle in the water. "They do an awesome job with this event. It's a great little race for everyone to come out and enjoy."
"We've got a lot of swimmers and paddlers this year. It's a unique event, and it's growing each year. We're looking to raise money so we can build a tower at Humiston," said Toomsoo. "We want to be proactive when it comes to public safety so what we're trying to do is have the lifeguards in Vero keep prepared with equipment, personnel and towers. The last thing we want to be is reactive where someone gets hurt or drowns."
Vero Beach Mayor Laura Moss and councilman Lange Sykes turned out to show their support, with Sykes even taking the plunge into the calm, tropical waters.
"I am so happy to see such a high level of participation," said Moss. "They really need a lifeguard station at Humiston." Indicating a special connection to the crucial role of lifeguards in a beach town, she shared, "My mother was a lifeguard during WWII while the men were overseas."
In 2016 nearly 700,000 people visited the pristine guarded beaches within the city limits, according to the VBLA Annual Beach Report. Highlighting growing demands, last year's statistics are impressive: 12,291 preventative actions, nearly 300 medical assists and 34 rescues. Sadly, there was one fatality; a man who died of a broken neck after being hit by a large wave.
The VBLA will be the featured charity at the Summer Crush Winery: Crush on Charity on Aug. 13. For more information visit vbla.org.