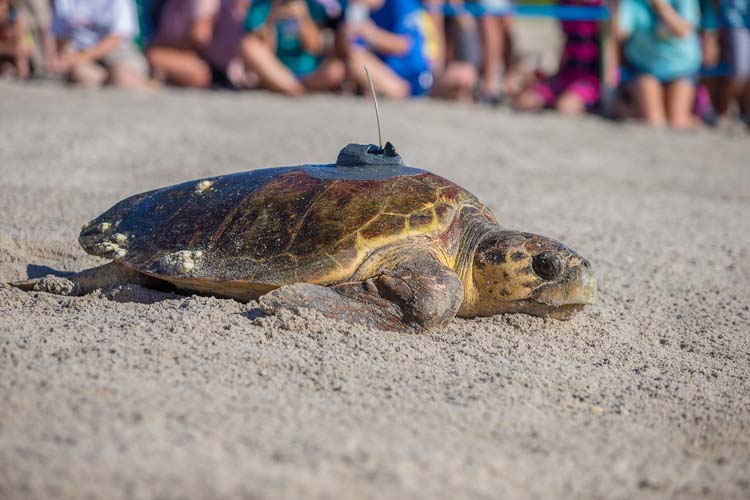 One week after a certain famous bicycle tour wrapped up in France, a highly motivated and mysterious group of 20 sea turtles embarked on their own marathon, to the cheers and tears of hundreds of fans.
Each year, the Gainesville-based Sea Turtle Conservancy organizes the Tour de Turtles, a race with a multifold purpose. Top of the list is to raise awareness about the various sea turtle species and the threats to their survival.
The Barrier Island Center in Melbourne Beach hosted a capacity crowd of 300 people last Saturday to kick off the 10th annual race, which concludes Oct. 31.
"It's become a fun way for the community to show its support for sea turtle conservation. There is no place in the United States more important to sea turtles than South Melbourne Beach," said David Godfrey, executive director of the STC.
Participants were treated to dinner catered by Petty's of Melbourne and free T-shirts and exotic drinks by a crew from The Naked Turtle Rum Co., while being serenaded by ukulele band Big Tiki and the Mai-Tais. A silent auction of items provided by more than 80 donors kept the crowd moving between the displays inside and the food, spirits, music and gorgeous ocean views outside.
"We just saw our very first leatherback hatchling at our crossover on Sea Dunes Drive in Melbourne Beach," said Judi Boggs.
"It happened about 7:30 in the morning, four days ago. This leatherback was so much bigger than the loggerheads, which is what we usually see. We always keep our eyes open this time of year," Boggs said as she sorted through pictures on her phone to find the ones of her baby.
That young one is off and running in its own personal race to survive. As far as the marathon goes, land dwellers obviously need high technology to keep track of the pelagic peloton.
"Our organization has been studying sea turtles for about 60 years and we use that research and the information from it to better advocate for turtle conservation; to try to get laws and regulations passed to help them. One of our most useful tools is satellite telemetry. It helps us learn where turtles go after they leave nesting beaches," Godfrey said.
Scientists were intrigued to find that ordinary citizens were interested in their research and also wanted to track the turtles.
"We came up with the idea of a race, the Tour de Turtles. We release the turtles at approximately the same time at a number of sites and all of the turtles are tracked over the course of three months," Godfrey said. "The turtle that travels the furthest during that three months wins the race. Because these are different species, going different places, it can't be a race to a destination."
The species in question are leatherback, green, loggerhead and hawksbill. The four flippered athletes likely to be favored by residents of Brevard and Indian River counties are loggerheads. Sally and Cruz began Saturday at Disney's Vero Beach Resort, with transmitters epoxied to their carapaces. Sally is sponsored by Disney's Animals, Science and Environment and Cruz is sponsored by Disney's Conservation Fund. Released Sunday from the BIC within the Archie Carr National Wildlife Refuge were Odyssey, sponsored by Ripley's Aquariums, and Caroline, sponsored by Carolina Skiff.
Lexie Beach, communications coordinator for the STC, fell for turtles as a Disney volunteer on an earlier Tour. She understands the fervor. "This event is always so exciting. We love to see the support from the community. We sold out really fast this year," Beach said. "The people here are just so passionate about sea turtles. It's great because most of the people who come live here, so people look forward to the event every year. Sea turtle conservation is woven throughout the community."
Join the fun, track the turtles and support the mission at www.tourdeturtles.org.