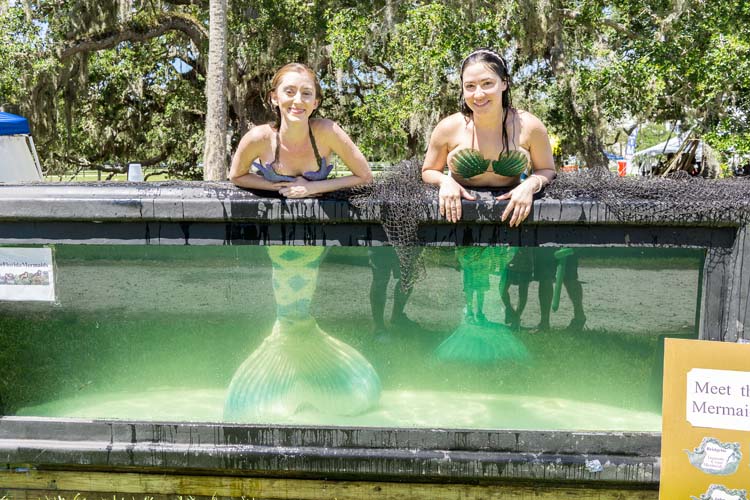 When a crew of marauding pirates got wind that there was a trove of treasure to be had in Vero Beach, the brigands dropped anchor off Riverside Park last weekend for the third annual Vero Beach Pirate Festival. Not even summer rains could deter the privateers from their swashbuckling debauchery as the festival kicked off Friday with all the fanfare befitting the most ruthless of cutthroats.
As every pirate worth his salt knows, there's still treasure to be discovered off the shores of Vero Beach. Remnants were spread across the ocean floor more than 300 years ago when 11 of the 12 ships in the 1715 Treasure Fleet ferrying Spanish treasure were lost at sea in the midst of a hurricane.
Billed as a three-day family-friendly celebration of piracy, there was plenty for mature swashbucklers to enjoy as well. Friday evening an adults-only Pirate Ball gave the young at heart an excuse to dress up as brigands and tip back a pint of beer or bottle of rum while listening to raucous sea shanties and ballads. A few brave souls even walked the plank to show off their best pirate and wench finery in a costume contest.
Youngsters reveled in pirate games in the Little Buccaneer Kids Zone and, to further their knowledge, little pirates in training took a turn through historical encampments, hunting for treasure, tying knots, earning eye patches and fending off others with balloon cutlasses. Some "ruffians" even found themselves locked up in the stockade.
Little ones could also test their mettle on the Avenger, a 40-foot pirate ship with five decks to conquer, heard tales of life on the high seas and watched living history reenactments. There were plenty of treasure hunters, artists, authors and historians on hand to answer questions for those tempted by the seafaring life and people could pay their respects at the Boneyard, a makeshift memorial honoring the more than 1,000 souls who were lost to a watery grave in 1715.
Captain Jack Sparrow and Blackbeard were among the cutthroats found roaming about the island. When asked their plans for our island paradise, all the scallywags had to say was, "Argh!" and "Shiver me timbers matey."
With temperatures soaring into the 90s, attendees sought shelter under the big tent to quench their thirst, enjoy maritime songs and nibble on dragon toes and tails before turning their attention to the wandering minstrels, sword fights and weapons demonstrations.
Those festival-goers wanting to test their intelligence-gathering skills made their way through the park on the hunt for wanted pirates by following a treasure map where "X" marked the spot, leading to interesting characters.
"We're expecting between 15,000 and 20,000 people to visit the festival," said Kathy Gilbert, festival organizer, noting that to spice things up a bit, a mermaid tank and additional pirate ships were added this year. "There's something for everyone to enjoy as we commemorate the 1715 Treasure fleet."
Hosted by the Vero Beach Chamber of Commerce, the Vero Beach Pirate Festival began as a means to attract summer visitors while celebrating the rich history of the Treasure Coast. A portion of the proceeds will benefit the Rotary Club of Vero Beach Sunrise Foundation.