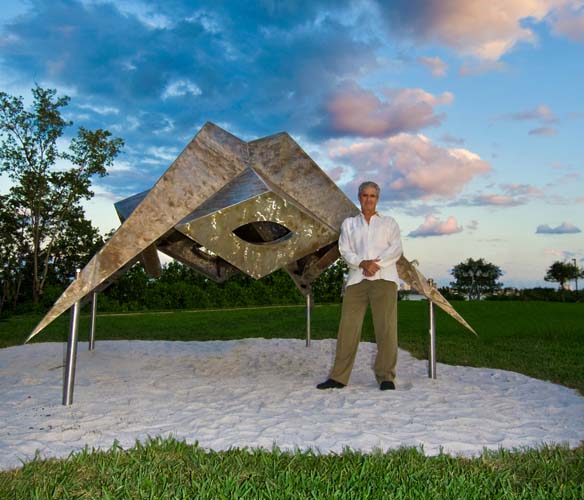 Veterans Memorial Island Sanctuary is a testament to the level of respect the people of Indian River County have for those who served and sacrificed their lives in times of war. Now, plans are in motion to add a sculpture to the stars and stripes snapping in the breeze, brightening the beacon the sanctuary provides for people honoring those lost in battle.
Since the park's dedication in 1964, monuments to each branch of service have been erected as well as memorials honoring Purple Heart veterans and POW/MIAs. Veterans of Pearl Harbor, WWII and the Korean and Vietnam wars also are recognized within the sanctuary.
Missing among the honored are those who had tours in Iraq and Afghanistan. Given that the fighting continues today, veterans' groups felt it was time to honor the nearly 7,000 Americans who have died in combat.
"We found that people were not aware of what was happening with Iraq and Afghanistan veterans," says Capt. Doy Demsick, program manager of the Veterans Council of Indian River County.
The veterans expressed a wish to create a piece of art. Conversations began between former U.S. Marine Corps Capt. Bruce Cady and Barbara Hoffman of the county's Cultural Council. At Hoffman's suggestion, they met with monumental sculptor Ross Power, a well-known Miami artist and developer now living in Vero Beach.
Power's intention at first was to advise on the monument. After he met with Hoffman and Cady, it occurred to him he could do more. "I felt their passion," he says. "I was so moved, I knew this could be one of my greatest pieces. It was what I call the 'aha' moment where the three of us knew 'this is it.'"
Power's artistic career has spanned more than 40 years. Typically his work has focused on pieces appealing to social conscience or environmental awareness. His public art projects can be seen in Hawaii, California, Florida and Spain, among other locations around the world.
After numerous interviews with veterans who served in Iraq and Afghanistan since 2001, one iconic image kept recurring: a portable concrete vertical wall attached to a base. Known as T-walls, the structures are clustered together on the battlefield to afford fighters protection.
Power, Cady and Demsick met for breakfast and ended up walking out with a sketch on a napkin.
"Bruce was pushing for something that would bring a new demographic in, something avant-garde. The first thing I thought of was an interactive sculpture with words."
The final design for the sculpture incorporates word art with an audio aspect. "It's pretty avant-garde, but at the same time it is rooted to the ground with true words from veterans," says Power. The monument will consist of three, 7-feet-tall concrete T-walls connected by a dome at the center. Each wall will contain the raised and etched "words of war."
As visitors observe the wall, they can use a smartphone to scan a code that takes them to a website and audio tour. The use of technology allows visitors to hear snippets of veterans' descriptions, poetry and thoughts.
"This is an ongoing war, and the sculpture is also alive and ever-changing," explains Power.
The concept wasn't without controversy. Members of the Veterans Memorial Island Committee take seriously the responsibility of maintaining the integrity of the island and its mission to honor veterans. To that end, some thought the proposed design didn't fit with the style of the memorials currently on the island.
It wasn't until community members, veterans and family members of fallen soldiers shared their thoughts that a clear picture of the Iraq/Afghanistan Memorial took shape during a July 5 committee meeting. That forum drew record attendance, organizers say.
The basic shape of the T-wall is something of an icon to most modern veterans. Standing 16 feet tall in a war zone, the wall sits on a wide base that forms the "T." "They're massive, and they protect everyone from small arms fire, mortar rounds, and vehicle-borne IEDs," Demsick explains.
U.S. Army veteran Ryan Gridley, recounting his time at a forward operating base before there were T-walls, said it was customary for soldiers to sit, eat and sleep with flak jackets on. Once the walls were built, soldiers felt protected enough to take their helmets and flak jackets off.
For one Gold Star mother, the protective wall was unfamiliar. Michelle Dale's son, Cpl. Dale Kridlow, was killed in action in Kunar Province, Afghanistan, on Nov. 7, 2010, when insurgents attacked his unit.
"I never got a chance to talk to my son before he was killed. I didn't know anything about the T-walls," said Dale, who was moved by the committee's presentation.
"I felt some peace and closure just looking at the picture of it and listening to what they said," said Dale. "This memorial will give anyone who had someone in this war some closure. It's important for parents to know there was something that gave their kids a feeling of well-being while they were in Afghanistan and Iraq serving. It really opened up my heart."
"I counted myself among the unconscious regarding veterans of this war," said Sean Sexton, a well-regarded poet and painter and longtime rancher. "I believe that art should be used in service of social expression and in the service of honoring our veterans."