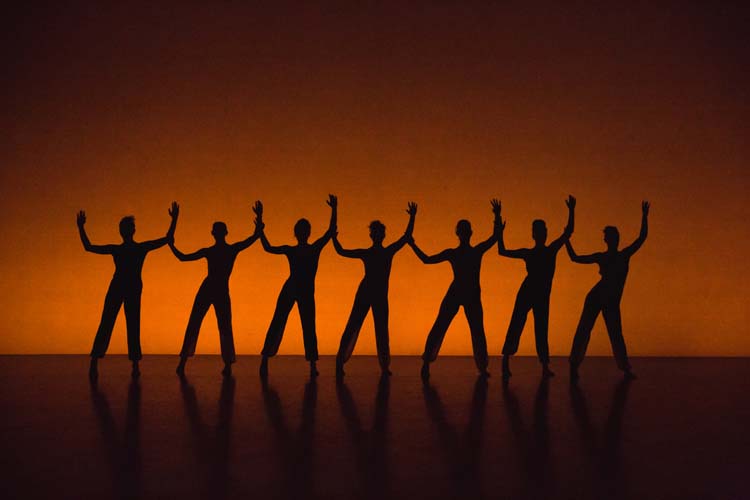 Ballet Vero Beach's upcoming August concert opens the fifth season for the company, and caps the sixth Riverside Dance Festival. And for the enthusiastic Vero audience for modern dance, the annual performance typically ranks first among summer cultural events.
In what has now become a tradition of having its first program of the season feature a guest modern dance company, Ballet Vero Beach artistic director Adam Schnell is bringing in a New York and New Jersey-based company that he's had in mind for the past two years: Ariel Rivka Dance.
The all-female company is led by a husband-and-wife team, one choreographing to the other's compositions.
The Joffrey-trained Ariel Grossman, a New York native, and her husband, classical composer David Homan, who is from Gainesville, Florida. began the dance company in 2008. It now performs at New York Live Arts, the Chelsea theater that is home to the renowned Bill T. Jones/Arnie Zane Dance Company. There, Ariel Rivka Dance's 10th anniversary festival will run Sept. 6-9.
For those upcoming New York performances, Homan will play his own composition for piano as Grossman's choreography fills the stage. In Vero, Homan is offering a class in composition for dance as part of the Riverside Festival.
The couple, who arrived in Vero last weekend, is staggering their time teaching to take care of their two young children, a daughter, Eva, 3, and a baby boy, Max, just 3 months old.
Besides composing, Homan has a day job. For the past 11 years, he has been executive director of the America-Israel Cultural Foundation, an organization formed in 1939 that supports the arts in Israel through grants. Over the years, it claims to have helped 18,000 artists through more than $140 million in grants, with offices in New York and Tel Aviv. Alumni include Itzhak Perlman, Pinchas Zuckerman, Gil Shaham and Daniel Barenboim.
Grossman teaches part-time at a dance studio; with a graduate degree in early childhood education, she has also taught pre-school.
Grossman trained at the Joffrey Ballet School and the highly selective LaGuardia High School of Music and Art and the Performing Arts. She majored in dance at Skidmore College, and after graduating won a commission to set a dance on Skidmore dancers. Her college minor was women's studies, and that too came into play when she formed Ariel Rivka Dance and determined the company would only include women dancers.
That aspect piqued the interest of Schnell when Grossman sent in an application two years ago for her company to teach and perform at Ballet Vero Beach's summer intensive. Both Schnell and Ballet Vero Beach ballet master Camilo Rodriguez have created multiple works with gender as a central theme, often blurring lines between male and female dancers, and sometimes switching genders altogether. Both men danced professionally with the all-male comic touring company, Les Ballets Trockadero de Monte Carlo.
Like other modern dance companies invited to Vero for the Riverside Dance Festival, Ariel Rivka Dance is young but earning notice. "We started very small and we've really grown," says Grossman.
This year, the company traveled to Houston and Baltimore. Two years ago, it performed in Philadelphia; the year before, at Saratoga Artsfest. In Houston and Baltimore, performances were held at Jewish community centers and included Grossman's work, "Book of Esther." Set to a score by Homan, the 18-minute dance in four movements follows the narrative of the biblical story of the salvation of the Jewish people in ancient Persia; it is the basis of the traditional festival of Purim. The story involves two queens: Vashti, who is asked by the king to publicly show off her beauty naked; she refuses, a gesture that to Grossman earns her the title of the first feminist in the bible. Esther is the queen who replaces Vashti.
Together with its national touring, the company has also reached a milestone by forming its first board of directors. Along with an impressive array of architects and attorneys, there are several members with strong dance backgrounds.
Among those is Hana Ginsburg Tirosh, a principal dancer with the company. A Princeton graduate in international affairs, she earned a master's in dance performance and teaching from SUNY Purchase College Conservatory of Dance. She is also New York City director of the New York Institute of Dance and Education. Tirosh serves as Ariel Rivka Dance's rehearsal director.
Another SUNY Purchase Conservatory grad in the company is Kyleigh Sackandy. She went on to earn a master's from Sarah Lawrence College in movement therapy and works with children with developmental disorders.
Dancer Caitlyn Casson has a Florida connection. She graduated from the University of South Florida with a BFA in Dance. Casson, who like other dancers freelances with several companies, has traveled extensively – most recently, to Rwanda – with MindLeaps, an international program to teach dance and offer vocational training to street kids in developing countries.
Dancer Danita Shaheen has a strong ballet background, having trained in the Balanchine technique with New York City Ballet soloist David Otto. She has performed extensively with more than a dozen modern dance companies and has founded a company of her own, Dance Riot Rep.
And Kristin Licata graduated from the Ailey School of Fordham University, and has worked with modern dance luminaries including William Forsythe, Robert Battle and Seán Curran.
Those dancers and others are teaching at the Vero ballet camp.
Vero artistic director Schnell has kept Ariel Rifka Dance in mind for the August program ever since viewing company videos two years ago. "I was torn between Wylliams/Henry Contemporary Dance Company (last year's performers) and Ariel Rifka Dance," he says. "I really wanted to represent the ethnic diversity of Wylliams/Henry, but I thought that Ariel's choreography is just simply so well."
Ariel Rivka Dance performs at Riverside Theatre Aug. 4-5 at 8 p.m. Tickets are available online at www.balletverobeach.org. or by visiting or calling the Riverside Theatre box office, 772-231-6990. The festival's Student Showcase is Aug. 5 at 2 p.m. That performance is free.