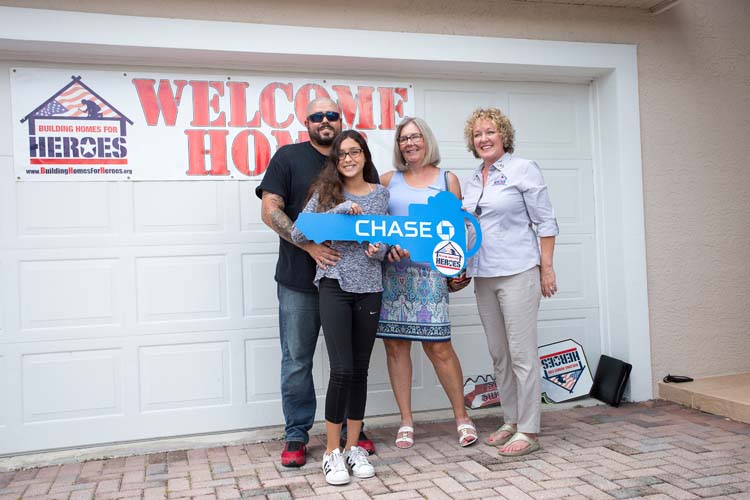 To the cheers of family and well-wishers, U.S. Army Cpl. Andres Rosa and daughter Luiza stepped over the threshold of their new mortgage-free home last Wednesday morning. The lovely home in the peaceful Green Vista Estates community was gifted to Rosa through a partnership between Building Homes for Heroes and JPMorgan Chase & Co.
Rosa served in the Army for more than a decade before taking a medical retirement after a catastrophic injury while on a mission in Afghanistan left him with "lumbar intervertebral disc syndrome, fibromyalgia (chronic pain), sleep apnea, a traumatic brain injury (TBI), hearing loss, and severe PTSD."
"Thank you so very much for coming out to welcome home Andres and Luiza Rosa to their forever home. We could not do what we do without our wonderful, biggest supporter, and that is Chase Bank," said Kim Valdyke, Building Homes for Heroes regional construction & operations manager.
"I'm so overwhelmed and honored to present you with this home. JPMorgan Chase in 2011 committed to 1,000 homes for veterans and so far we've given away 900. You're 901," said Susan Cole, JPMorgan Chase vice president.
Valdyke also recognized Advanced Auto Parts, stating that over the past four years they have donated more than $6.8 million to Building Homes for Heroes. Additionally, she said that for the fourth year in a row the Florida legislature and Gov. Rick Scott have provided BHH with a grant. This year's was $1 million to enable BHH to renovate as many homes as possible in one year while putting as many contractors as possible back to work.
"Our plan is to renovate, modify and build 25 homes in the state of Florida from July 1 to June 30," said Valdyke, noting that the addition of those 25 homes will bring to 100 the number of BHH homes gifted in Florida; each modified to meet the individual's particular needs.
"We're all about privacy for our veterans," said Valdyke, pointing out the privacy fencing on either side of the small backyard and pool. She also noted the soothing sound from a tiny waterfall into the pool, adding "most of our vets have some sort of tinnitus and the sound helps drown out noise and helps with PTSD."
Humbled and a little overwhelmed by the outpouring of support, Rosa said he plans to attend school to possibly work in radiology or as an EMT. Participants choose from the numerous homes BHH has available across the country and Rosa said he opted for Vero Beach after visiting friends in the area.
Told that his sister, Arlene Perales, had said he loved the sport so much that "he eats and breathes fishing," he smiled in agreement saying, "I'm going to fish as much as possible, when I'm not in school."
Also on hand were two other wounded combat veterans accepted into the BHH family.
Master Sgt. George Vera was looking forward to moving into his new Land O'Lakes home in early December. "We actually live two doors down from where we'll be," said Vera, adding that he would likely stay in the Army for another three years.
U.S. Army Specialist Hugo Gonzalez, critically wounded while serving in Baqubah, Iraq, received his Port St. Lucie home two years ago.
"He is so inspirational; he could inspire a turnip to do something," said Valdyke of Gonzales, noting that he recently flew to New York to help New York City Triathlon participants Liz Claman and Christopher Hahn of Fox Business Network raise $86,000 to benefit BHH.
"We have more than 6,000 applicants currently," said Valdyke of Gonzalez, stressing the demand. "We're in the high season now of giving homes."
The national nonprofit organization was founded in 2006 to support returning men and women wounded while courageously serving in the armed forces during Iraq or Afghanistan wars.
For more information, visit buildinghomesforheroes.org.