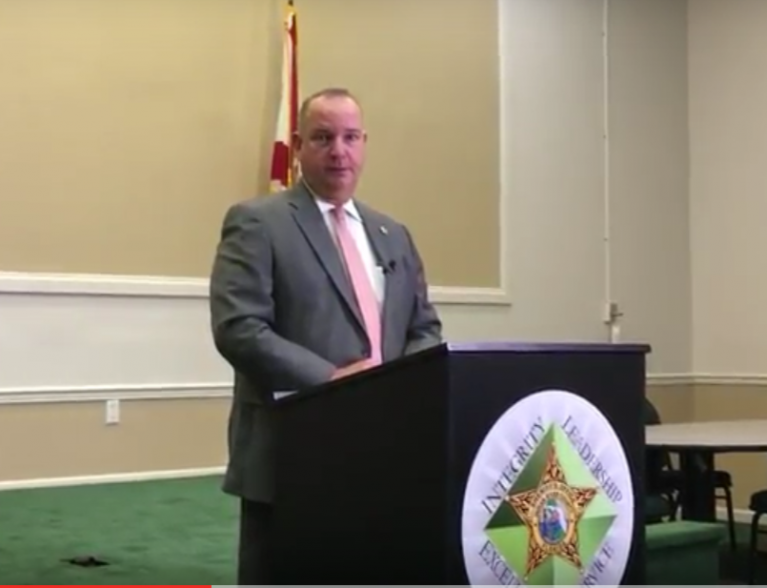 INDIAN RIVER COUNTY — Sheriff Deryl Loar defended the grand jury's decision to charge a Gifford man with second degree murder because he said Andrew Coffee IV initiated a gun battle between him and officers that led to his girlfriend's death.
"He shot first in an attempt to ambush our deputies. His decision to fire against law enforcement officers caused her death," Loar said. "Our deputies worked countless hours on this case. At the end of the day, we believe justice was served."
Even though Coffee IV didn't physically harm Alteria Woods, he committed a felony that he knew might've caused her harm, sheriff's spokesman Eric Flowers said.
"Under Florida law, if you're in the process of committing a felony, you are held responsible if anyone dies because you created the felony situation," Flowers said.
Coffee IV has his first hearing at 8:30 a.m. Friday at the Indian River County Courthouse, Flowers said. The case will go to a criminal trial, but a date has not yet been set, Loar said.
On Wednesday, the grand jury presented the indictment to Judge Cynthia Cox, which formally charges Andrew Coffee IV with shooting or throwing a deadly missile, possession of a firearm by a convicted felon, three counts of attempted first degree murder of a law enforcement officer by discharging a firearm and second degree murder.
Alteria Woods, 21, of Gifford, was killed in a crossfire between law enforcement officers on the SWAT team and Andrew Coffee IV at a home shortly before 6 a.m. March 19. She was struck while lying on a bed inside the home in the 4500 block of 35th Avenue in Gifford.
Andrew Coffee IV and his dad, Andrew Coffee III, both lived at the home and were arrested in the drug raid, according to the Sheriff's Office. Coffee IV remains at the Indian River County Jail and is now being held without bond, a sheriff's news release stated.
The grand jury met Tuesday and Wednesday to hear sworn testimonies from more than two dozen witnesses, with more than half of the witnesses being law enforcement officers, Loar said. In addition to the indictment of Coffee IV, the grand jury ruled a "no true bill" to not indict two deputies and an officer who fired their guns during the raid.
Those three officers are Sgt. Patrick White, Detective Christopher Reeve and Officer Richard Sarcinello. They were originally put on administrative leave after the raid, but have since returned to work, Flowers said.
Chris Taylor, state attorney for Indian River County, said the jury found "no probable cause" to indict one or more officers. He declined to give further comment.
Loar said he hasn't spoken with the Coffee family or the Woods family since the decision. He said he doesn't think body cameras would've changed the grand jury's findings. He declined to say what type of weapons were used in the raid, but did say the sheriff's SWAT team uses specialty weapons.
The sheriff called the fatal raid an "unfortunate incident" and said the time for healing is now.
"This is tough for everyone involved," Loar said. "Our thoughts and prayers go out to the Woods family."