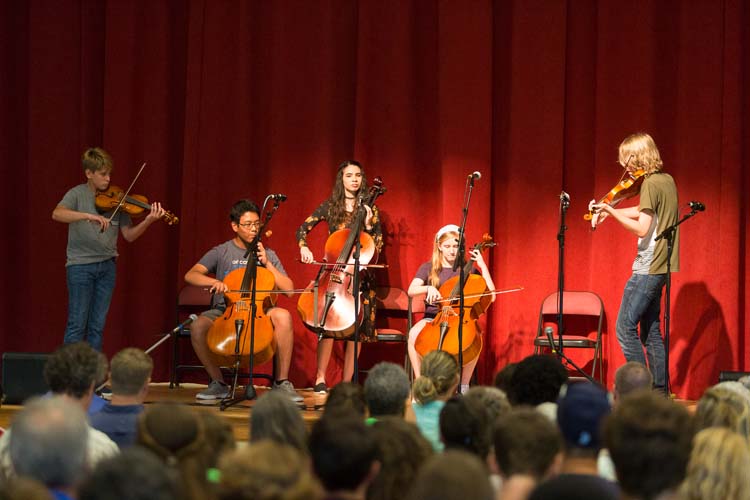 [ngg_images source="galleries" container_ids="15″ display_type="photocrati-nextgen_basic_imagebrowser" ajax_pagination="0″ order_by="sortorder" order_direction="ASC" returns="included" maximum_entity_count="500″]Participants at the eighth annual Mike Block String Camp were not just fiddling around during their weeklong immersion into all variety of musical instruments that can be bowed and picked. And last Saturday the students, some of whom traveled from as far away as California and Germany to attend the camp, showed off their talents at a Culminating Performance and Barn Dance.
From duets to ensembles, students performed some of the works they had learned after studying with the cadre of world-class instructors. From start to finish, the sheer joy of creating music was apparent through the verve with which the musicians performed.
None seemed to take themselves too seriously as they strummed, picked and bowed everything from violins and mandolins to basses and violas, playing a mixture of styles that included classical and blues and hybrids of several genres. Their artistic statements also showcased numerous other skills with the inclusion of costumes, skits, narrations and singing.
"For a small town it's amazing that we have access to a program like this," said Bob Lorenz, whose daughter Marie plays the viola and has attended MBSC for about four years. "Even though we have a great music program at Vero Beach High School with Mr. Stott, who's fantastic, by meeting people from different areas she is exposed to how they're taught and how they're trained. It's fantastic."
"We've been trying to share multiple styles of music and a whole host of new techniques with all the musicians that have participated this week, and I think this has been potentially one of the most transformative weeks that we've had," said Mike Block. "I believe strongly in the power of a week to change somebody's life, and it's happened to me at various camps. That's what we're trying to have; a really formative experience for everybody."
Donations contributed during the concert performances help to provide scholarships for students in need.
"Musicians and young people often are the types of people with the least amount of money in this world. Unfortunately for us, that's exactly who we're trying to serve. And so we are really passionate about making it possible for everybody who wants to attend to be able to attend," said Block. "We gave out over $16,000 in scholarship money this year. We are able to do that through the generosity of the Vero community."
Javier Edmond, a 13-year-old Sebastian Charter Junior High student, was one of the Gifford Youth Orchestra students who received a scholarship to attend the camp.
"I learned a lot this week," said Edmond. "They didn't give us any sheet music. They walked us through everything. What surprised me the most was to learn that there are so many different kinds of music."
After nearly two hours of lively performances, the students celebrated by kicking up their heels with an energetic Barn Dance, the typical conclusion to the camp. Proving that they could keep time on the dance floor too, performers executed a rousing Virginia reel, complete with plenty of dosey-does and yee-haws.
Additional performances will take place this week, 7:30 p.m. at First Presbyterian Church: artist/faculty concert July 12 (suggested $20 donation), and advanced student concerts July 13 and 14 (suggested donation $10). verobeachinternationalmusicfestival.com.