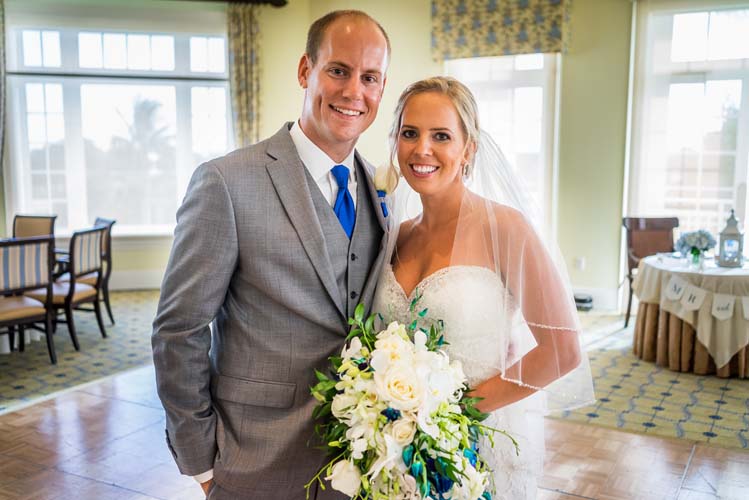 This past Friday evening, in a ballroom on the second floor of The Moorings' clubhouse, a smiling and grateful bride and groom exchanged vows in a wedding that almost wasn't.
"Sure, I've thought about it," Chris Lester, the groom, said after a ceremony attended by family, friends and co-workers. "What happened that night could've prevented all of this – the wedding, our future family, everything."
That night was actually the wee hours of Dec. 18, 2015. And what happened was that Lester, then a second-year deputy with the Indian River County Sheriff's Office, was shot during a traffic stop in Gifford.
Maybe you've seen the dashboard-camera video, which went viral on YouTube and social media sites, prompting news coverage of the incident across America and overseas, appearing on TV broadcasts as far away as Australia.
The video shows Lester directing Andrew Coffee Jr., whom the deputy stopped for driving a motorized scooter without a license tag along 45th Street near Old Dixie Highway, to put his hands on the hood of the police cruiser and warning him, "Don't go reaching for anything."
In the video, Coffee briefly puts his hands on the car, but quickly turns around and repeatedly asks, "What the problem?" Then, without provocation, Coffee punches the deputy in the face and knocks him to the ground.
Coffee immediately pulls a revolver from his waistband and moves toward the fallen deputy, out of the camera's view. You then hear a series of gunshots before Coffee reappears in the video, still blasting away as he flees.
Struck twice as the wounded deputy returned fire, a limping Coffee continued to run, only to be tracked down by deputies and found hiding in a stack of crates at a citrus packing house by a K-9 unit 40 minutes later.
What you probably haven't seen, though – and neither have I – is a second video Sheriff Deryl Loar said was recorded by a security camera at a nearby business.
Loar said the second video shows Coffee standing over Lester and firing two shots before running away, hitting the deputy once in the lower leg. The sheriff surmised that Coffee's grip on the gun and the recoil after he pulled the trigger caused him to miss his target and probably saved Lester's life.
"He tried to execute Chris," Undersheriff Jim Harpring, Loar's second-in-command and Lester's new father-in-law, said of Coffee, whose legal troubles date back to a 1981 drug conviction and include spending 20 years in prison for attempted first-degree murder with a firearm.
Coffee, now 54, was charged with attempted first-degree murder of a law-enforcement officer, battery on an officer and possession of a weapon by a felon. He remains in the Indian River County Jail, where he is being held without bail as he awaits trial.
"It's still an active case," Lester said, "so I can't get into some of the details."
Lester, who had gotten engaged to Kelsey Curtis 10 days before the shooting, was willing to share his personal thoughts and feelings about what happened, however.
Now 28 and a detective, he said he was fully aware of the hazards of law enforcement when he joined the Sheriff's Office in the summer of 2014 – 18 months before he became the first deputy in 29 years to have been struck by gunfire while working in this county.
He vividly remembers Coffee punching him, pulling out a revolver and shooting at him from close range. He remembers getting shot in the leg and returning fire. He also remembers thinking about his fiancé.
He knows that if Coffee's bullet had struck him 3 or 4 feet higher . . .
"I had just gotten engaged, so, yeah, that crossed my mind," said Lester, who pursued Coffee for about 100 yards before other deputies arrived. "But a year-and-a-half later, here we are. And I can't be happier."
There were some difficult times, though, as Lester recovered from the gunshot wound – just above the Achilles tendon in his right leg – and was unable to return to duty for six months.
But he credits his fiancé – now wife – with helping him cope with the "emotional stress" he endured in the aftermath of the shooting.
"Kelsey had my back the entire time," Lester said. "She'd talk when I needed to talk. She'd support me when I needed supporting. She let me be frustrated when I needed to be frustrated. She's the one that got me through it all."
Certainly, the support he received from his police brethren helped, too.
Lester said it was initially difficult to watch the dash-cam video, but as the social-media views multiplied, he began to receive a flurry of messages expressing support from law enforcement officers around the world.
"That surprised me," he said.
His finance's support didn't.
Lester refused to be deterred by the shooting and was fiercely determined to return to the job. And though Kelsey knew the dangers, she stood by her man – because she also knew how much being a law enforcement officer meant to him.
"I trust him," Lester's wife said. "He's a good person who has always been very good at what he does. He's a smart person who makes good decisions. He's an amazing guy, and he just loves it so much.
"You get him in a room with other cops, and he'll sit there until 2 a.m. talking," she added. "This is our home. We both grew up here and went to school here, and it means a lot to him to be able to serve our community.
"I would never want to take that away from him. I'm proud of him."
So when Harpring, a Castaway Cove resident, woke her on that fateful Friday morning and told her Lester had been shot, she was worried. But she didn't panic.
"He came in and told me what happened, and I was relieved to hear Chris was going to be fine," Lester's wife said. "Then it was just like, 'OK, what do we need to do?' And we did it. Chris went back to work and I'm thrilled to be here today."
So was Loar, though he was riding an emotional roller coaster after the shocking death of Sheriff's Capt. Ryan Haffield, who suffered a heart attack while sleeping on July 4. He was only 44.
In fact, Loar attended Haffield's visitation immediately before officiating at Lester's wedding Friday evening. He then gave a eulogy at Haffield's funeral Saturday morning.
"I've performed the ceremony at five of my deputies' weddings," Loar said. "This one is special."
Yes, it was.
It was a wedding that almost wasn't.