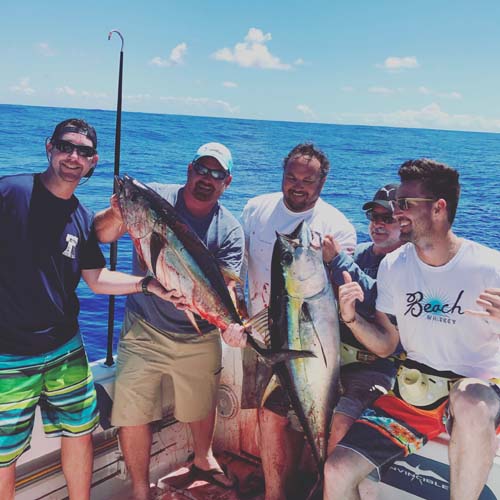 One of the cool things about having Jake Owen as our home-grown country music star is that he embraces his Vero Beach roots, and makes us feel as if we're a part of his success.
Just last week, Owen was back in town as the guest of honor at a late-morning ceremony during which a $1 million synthetic-turf, youth-league baseball field – built with funds donated by foundations headed by Hall of Fame shortstop Cal Ripken Jr. and NASCAR driver Kevin Harvick – was dedicated in his name.
"This community played a big part in raising me to be the person that I am today," Owen said after the ribbon-cutting. "I've always been proud to be from Vero Beach, and I'm forever grateful for the support I've received from the people here."
Owen has given back through his own foundation, too, performing concerts in town and donating proceeds to local causes.
He visits when he can. And when he does, he's visible. You can find him playing golf on one of our courses, dining at a local eatery, even standing on the sidelines of a Vero Beach High School football game.
Sometimes, when the mood strikes, he'll pick up his guitar, drive over to the Riverside Cafe and treat the crowd to an impromptu show.
His parents still live here. So does his twin brother, Jarrod. So do many of the guys he grew up with – a group that includes local realtor Dale Sorensen Jr.
"I've known Dale a long time," Owen said.
It wasn't until April, though, that Owen invited Sorensen to join the act, including him in the music video for "Good Company," the newest single from "American Love," his soon-to-be-released fifth studio album.
"That's the first time I've been in one of his videos, and it was a lot of fun to be a part of it," Sorensen said. "It was one of the best experiences of my life."
Actually, Owen's brother and Sorensen both appear in the unscripted, three-minute video shot in the Bahamas, where Owen joined them for 2 1/2 days of boating, fishing, snorkeling, bar-hopping and mingling with the locals on Grand Cay.
"The song is about being with friends, hanging with people you enjoy being around, being with good company and having fun," Owen said. "I didn't want to make the video literal to the lyrics. I wanted the feel of the song and the sound of it to relate to my life, the people I hang around with and what we do when I come home.
"We just did what we usually do when we go to the Bahamas," he added, "except this time we recorded it on video."
Jarrod Owen said he and Sorensen, whose boat was used in the video, go to the Bahamas to fish several times each year. When he's available, which isn't often enough, they invite Jake to come along.
That's how this trip started.
"Jake's got a busy touring schedule and we wanted to find a way to get him down here for a couple of days to go fishing, so we called his manager to see when he had some down time and could get away," Jarrod said. "His manager said Jake needed to produce a video for 'Good Company,' and they decided to shoot it in the Bahamas."
After performing in Dallas, Jake Owen flew to the Bahamas, where he and his crew joined his brother and Sorensen – and the party began.
"They just told us, 'Pretend you're on vacation and have fun,' and that's what we did," Owen's brother said. "There was no script. Nothing was planned or rehearsed. Half the time, we didn't know the cameras were rolling."
In all, the crew compiled nine hours of video, including aerial footage taken by a drone and the recording of a visit to a local school, where Owen sang for and chatted with the students.
The school visit, along with other stops during the trip, were arranged by Sorensen, who said he has been visiting the Bahamas since he was 6 years old. He has a particular fondness for Grand Cay, so much so that he has donated clothes and other supplies to the people there.
He was especially helpful last year in the wake of Hurricane Matthew, which severely damaged most of the tiny Abaco Island and neighboring Walker's Cay, where many of the Grand Cay residents had worked.
"Dale has been going over there for a long time, and he's done a lot for that community," Owen said. "He's like family over there."
Sorensen described Grand Cay as a "third-world fishing village where people are struggling." He said Owen wanted to shoot the video there – not only because he has enjoyed his past visits, but also to help residents of the island, which isn't considered a tourist destination.
"It was important to Jake to shoot the video there," Sorensen said. "It was such a great time, all of it, but that segment at the school was especially touching. Jake was so great with the kids, and they really enjoyed and appreciated having him there.
"That was my favorite part of the video."
The video has received a surge of attention on social media sites, and "Good Company" continues to approach the Top 40 on the country music charts. A laid-back, feel-good summer anthem, the song should get plenty of play across the next couple of months.
And the video should help.
"The Bahamians I know
have been texting me a lot, saying they saw the video on social media and they love it," Sorensen said. "It's such a positive reflection of their country. They feel really good about it."
That's exactly what Owen wants everyone to feel when they hear the song – and especially when they watch the video.
"That video was all about sharing good times with good company and making lasting memories," Owen said. "I wish I could've stayed longer, but I had to get back to work. I went from 'Good Company' to real life."
Owen flew from the Bahamas to Nashville, then went back out on the road to resume a crowded summer-tour schedule.
"The only thing that stopped us from having more fun was Jake getting on that plane," said Owen's brother, who has appeared in three of Jake's other videos ("Yee Haw," "Starting With Me" and "Real Life"). "We just ran out of time.
"He's going to be pretty busy the next few months," he added, "but he'll be back."
Jake Owen hasn't forgotten Vero Beach. He's got family here. And friends.
Now, he's also got a baseball field with his name on it – and he thinks that's pretty cool, too.