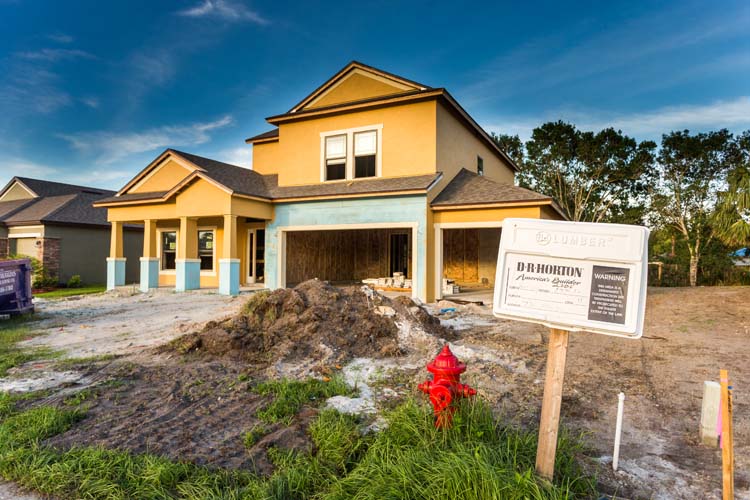 The nation's largest homebuilder believes the red hot residential real estate market in Indian River County will stay strong for at least a couple more years.
DR Horton, which sold more than 36,000 homes and had more than $10 billion in income last year, just closed on a 132-acre development property situated on the south side of 21st Street SW between 20th and 27th Avenues SW.
The homebuilding giant plans to launch a subdivision called Falcon Trace South and build 258 single-family homes on the land in the near future according to Coldwell Banker Commercial Paradise agent Hampton Jackson who represented DR Horton in the transaction.
"This deal, and the new construction it represents, demonstrates that the current housing market is strong and the construction industry is acquiring land inventory for a prolonged housing expansion in Indian River County," said Coldwell Banker Paradise co-owner and broker Steven Schlitt.
"The market is ripe and heating up," Jackson said of residential construction in the county, a sentiment shared by the Indian River County Building Department.
"It's booming," said acting county building official Ray Mossman. "We've been busy for three years."
He said the county is making up for a building slump during the recession.
The 132-acre site is one of the largest undeveloped parcels remaining in the South Corridor of Indian River County, according to Coldwell Banker. Jackson and county officials say the land is fully entitled and infrastructure is in place, meaning DR Horton can begin pull building permits and building houses at any time.
Representatives of DR Horton were unavailable to comment on the land deal and their timeframe for beginning construction, but Jackson estimates new homes could be available in the subdivision within a year.
Jackson said he brought the 132-acre site to the builder's attention due to the property's size.
"Why not go to the largest builder?" he recalled asking himself before approaching the company. The builder drafted a letter of intent in 2016, which was presented to the seller, Vero 258 LLC. Fast forward to late June of this year and a final contract was ironed out and the property closed for an undisclosed price.
An official at the county recording office said the transaction had not yet been filed with the county as of last Friday. Until it is recorded, no public records regarding the sale, including the sale price, will be available.
Jackson said, with the Falcon Trace South purchase, DR Horton now owns 40 percent of the entitled residential development land in Indian River County.
He has a history of representing DR Horton in land deals in the county. A year and half ago, he bird-dogged a 23-lot property on 8th Street near 20th Avenue.
"That's small for DR Horton," Jackson said, but the company went for it and debuted a subdivision called Lost Lake where a number of homes have been sold and construction is in full swing.
The builder also bought property in Pointe West that Jackson located for them.
"It's been fantastic working with DR Horton," he said. "They're very good to me."
DR Horton has more than 300 communities underway in Florida, with at least half a dozen in Indian River County, including Millstone Landing, Lost Lake, Pointe West, Brae Burn Estates and The Antilles. Its homes range in size from 1,600 to 3,300 square feet with 3 to 5 bedrooms and 2 to 4 bathrooms. They vary in price from the low $200,000s to about $400,000, the hottest price range on the mainland.
"The homes that DR Horton is producing are helping to relieve the housing inventory shortage we are experiencing," said Schlitt, adding that Coldwell Banker Paradise is one of the top sellers of the builder's homes in Indian River County.