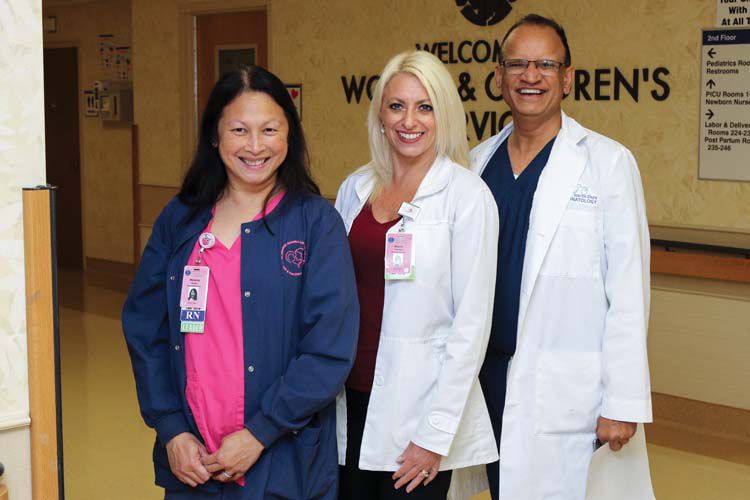 Each and every year roughly 500,000 tiny newborn babies in this country spend their very first hours and days in a very strange new world.
That world consists largely of mechanical ventilators, incubators, assorted rows of polyvinyl chloride tubing and banks of digitized monitoring devices: It's called a neonatal intensive care unit or NICU.
A Norman Rockwell scene, it ain't.
That said, Parenting Magazine calls NICUs "the safest place for a sick or premature baby" and points out NICUs boast an incredibly high survival rate for premature births; well over 90 percent.
Naomi Seymour, director of Women's and Children's Services at Lawnwood Regional Medical Center in Fort Pierce oversees both the hospital's NICU and its Pediatric Intensive Care unit or PICU.
"In the neonatal intensive care unit," Seymour explains, "we take care of neonates from 22 weeks gestation through full-term."
The Stanford University Children's Health Center in Palo Alto, CA says, "An NICU combines advanced technology and highly trained health care professionals to provide specialized care for the tiniest patients."
That's precisely what Seymour along with Dr. Jaideep Gupta, Dr. Ivanelsie Delgado and NICU clinical manager Melanie Munar and some 60 others who staff the entire second floor at Lawnwood are doing: Providing highly specialized care to the youngest among us.
When a baby is born, the way its body functions has to change dramatically. Its lungs must take in and let out air. Its heart and circulatory system must operate independently of its mother. Its digestive system must process its own food and its immune system is on its own, as well. Even under the best of circumstances that can be a challenge but when a baby is born prematurely, the adaptive challenge is far greater.
The March of Dimes lists anemia and breathing problems – including broncho-pulmonary dysplasia, persistent pulmonary hypertension, pneumonia and respiratory distress syndrome – as among the most common problems affecting premature babies.
Those and other health difficulties can be caused or compounded by extremely low birth weights in premature babies.
Seymour says at Lawnwood, "We have micro-preemies that have a very low birth weight of only about 465 grams."
That is just slightly over 1 pound.
For comparison, the average full-term baby born in the U.S. weights about 7.5 pounds.
The unflappable Seymour then points out that Lawnwood is "the only level three neonatal intensive care unit on the Treasure Coast, and I believe we're the only pediatric intensive care unit on the Treasure Coast, as well."
Neonatal ICUs are ranked from level one to level four, with four being the highest certification.
The American Academy of Pediatrics says level three NICUs such as Lawnwood's "are differentiated by their ability to provide care to newborn infants with widely differing degrees of complexity and risk."
And while it might seem both complex and risky to transport fragile, newly born infants or premature babies from, say, Sebastian or Vero Beach down to Lawnwood, Seymour says it does happen.
"We do about two to three transports a month," says Seymour. "We have our own neonatal intensive care transport team [and] … a special team of our nurses. The child would need to be stabilized and then we would come and get them and bring them here," using either a helicopter or an ambulance.
In 2016 nearly 60 percent of all Lawnwood's NICU admissions required level three care.
Calling her work with infants "highly rewarding," Seymour admits that "when things don't go well it can be very devastating. We get very emotionally attached to the family members as well as the baby," but she quickly bounces back to further praise her team.
"We have an excellent OB hospitalist group here at this facility," Seymour states proudly. "They're here 24 hours a day, seven days a week around the clock, so if anything happens, somebody walks in and there's a dire emergency, they are here to take care of them."
On a bit of an enthusiasm-powered roll, she then adds, "It's the same way with our neonatologists. They're here 24 hours a day, seven days a week, as well as our nurse practitioners. We have the services available.
"What we want the community to know is that you have peace of mind when you choose to have your baby here or when you choose to bring your small child here."
"I think the staff in both [the NICU and PICU] units are extremely proud of the work that they do. We live in a community that is in desperate need of these intensive care services," Seymour concludes.
To learn more about Lawnwood's level three NICU or the PICU you can call the hospital's main number at 772-461-4000 or visit its website at lawnwoodmed.com. Or, call 1-800-382-3522.