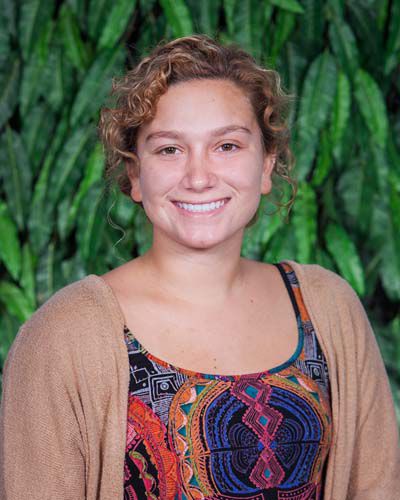 When St. Ed's senior Mia Festagallo arrived on campus as a sixth grader, she quickly found her way to the soccer field, where she would become a standout performer on the varsity team for seven incredible seasons.
Her talent was unquestioned even at such a tender age. It is both an opportunity and a challenge for a middle schooler to play a varsity sport for the Pirates. Festagallo passed every single test on and off the field from day one. She will undoubtedly be remembered as one of the best soccer players to ever don the school uniform.
"Coming in as a sixth-grader, you're not expected to play," Festagallo remembered. "I was really intimidated by the older girls, but I found that everybody was so welcoming. I just had an immediate bond with all the girls. That's what I loved from the beginning.
"Over the years I met a lot of new people. At first it was getting to know juniors and seniors. Then as I kept going I got to play with people younger than me. It was just so cool to make friendships and learn from different people of all ages.
"I love soccer and I've played all of my life. Being able to do it at the varsity level in school just made it that much more fun."
Festagallo scored her first goal in early November 2010, barely two months into her first year as a student-athlete at St. Ed's. There would be plenty of goals and awards over a seven-year period. She was voted the team's Most Valuable Player three consecutive times starting as a sophomore.
She was the Offensive Player of the Year and All-Area Honorable Mention as a freshman. She was All-Area Honorable Mention again as a junior. Twelve goals and 11 assists earned her All-Area First Team recognition as a senior. It was by all measures a magical career that reached an apex at just the right time.
"Five years in a row we actually made it to the district finals and lost to Holy Trinity Episcopal," Festagallo recounted. "I can't tell you how sad it is to get to that point so many times and lose. So getting the win this year was breathtaking. I was just so happy to end my last year on that note. I couldn't have been happier with the way our team did it. We even got past the regional quarterfinal (before the season ended in the semis)."
Festagallo used an unselfish, team-first approach to help St. Ed's finally claim the district championship. During the season she told us, "We have goal scorers like Carter Cooper, Alex Marshall and Ally Eidemueller. I see myself staying in the middle, passing the ball and creating opportunities for them to score. Scoring is nice but it's not my main priority. I've already had my time. I like creating the play and letting other people get the shot."
It was quite a nice way to go out and prepare for college at Appalachian State University in the North Carolina mountains. Festagallo says she will not join the varsity soccer team immediately, instead opting for a club travel team. However, she is leaving the door open for a possible walk-on attempt.
School and club soccer took up huge chunks of her time, but this past fall Festagallo couldn't resist reacquainting herself with a sport she hadn't played for years.
"I played volleyball in middle school and it was always a really fun sport," she said. "So when I got a chance to play on the varsity team as a senior I thought I had to do it. All of my friends were on the team. I love being part of a team and working together to reach a goal."
Festagallo is not averse to trying new things and she considers Appalachian State fertile ground for that purpose. St. Ed's pitched in with the training wheels.
"What I like about St. Ed's is that you take so many different classes," she said. "This year I took an entrepreneurship class and a genealogy class. To get those different perspectives was really interesting, but I'm not exactly sure what I want to do in college. I picked Appalachian State so I could explore a variety of different things, be in a different location, learn more about myself – and find that passion.
"I'm really excited. I wanted to go out-of-state to school. It was always a dream of mine to experience different seasons, and I'm just so happy that I get to do that.
"Fort Pierce and Vero Beach – I was raised here. This place has a special part of my heart. I love the beach and I'm going to miss my family. Leaving is exciting, but very bittersweet. I don't know any other way to put it."