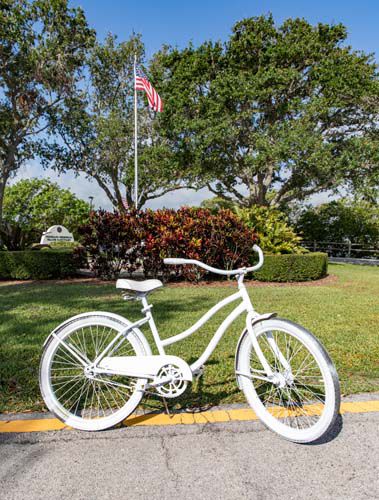 It was a gorgeous day for a bicycle ride last Saturday, but the group of roughly 50 cyclists who gathered by Memorial Island were not heading out for a joyous outing around town. Instead, they were part of a global National Bicycle Month movement to raise awareness through an annual Ride of Silence in remembrance of cyclists who died while biking.
"It's an event to heighten awareness about safety and bicyclists who have been killed," said Sharon LaPoint, coordinator of the event with Dave Hunter. She added that while Malcolm Allen, owner of Orchid Island Bikes, couldn't be there that morning, "he always helps us get rolling."
LaPoint explained that in other parts of the world the event is held at 7 p.m. on the third Wednesday in May. They opted to do it Saturday morning because of Florida's propensity for late-afternoon thunderstorms. About half the participants were members of the general public, peddling alongside members of Vero Cycling.
"It's wonderful that people come out to support this," said LaPoint. "It's a silent ride at a slow pace to commemorate the somberness of the occasion. This is our second year, and we consider it our most important ride of the year."
She and many other Vero Cycling members also belong to Bike Walk Indian River County, an advocacy group for pedestrians and cyclists.
"We want motorists to be aware," said LaPoint. "We have 325 members and we ride a lot. We also have a large group of people who ride for transportation and they ride at a time when traffic is heavy."
"We are people; not objects," said Laura Aaron. "If they see us as human beings, they might react differently when they see us on the road."
"This is a real wakeup call, not just for Indian River County but also for Florida. We need to have this mentality 365 days of the year. The state has a very dubious reputation for motorists hitting cyclists," said Alan Snel, a former Vero Beach 32963 reporter.
This past March Snel, an experienced cyclist, was hit from behind by a distracted 65-year-old man in St. Lucie County, sustaining a concussion and two fractured vertebras. Adding insult to injury, the driver was not even issued a citation. "We don't really count, I guess."
A white "ghost" bike served as a reminder of five tragic deaths affecting people in our area, including two that occurred this year. In April Glenn Randolph Totemeier of Vero Beach died in St. Augustine after hitting a concrete barrier and falling over the wall to the ground below. And in January Paul Langewisch of Vero Beach was struck by a car in the middle of the afternoon while cycling on State Road A1A; he died the next morning.
In December 2015 Jean Waters was found unconscious just before midnight on Old Dixie Highway near 12th Street in Vero Beach after being struck by a hit-and-run driver; she died several days later from her injuries. The driver remains unknown.
In September 2014 Cole Coppola, a 16-year-old John Carroll High School student, was riding over the Alma Lee Loy Bridge about 1:45 a.m. when he was struck and killed by a 21-year-old woman driving home drunk.
Also in 2014, 28-year-old Kevin Adorno of Connecticut was bicycling to Miami when he was stabbed to death by a disturbed homeless man outside a Vero Beach McDonald's.
For more information, visit verocyclingclub.org or rideofsilence.org.