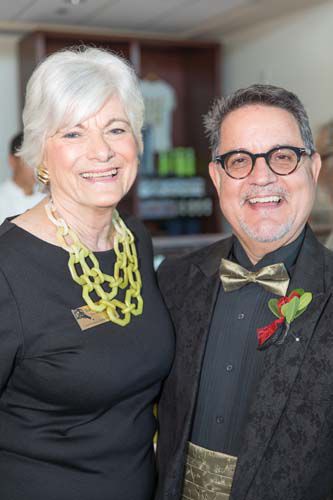 The Cultural Council of Indian River County celebrated 20 years of Laurel Award winners last Thursday evening at Riverside Theatre, recognizing the individuals and businesses that have fostered all variety of arts in our special community.
A reunion of sorts for individuals in cultural leadership roles over the past two decades, the event highlighted the broad spectrum of artistic talent that flourishes in Indian River County, from a wide range of visual arts to poetry, theatre, music and dance.
Arriving guests enjoyed a wine reception with hors d'oeuvres catered by Chive in the Orchid Lobby, while perusing an exhibit featuring works from Artists Guild Gallery, Flametree Clay Art Gallery, Florida Highwaymen Landscape Art, Torsades with a Twist, Gallery 14, J.M. Stringer Gallery of Fine Art, Main Street Vero Beach Gallery, Tiger Lilly Art Studio & Gallery and Working Art Studio.
They were then treated to performances on the Stark Stage – the late Richard Stark was a Laurel Award winner – by directed by Mark Wygonik, also a Laurel Award winner.
"How wonderful it is to see so many of you who love and support the cultural arts; to celebrate the first 20 years of Laurel Award honorees," said Barbara Hoffman, executive director, before introducing Master of Ceremonies Jon Shainman, anchor/ journalist with WPTV News Channel 5. "Jon, we welcome you to Indian River County. Tonight you will see why our county is such an incredible cultural arts paradise."
"I'm so delighted that you have these touchstones; these people who support the arts because the arts are so important to a community," said Shainman. "It makes a community whole."
He explained that in 1996 the Cultural Council began recognizing support of the arts demonstrated by business, education, philanthropic, volunteer and cultural leaders as well as by local artists who have earned the respect of their peers. "The purpose of tonight's presentation is to honor the first 94 Laurel Award winners," said Shainman, who between performances read names of past honorees, requesting that those in attendance stand and be recognized.
Guests enjoyed presentations by vocalist Roman Ortega-Cowen, Vero Beach Opera; pianist Marcos Flores, Christ by the Sea United Methodist Church; the Riverside Children's Theatre's Intermediate Singing Class; a monologue by William Commerford and an interpretive dance by Olivia Schulke, both students at Indian River Charter High School; pianist and bagpiper Jacob Craig, First Presbyterian Church; several pieces by vocalist Kaitlin Ruby, Vero Beach Theatre Guild; talented members of the Vero Beach High School Orchestra (in one accompanied by Craig on bagpipes); poetry readings by Petrina Mazzeo, a student at Vero Beach High School and IRC Poet Laureate Sean Sexton, Laura Riding Jackson Foundation; and a couple of rousing pieces by the Fort Pierce Jazz and Blues Society.
Interspersed throughout were a series of videos compiled by Bruce Cady, owner of Brisance Content Capture, in which various people convened their appreciation to the artistic community and the Cultural Council for all they have done to put our area on the map as a cultural arts destination.
"The arts are inevitable, they're irrepressible; arts funding, not so much," said Patrick Farrah, Cultural Council board chairman. "But investment in the arts has shown to produce dividends within our community over and over again. From the bottom of our hearts, thank you so much for your continued support of the Cultural Council and its mission. We really couldn't do it without you."