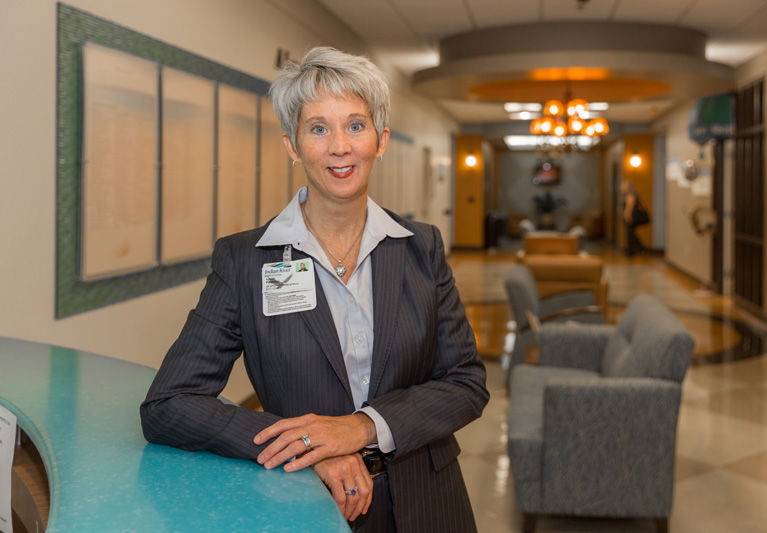 Camie Patterson, the new chief operating officer at the Indian River Medical Center, says her first few weeks at the Vero Beach hospital have largely been devoted to "just getting to know the people" here.
It's a safe bet, however, that what Patterson calls "evidence-based" changes are coming.
Patterson is a protégé and former employee of the renowned healthcare consultant Qunit Studer, who founded Pensacola-based Studer Group, which was recently acquired by the Huron Consulting Group of Chicago for $325 million in cash and stock.
Becker's Hospital Review calls reports generated by the Studer Group "must-read insights for healthcare leaders," and for the past year and a half Patterson was helping to generate those reports.
"These are my three priorities [at IRMC]" Patterson says:
First, "I'm all about engagement, so making sure our physicians and our employees are very foundationally engaged" is vital.
Second, the new COO points to "developing our leaders to make sure they can take us to the next level of excellence."
Finally, Patterson turns to the patient experience. "We certainly want to make sure that we create an amazing experience for our patients."
She says all three priorities are equally important to her.
Patterson brings impressive credentials in improving patient satisfaction. As COO of Self Regional Healthcare in Greenwood, S.C., she helped increase patient satisfaction scores for inpatient, outpatient and emergency care into the 90th percentile.
With degrees in both healthcare administration and accounting and a stint as a COO for two other hospitals in the Indiana University health systems, Patterson has the know-how and experience that Hospitals & Health Network Magazine says are essential for "mastering operational issues and coordinating hospital care with physician offices."
In any hospital setting, it's the physicians who bring in the money. They do that by admitting patients and performing procedures or surgeries. At IRMC, there are now nearly 360 physicians on staff.
But doctors can also be responsible for increasing the hospital's costs.
For example, Medicare and other insurers often refuse to pay for extended hospital stays or the costs incurred from hospital-acquired infections from urinary catheters and other hospital equipment.
As Becker's Hospital Review says the COO is "the primary person on the administrative team" to monitor physician performance and take action whenever there are problems.
Quality care, patient safety and patient satisfaction are important to the finances of every hospital. Patient satisfaction generates return business or – at the very least – word-of-mouth referrals for new patients.
When asked about the recent disappointing Medicare hospital quality rating, Patterson minces no words in her reply. "Absolutely," she says, "It's a high priority for the board and all leadership and obviously for me is to work on that."
And it's clear her tools of choice are "metrics."
"You've got quality metrics," Patterson explains. "You've got experience metrics and you've got finance metrics." Those metrics and a renewed emphasis of engagement throughout the hospital will, according to Patterson, dramatically improve both patient satisfaction and the hospital's Medicare scores.
Hospitals & Health Network Magazine writes that "a COO needs to fit with the team and the mission" of his or her hospital, and after a six-month search, the board at IRMC decided Patterson is the best fit for Indian River Medical Center.
Patterson replaces former IRMC COO Steven Slayer, whose brief tenure at the Vero hospital ended under a somewhat mysterious cloak of secrecy in December 2015.