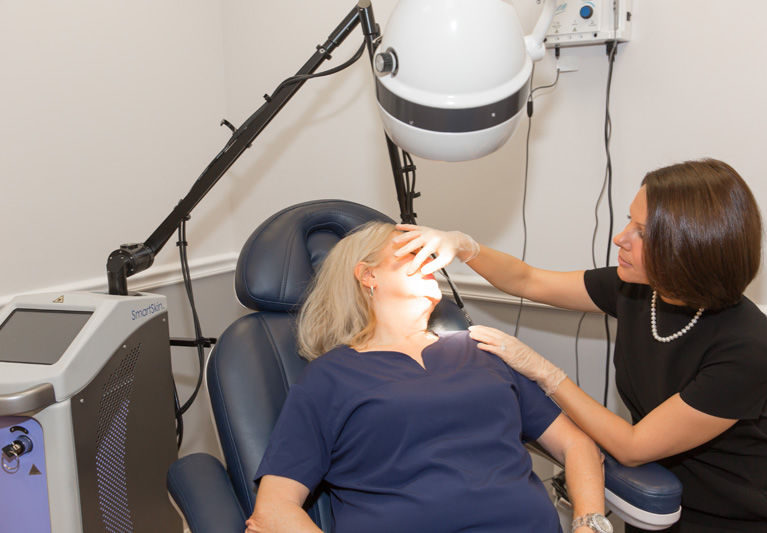 According to the American Society for Aesthetic Plastic Surgery, American consumers are now spending upwards of $13 billion on purely cosmetic procedures each year.
Those procedures include face lifts, tummy tucks, eyelid surgery or eye lifts, breast augmentations, botox injections, nose jobs and liposuction.
For a young medical school graduate in the Republic of Belarus, whose passion is exactly that kind of cosmetic surgery, the United States represented a true "land of opportunity," but some daunting obstacles stood in her way.
For starters, Dr. Katya Bailor, who practices at Vero Cosmetic Surgery and MediSpa, spoke no English.
And, while medical school in her home country is a six-year program as opposed to the four-year requirement here, she soon found out getting credentialed in the United States was not as simple as merely presenting her diploma.
Still speaking with a hint of an accent, Bailor recalls, "I started exploring what I could do to practice medicine here in the U.S. and bought a course from Kaplan Medical Institute to prepare me to take the medical boards.
"Because I didn't speak English, they provided videos along with the books, so when I was sitting at home, I could translate my books with the videos. I learned English by stopping and rewinding and stopping and rewinding."
After that, Bailor landed an internship at Frankfurt Hospital in Philadelphia. From there, stops in Delaware, Maryland and the University of Oklahoma for more training and fellowship work led to her board certification in head and neck surgery.
The American Academy of Otolaryngology Head & Neck Surgery describes the cosmetic facial plastic surgery that clearly stokes an inner fire in Bailor as being "performed to enhance visual appearance of the facial structures and features. Common procedures include facelifts, eye lifts, rhinoplasty, chin and cheek implants, liposuction and procedures to correct facial wrinkles."
One thing all facial plastic surgeons have on their side is time.
"Aging of the face," says the American Academy of Facial Plastic and Reconstructive Surgery, "is inevitable. Over time the skin begins to loosen on the face and neck. Crow's feet appear at the corners of the eyes. Fine forehead lines become creases and then, gradually, deeper folds.
The jawline softens into jowls and beneath the chin, another chin or vertical folds appear at the front of the neck. Heredity, personal habits, the pull of gravity and sun exposure all contribute to the aging of the face."
As the American population continues to age, demand for medical procedures to combat those "inevitable" changes is increasing.
Nationwide, women are 10 times more likely to seek cosmetic surgical treatments than men – though Bailor says "that number has been steadily changing. There are more men nowadays seeking aesthetic services" than ever before.
Perhaps the most universally known form of plastic surgery is the facelift – or rhytidectomy – which is also Bailor's favorite procedure to perform.
She quickly adds, "When I educate my patients about facelifts, I try to break the stigma that a facelifts have. They are not the same facelifts that used to be done."
Bailor is referring to the "windblown" (or worse) looks that celebrities such as Joan Rivers and Donatella Versace experienced from older forms of facelifts.
The website facialplasticsurgery.net explains: "When surgeons first began performing facelift surgery, they cut the skin on the face and pulled it back. This so-called 'skin only' technique wasn't exactly reliable, nor did it offer the best aesthetic results. The skin kept falling because there was no scaffolding to support its new, higher position."
Strengthening that scaffolding – the muscles, tendons and ligaments underneath the skin – says Bailor, is absolutely essential to providing long-lasting results and her training in head and neck surgery allows her to do just that.
"Once . . . I lift the skin, then I gain access to that layer to which all the structures are attached. I lift off the vital structures like nerves, like facial nerves, that move your whole face, and big, big, vessels. Then, I reposition that layer. I don't just reposition it with sutures, so I'm not relying on sutures to hold it in place. I rely on a scar tissue because it's a strong tissue on tissue bond."
Still, according to Bailor, "Women don't come in asking 'May I have a facelift?' They come in and say 'I hate this, what's that, and what can you do about this?'
"I always try, on my first consultation with a patient, to give them a broad review of what the aging process is, which areas can be addressed and what [procedures are] available."
That's something of a "go slow" approach but Bailor insists that fully educating her patients is her most important job.
"I try to do an assessment overall and see what the [patient's] goals are and then arrive at solutions to be on the same page with this patient. I'm not telling him or her, 'You need a facelift.' I'm basically trying to come up with a plan. That's what I encourage people to do. Get educated. Then make a decision."
Since cosmetic surgery is rarely covered by insurance, it's wise to seek a full and complete cost estimate before proceeding. Facelift prices, for instance, vary widely nationwide from about $6,000 to more than twice that figure.
Bailor's skills and her overall approach – along with her husband Douglass' love for fishing – led the couple here to the Treasure Coast, where Bailor went to work with Dr. William Frazier, who has been in practice here for more two decades.
Dr. Katya Bailor can be contacted at Dr. Frazier's Vero Cosmetic Surgery and MediSpa at 1255 37th Street, Suite D. The phone number is 772-562-2400.